Having to own a website is not as easy as it sounds, and requires a lot of preparation, planning and other procedures prior to launching and maintenance. 
Furthermore, owning a website means you should have a thorough knowledge of how websites are built, how they work, the processes involved, fees, and many other important elements. 
While it can be easy to own a website for a person with in-depth knowledge of programming and passion for maintaining a website, it's not really something that an average person can do. This is the reason why many website owners opt to hire companies that offer services. 
With the ever-changing and improving requirements of websites today that demands diligent research, planning as well as analysis, it becomes a better option to hire an expert to do these jobs for you. 
Among the best providers of website maintenance, website design, as well as website update services is Brilliant Directories. In this article, we will feature all there is you need to know about this website.
About Brilliant Directories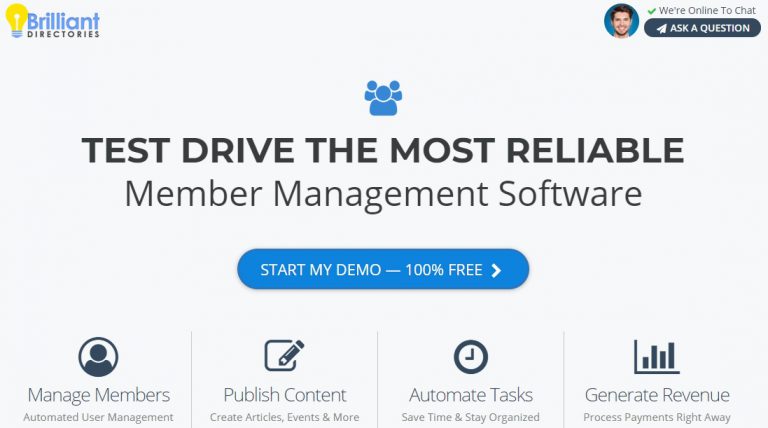 Brilliant Directories is simply one of the better websites that help website owners and managers deal with their website maintenance, website design, building, export or import, and many others. Furthermore, it helps website owners easily manage their collection of websites in just one control panel. We can also say that it helps reduce stress on a website owners' part.
Brilliant Directories is among the few platforms available today that does not require any plugin for it to function. While it effectively manages single websites, it can also perfectly manage huge networks or collections of websites, providing consistent changes as well as developments on each of the websites. 
Among the common tasks performed by Brilliant Directories from the majority of their clients include uploading a brand logo for each website, design and theme customization of a website, log design in order to provide identity in products, and many others.
 Regardless of the level of skills when it comes to programming, image editing, and others, coming from a client or customer, all will be unneeded whenever making use of their services. 
This means you don't have to be a genius on programming, editing pictures, or thinking of product designs and strategies before you can work with Brilliant directories since all the work will be done by their team. All you have to do is wait for the results.
Brilliant Directories User Interface
A popular feature of Brilliant Directories is their easy to use interface which comes with basic settings and controls for people with less technical knowledge and the advanced settings which provides the advanced user an edge when looking to do more with their websites.
In addition, many website businesses always leave their logo or watermark on their products as proof of their identity however Brilliant directories don't. 
Brilliant Directories understands that having other logos or watermarks over the headers or footers of the websites and pages may distract viewers and potential customers of the website. 
Also, other website building service providers take advantage of the watermarks and logos to draw clients into having them removed for a fee – Brilliant Directories understands this which is why all products are free of those logos and watermarks.
Advanced controls and settings for advanced users
As mentioned earlier, Brilliant Directories also offers easy access to beginners in the field of website management however they are also the best when it comes to flexibility to technical or coding needs of clients. This is because of the huge assortment of advanced settings that can be accessed and tweaked by clients to match their specific design and customization needs. 
It comes with advanced tools for developers such as PHP, advanced widgets and themes, access to FTP, Head Files, HTACCESS, and many other tools and settings. 
For more settings and any concerns when using this tool, the user can simply follow the walkthrough or guide that is presented within the site, or they can always email customer support for their inquiries and for assistance.
It is also good to note that Brilliant Directories come with excellent payment gateway setups and designs that provide seamless and user-friendly transactions. 
Payments are the most crucial parts of any transactions online and buyers always want the make sure that they are working with a legit website that can secure their payment information as well as process their payments as quickly as possible without any further complications or requirements. 
While online payments using a card provide the utmost convenience to customers, they can also make use of Paypal along with Authorize.net to process their payments for faster and safer transaction. Of course, such payment options are also integrated into the platform.
Many businesses request that their clients pay upfront regardless if they know what to expect from the services and the quality of the products that are made – Brilliant Directories don't provide such unfair qualities.
They understand that website owners simply want the best out of their money and that they want to make sure that they are working with the right company for their needs. So to satisfy a client's curiosity regarding the services and features that the website has to offer, they are 14 days Free trial and make their decision if they want to continue with a subscription from there. 
Of course, when signed up for a trial account, the tools and settings will be limited nevertheless the available choices are still more than enough for a website owner to fully manage his or her directory or websites.
The price point for Brilliant Directory is not cheap. You will have to either pay $950 one-time or pay $147-$247 per month (with discounts for annual billing).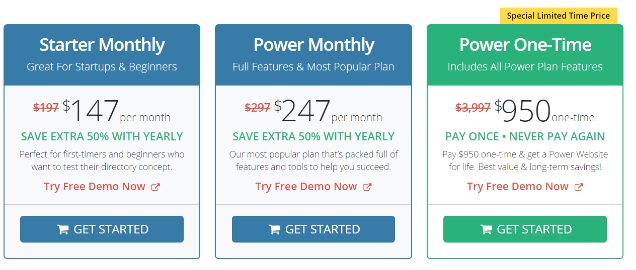 With that, you are paying for a software that can potentially provide you with the passive income.
If you can be creative and play around with the software, you will get a more full-featured directory site than most of the WordPress offer.
Support wise, there are several negative feedback on Brilliant Directories, mostly on refunds that are rather hard if you do not like this software. However, you can get help from the community as mentioned when you start on the Free Demo.  
Why choose brilliant directories?
The answer as to why you should stick with Brilliant Directories for your website design, maintenance, and customization needs is because they understand your needs and they can give you more than what you expect out of your websites.  
While they make sure that each client gets what they want out of their websites, they also make sure that each website is competitive in the market and that it can drive in a good amount of traffic. 
They also do not attach logos and watermarks on their products. Instead, they work on the performance of their products and they always try to establish a good working relationship with their clients to keep them coming back.