Office work is a task that is never easy that when in due time, it can accumulate into a ton load of work. Not only can unfinished work stain a business and cause complications in the process but can also cause health hazards to a person. 
Fortunately, there are surefire ways on how the work can be lessened and can be accomplished the way you would expect them to be. This solution is by hiring a VA to do your other office jobs. 
So where can you get a reliable Virtual Assistant and what are the things to consider? 
In this article, we will feature one popular virtual assistant company coming from the Philippines that is US-based and it is named Taskbullet.Com.

Taskbullet.com has been established in 2012 in the Philippines, however, its sales offices are located in California and Utah. The majority of the workforce for this company is coming from the Philippines wherein all freelancers and agents are equipped with proper knowledge and skills that are tailored to specific tasks over the computer. 
While it provides a great working opportunity for people who are looking for a stable job online, it can also be an excellent source of the work force for employers and businesses who want an extra hand on their business or some people to take care of their other tasks.
Adding to the knowledge and skills of the available virtual assistants in Taskbullet, they also have relevant experience in their own field with at least 5 years' experience in doing what they do best. 
Among the most common tasks and VA jobs that are usually requested by employers include jobs that cover email management, social media account management, online marketing, website design, customer service tasks, data entry, research and many others.
Since the employees work remotely, there will be no need to cover any other fees aside from the labor pay. Also, clients can train their employees prior to giving them a contract to make sure that they are getting the best choices that match their requirements.
First and foremost, unlike other freelance websites available today, Taskbullet doesn't require a monthly fee out of their users and clients. Users are able to make use of their system totally free without having to work on paying for anything.
The Taskbullet bucket system

The bucket system serves as a collection of the hours that is available for workers to use while they work on a project with a client. These buckets are required for a worker to proceed with his work and are usually filled by the client. 
Whenever a bucket is empty, it simply means that there is no available time to start working on a project. When this happens, another bucket should be purchased in order to work again.
The best thing about the bucket system is that it can be managed in segments wherein the client can choose to work on specific hours only during the day or can also finish the whole content of the bucket by working for straight hours. 
As the worker does his or her work, the client will be able to monitor his or her progress through the online tracker.
A common barrier which workers and clients usually come across within the online freelancing industry is the assigning of the tasks as well as the monitoring of the job progress. 
Fortunately, when using Taskbullet, you don't have to worry about such problem. Taskbullet makes use of Basecamp to monitor as well as manage the tasks and assignments for each of their clients' assignments. 
With Basecamp integrated into their system, clients are able to easily guide their workers through an assignment. They are also able to schedule work, monitor progress, upload and download files, and many other accessibility features.
With this kind of task management system, there is no need to go anywhere else whenever you're looking to do a specific task with your team.
Getting started as a client on the website is easy. 
Upon choosing a plan and pricing for your requirements and project, you can immediately initiate the project within the same day that you have finished your application. As soon as you finished setting up your account, you will be guided and walked through the entire process of managing your business through the available tools along with how to use Basecamp. 
You will be provided with an email consisting of the confirmation to work with the company and a guide on what you need to do next in order to complete your account for smoother work process.
Likewise, if you have question or comments about the projects that you will be providing with the website, you can either email them or you can also call them through their hotline. 
Well-skilled and knowledgeable customer support services will always be ready to assist you with all your questions and queries on the other side of the line.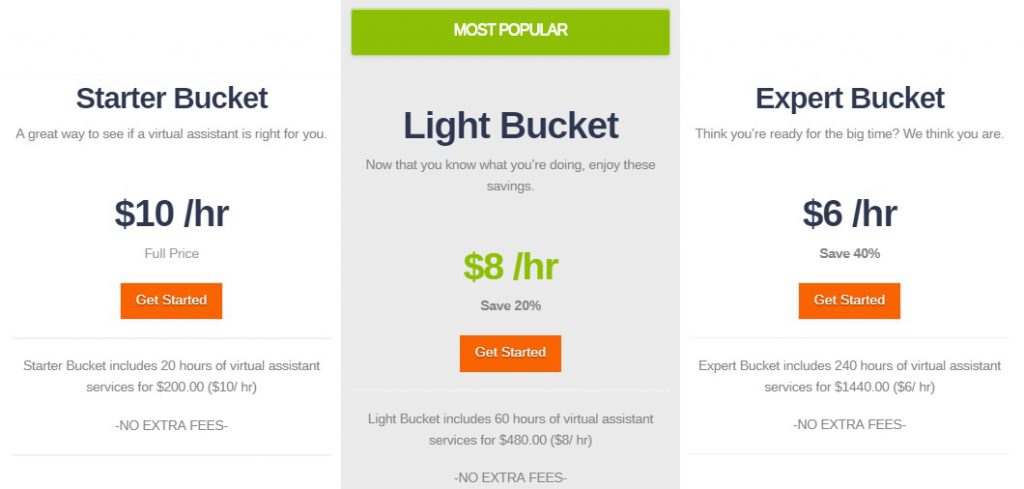 With Taskbullet, they believe that 'what you see is what you get.' In this regard, they have posted all the plans and prices available for clients. 
With Taskbullet, you will get the following add-ons as follows:-
a) You have 90 days to use the hours in your bucket.
b) There are no contracts and no monthly fees.
c) One-time purchase for hours that you can use any time over the next 3 months.
d) Do not purchase additional hours until your current bucket runs out.
e) Use as many or as little hours as you want per day/week/month.
Each of the plans and prices is relevant to specific tasks as well as the period that the project will take. Of course, the level of proficiency with regard to the tasks in question will also dictate just how much the client will be paying – in layman's term we can also call it as a professional fee. 
Nevertheless, the rates are much affordable and manageable compared to other freelance sites available today. Considering that there are no monthly fees involved in using the website, it is already a great deal even with the allotted pricing. 
Also, with the many features and tools presented in the website, Taskbullet becomes a VA site that is worth the penny.
Unlike other VA websites that are available today, Taskbullet is integrated with advanced features and settings that can make clients effectively monitor their job orders. 
With the level of experience of the available Virtual Assistants, clients will have no doubts and worries about getting any late accomplishments as well as jobs that are not well done.
TaskBullet.com Alternatives
You can also have an alternative to consider when trying to find awesome Virtual Assistants in the Philippines which is our #1 recommended.