One of the perks of having to manage a business or company online is the ability to hire workers online who can work on projects and tasks remotely – this is termed as virtual assistance. 
This allows business owners and online marketers rid themselves some of the general administrative tasks that can be both recurring as well as daunting due to their considerable volume. 
Likewise, resorting to hiring a virtual assistant is more affordable than actually making a direct hire for a person to work in an actual office and make use of resources.
The only problem however that arises when resorting to virtual assistants for additional help is that not all VA service providers are reliable and some are even scams. 
Fortunately, though, there are certainly those that are reliable as well as reputable for their high quality of VA work – and among those sites is TaskVirtual.com. 
In this article, we will share with you all the specifics of this website and why it is a great investment when looking for Virtual Assistants.
About TaskVirtual
TaskVirtual is a virtual assistance company that is based in India. With this setting, the majority of the assistants are Indian nationals, however, are all equipped with the knowledge as well as the expertise to use modern software and programs used in today's administrative task industry. 
Although this company is new to the industry, the assistants are carefully handpicked and each with a considerable amount of experience in the field.
Unlike most virtual assistance service providers today, this company is not very picky with regards to the tasks and projects that are requested and inquired by clients. 
Just as long as it can be performed using a computer and it does not involve any fraudulent activities or scams.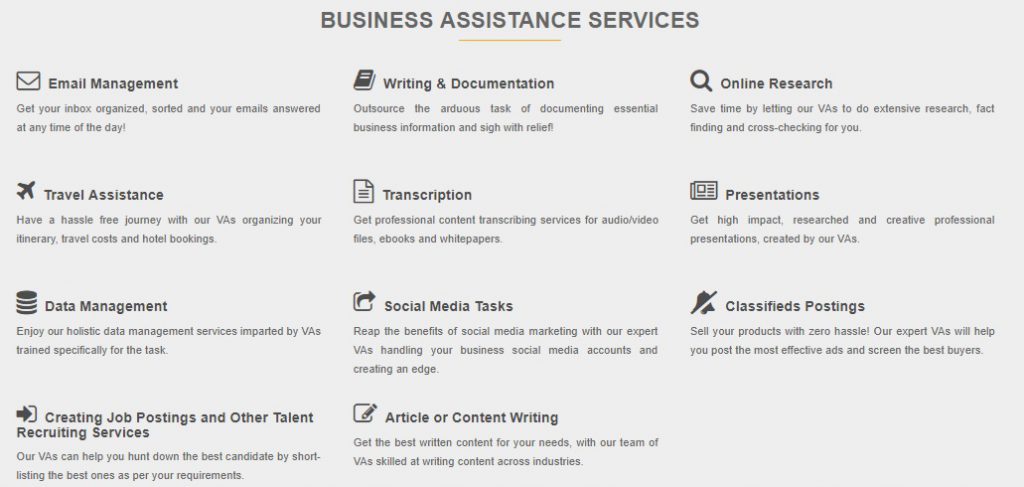 Regarding rates, TaskVirtual is much affordable to work with instead of other websites for the reason that it makes use of a labor force that charges a lesser fee. 
Since the main office is located in India and with its assistants mainly made out of the locals, the individual rates are cheaper. 
Despite the much lower rates, however, the production and results are guaranteed to be on par with the more-expensive providers. Also with the considerable amount of workers available for a given project, each project and task is finished at a quicker rate as compared to the speed of other websites or VA service providers.
In an interview, one of the administrators of the website said that "we are committed, on time, dedicated, and shoulder all the responsibilities of our clients." 
With this, it is safe to say that each project and task is performed with the utmost accuracy and speed possible. And that with every finished project, they slowly build and earn their respect and integrity.
What to expect
One thing to expect when doing projects with TaskVirtual is that they are not really choosy with regards to the kind of projects that are given to them. 
They can perform and finish any task using a computer and anything related to administrative tasks. 
Among the popular jobs and projects incurred include general administrative tasks such as data gathering, analysis, recording, typing, as well as the more technical jobs such as article writing, website management, social media account management, page management, email handling, customer support services, bookkeeping, and many others. 
There is practically no limit with regards to the projects that the assistants can perform and clients can always inquire to them for short-term projects as well as for long-term projects that can last for months and even years.
As soon as a client makes up his or her mind with the kind of VA that they want, the can immediately start working with the chosen VA. 
When looking for a VA on the website, the client should specify any personal criteria with regards to their ideal candidate. They should also provide specifics and details of the project and task that is to be carried out by the VA. 
Among the essential details of the project that can be included are the due dates for a task or project, the quantity, the possible software and program that will be used, the desired skills out of their VA, the desired time as to when the VA should work, the number of assistants required, and others. 
All these specifics and details can further narrow down the list of choices of the ideal VA for a client.
As mentioned earlier, this website is also preferred by many clients because of their inexpensive rates. Depending on the workload, the costs can vary on a monthly basis.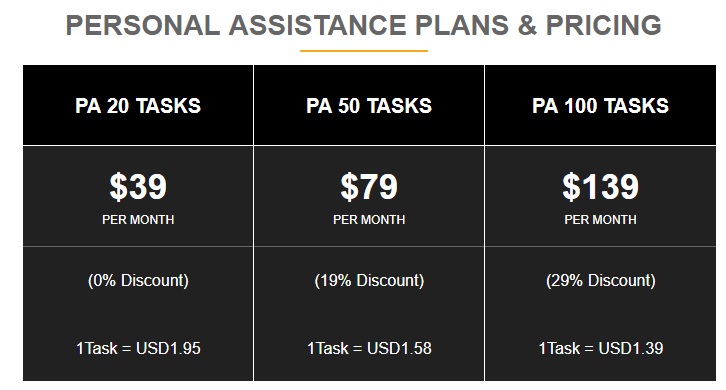 The basic package costs $39 per month which allows the client to request for 20 tasks from the VA. If the client wants more tasks done per month then he or she can always upgrade the package to $50 per month which covers 50 tasks, and $139 per month for 100 tasks. 
Per increase in the number of tasks, the client is able to save more. Also, the rates are flexible depending on other requirements of the client and based on factors such as deadlines, changes or alterations, the kind of tasks and level of proficiency required for a task, and others.
Our final thoughts

Finding the ideal VA service provider online can really be a challenge if you are not aware of the things that you should be looking for. 
What's important to bear in mind, however, is the reputation of the company or website and the quality of the services. Fortunately, TaskVirtual hits all the spot in the considerations that you should look for in a VA website.
Not only does TaskVirtual provide the highest quality of services that are at par with the leading VA companies today, it is also considerably inexpensive and makes you finish more projects and tasks without having to spend much on the service fees. 
Also, since the company is based in India, clients are able to hire as much VA's as they want and can always expect a 24-7 update on a project or task.