Price
Score: Depend on individual company listed
80%
Website directories are among the best sources and references for almost anything over the internet. If you're looking for a product or service that comes from a reliable company or provider then a website directory could be of great help. It points out the best places or websites for a certain query online. 
In the VA industry, probably the best directory to refer to is Virtual AssistantVille for the reason that they have great choices of websites that not only provide a high quality of VA services but also are much affordable than leading VA providers today.
In this article, we will share with you some of the specifics about Virtual AssistantVille directory and why finding your ideal VA using this directory ensures success for your business and efficient use of your budget.
About Virtual AssistantVille
Basically, there are a number of VA websites out there who are willing to provide a wide range of VA services for clients. Unfortunately, not all of them are legit and you may end up hiring someone who is devoid of the skills and knowledge as written on the profile – this is not the case for Virtual AssistantVille. In this website, all websites are first reviewed and tested for their capability and quality. 
Prior to being listed in the directory, the website should first need to provide a considerable amount of reviews and feedback from previous clients. The feedbacks are helpful in determining the quality of the service as well as the range of services that a VA website can provide. The Virtual AssistantVille Directory is made up of the top and leading VA websites that have established their name in the industry. 
This company has its main office located at Dearborn, Michigan wherein the center of their target websites focuses on VA websites from the US. This is for the reason that they are easily verifiable since they are located within the country and because the majority of the clients are coming from the country as well.
Because of its increasing popularity, it is also a go-to a place not only for clients but also for VA's as well. Assistants look to this place because it also serves as a directory to working website and freelancing websites for assistants and online workers.  
Considering that the list of websites in the directory are carefully handpicked by the website and are considered the top in their field, the working opportunities that come with them are paired with a handsome salary or pay. Thus it becomes a huge marketplace where professional clients and business owners or entrepreneurs converge with professional virtual assistants.
Regardless of the kind of task, you are always sure to find your ideal VA in this directory. Among the commonly inquired VA services sought after by clients include website management services, general admin services, data entry, content management, social media marketing, telemarketing, email handling, calendar management, and so on. The list of tasks that can be performed by the assistants from this directory has no limits. Any tasks that involve the use of a computer can be performed by the professional assistance from the websites in this directory.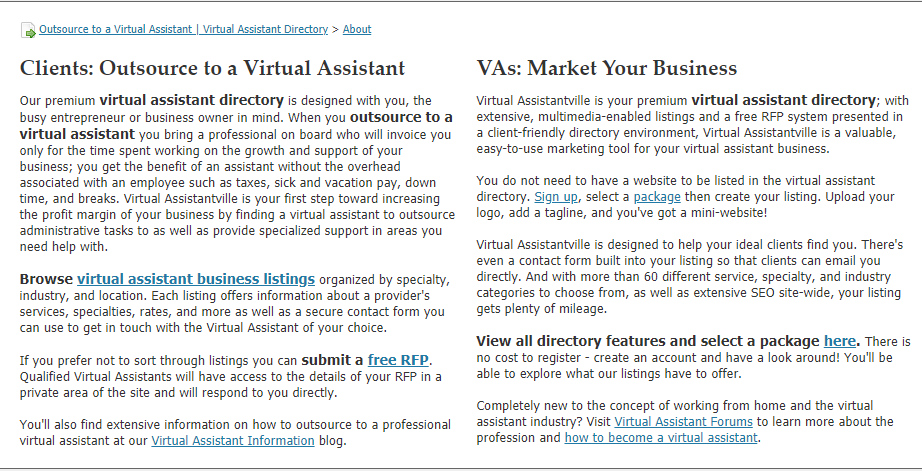 How it works?
This directory is designed not only for clients who are looking for assistance but are also designed to help assistants find the best suitable clients for their specific set of skills.
If you're a business owner, entrepreneur, manager or simply a client who is looking to have extra hands to help you with your office work then you will definitely find your VA on this directory. To get started, all you have to do is sign up for an account on the directory and get your company posted in the series of listing packages in the website. In every listing package, you will get specific perks such as profile customization for your company which can help in increasing your website visibility to both assistants and viewers. 
Also, depending on the listing package that you sign up to, you can also have regular content posted on social media websites and other prestigious websites that help increase website visibility. Of course, each listing will have a different price set up compared to the other and it is important that you consider the package that best suits your needs and budget.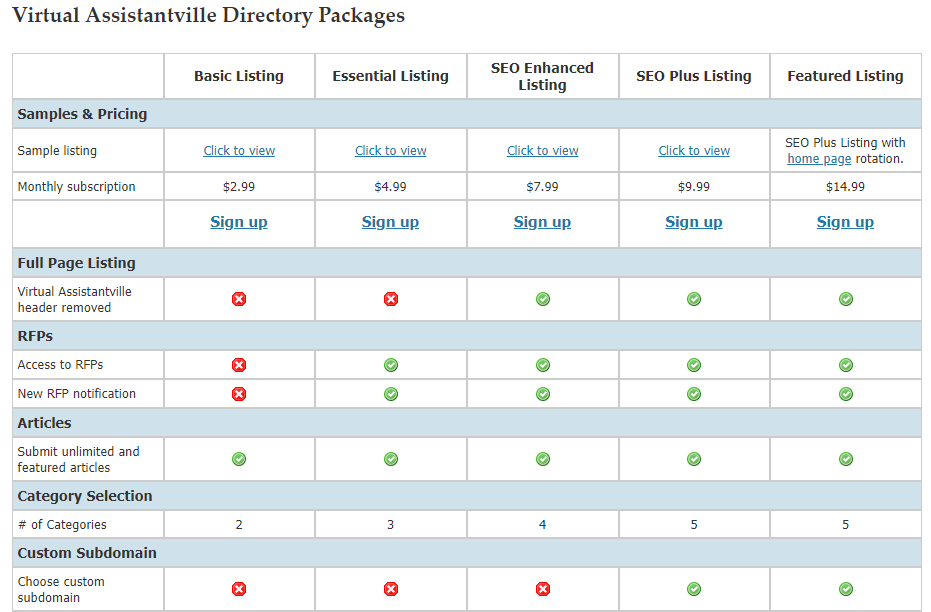 Of course, the website does not only focus on serving clients and companies as it also aims to help assistants who are looking for an employer. The website also houses services and a system that boosts the profile of an assistant. Whenever an assistant creates an account in the directory and establishes an assistant profile, he or she will have his or her profile fully customized in order to achieve better visibility depending on the listing package that they are signed up to. 
The higher the listing package that the assistant is signed up would mean better chances of getting hired by a prestigious company and they also have better chances of choosing their clients or employers. Depending on their requirements when applying for a job such as a rate, volume of work, work involved, skill requirements, they are able to track their best choices since their profile is already set up to surely draw in clients. All the assistant needs to do is choose which client to take.
Our Final Thoughts
The main contribution of website directories such as VirtualAssistantville is that they provide ease and comfort to both clients and assistants. Without having to perform further research and tedious reviews for each website, both client and assistant are able to find a decent listing which comes from this directory.
Also, the rates are very much affordable and flexible as well depending on the specific budget and needs of a user. While it assists both the worker and employee find their best choices, it also boosts and improves the website and profile visibility. Furthermore, it is also of great help in marketing a business or a profile since it is also integrated into social media website such as Facebook and Twitter wherein the majority of the VA marketplace is taking place. With the social media integration, it becomes easy and quick to find an employer for a VA and a VA for an employer.