The field of virtual assistance is one that is ever growing every year. This is for the reason that while it provides convenience to entrepreneurs and business owners, it also provides an affordable and more manageable solution to hiring people to handle sensitive projects. 
In addition, it is a sure way to finish a project within a stipulated time frame. The only problem, however, is that there are too many providers of such services out there that it makes it hard to tell which ones are legit and which ones are not. 
Fortunately, there is one name that can be trusted with regards to finding the best virtual assistant to suit your needs – and that site is timeetc. In this article, we will share with you all the things you need to know about Timeetc and why it is worth investing in.
About TimeEtc
The first thing that you need to know about TimeEtc is that it is launched from the UK, however, is a US-based company providing virtual assistance to clients from any part of the globe. 
Most of its clients come from the US and UK and are mainly handling projects related to website management, content creation, data entry, telemarketing, and many others. It has been launched since 2007 and has been making a name ever since in the field of virtual admin services. 
Today, they have gained popularity with thousands of clients and have accomplished more than a million projects as of this date.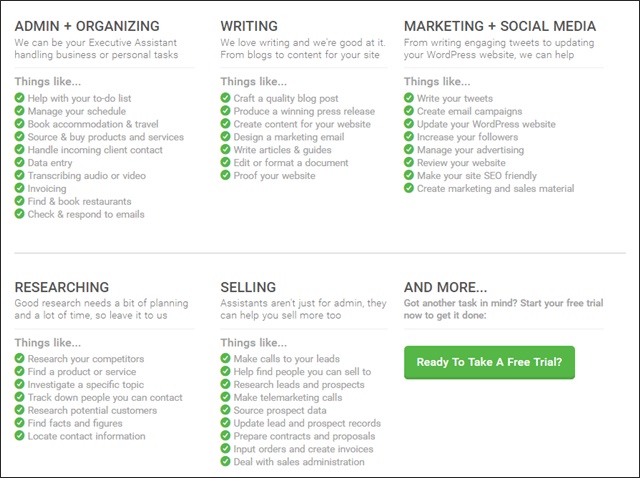 It was the idea of Barnaby Lashbrooke to introduce this website to everyone who is in need of extra hands in their admin work. 
Barnaby is an entrepreneur who once tried working with a team of virtual assistants and found that they are worth investing in. 
After making several projects with some assistants and realizing the time, effort and budget that is saved, he immediately gathered his team and launched the website and started to provide services to small business owners and increased to major clients.
When it comes to the team of assistants in TimeETC, the company makes sure that each employee is well-equipped with the skills and knowledge which a client is looking for. 
Prior to getting hired to work with this company as an assistant, the applicant should undergo series of tests to gauge their proficiency on certain fields and on using certain applications or software. 
In addition, the application will undergo certain interviews along with examinations to make sure that they can do and demonstrate their qualifications in their resume or application.
Furthermore, the website comes with a minimum requirement whenever hiring assistants. They need the applicants to have at least 5 years' experience in the field. 
This would allow easier processes and lets the assistant know the details and what-to-do without further explanation or walkthrough. Also, the assistants should be knowledgeable of the basic platforms that are usually required by clients. 
Among the basic platforms that each assistant is skilled and knowledgeable of include MS applications, WordPress, SEO platforms and social media platforms.
What to expect from TimeEtc
When it comes to the features expected from TimeEtc, they're particularly different to other companies that provide the same services. While other companies focus on specific tasks and projects, TimeEtc welcomes any kind of projects and tasks. 
They have a wide range of experts and professionals that are experts in their own fields of jobs. Among the key projects and tasks that clients can book to include admin and organizing projects, writing projects, social media marketing and management, research and data entry projects, marketing, selling, and many others. 
Apart from these categories where clients can find their ideal assistants and make their posts, they can also broaden their searches by looking up into the sub categories. Being able to use the sub categories feature allows clients to narrow down their choices of candidates and lets them have a more accurate decision with regards to hiring an assistant that suits their needs.
The website also entertains long-term contracts or projects. The greatest challenge with doing projects is the budget constraint brought about by re-hiring people to do certain projects over and over again. 
Not only can this be quite costly but can also be daunting since the client will have to do the whole interview, recruitment, testing and assessment for a candidate all over again. 
By hiring the ideal assistant at TimeEtc, the client can just let worker standby as soon as a project ends and continue with the project as soon as a task is available.
Although there haven't been any incidents of clients being unhappy with their chosen assistants, they are given a chance to replace their assistants should that the necessary. 
They can conveniently do so without any cost provided that they submit a valid report and reason why they want to change assistant. 
This step would help ensure that the quality of service is met for each client and to screen or weed out those assistants with poor performance or behavior.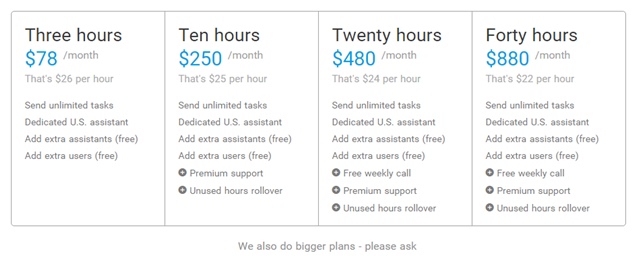 When it comes to the pricing, TimeEtc seems to be a bit more affordable than its competitions. 
It offers $250 flat free rate for 10 hours of services in a month, $480 whenever looking to book for 20 hours of admin services, and $880 for 40 hours.
With this prices mentioned it is noticeable that the longer hours the client books, the bigger savings he or she gets. Should the client require more time to work on a project, the packages can also be flexible in terms of the required time.  
The best thing, however, is that clients are able to avail of a FREE trial of the services for a maximum of 1 hour of admin services.
This kind of trial is exclusive only to this website and not many VA websites provide such offers. With this trial, the client can be able to gauge the level of accuracy and competitiveness of the VA's present in the website.