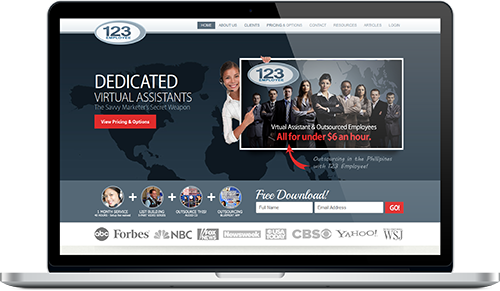 In this modern day and age, the word hard labour is no more. With the constant improvements in technology, we are now provided with the convenience of doing tasks easily. The same goes with jobs related to the use of a computer. We now have applications, software, program and systems that enable us to perform difficult and complicated tasks effortlessly.
The main problem, however, is that not everyone has the time as well as the effort and even skills to make use of such innovations. Fortunately, however, one can just hire a VA to take care of these kinds of work. Although, the challenge comes with where to find the ideal VA that are competent enough to provide you with exactly what you need.
In this 123Employee review, we will outline this virtual assistant company to give your a clear picture if they fit in the bill
Whenever you look up outsourcing companies over the internet, there will be high chances that you'll stumble upon 123Employee.com. This is for the reason that they are simply preferred by many business owners and entrepreneurs in the topic of virtual assistance. They also have the biggest team of virtual assistance which is close to 300 workers and are all experts in their specific field. All workers work hand in hand with the website in providing the clients the assistance that they need in order to maintain a good working relationship and to keep clients coming back for more. Launched in early 2004, 123Employee have been providing consistent VA services to clients from various countries across the globe.
It started with 10 workers since its launching and worked its way to its great numbers. Back then it only took a couple of jobs that mainly covered data entry tasks as well as the basic admin jobs. However today, the company now covers many tasks in different areas that include admin related tasks, tasks that require a good level of technical skills and knowledge such as coding or programming and video as well as image editing. In addition, the company is a preferred choice for many entrepreneurs because it comes with affordable rates for their services.
The company is stationed at the Philippines wherein most of the workers are expert and well-experienced Filipino virtual assistants. Each VA is trained and equipped with the most up-to-date knowledge and skills with regard to their specialty of services. And since the cost of living in the Philippines is rather less expensive, the rates as well are much more affordable than the company's competitions. Nevertheless, the quality is up to par with the top performing VA's coming from other countries.
Other services that 123Employee has been known to be excellent at through the years include jobs such as customer support, data analysis and research, data mining, telemarketing, video marketing, social media marketing, email handling, page management on social media sites, and many others.
When it comes to finding the right VA for your needs in 123Employee, your journey starts by providing a summary of the job description that you have available in your company. In your description, it would also be best to include the qualities, traits, skills and other requirements that you are looking for in your ideal VA. Once the request has been confirmed, 123Employee immediately sets out to find your ideal VA through their huge list of VA's. Each potential VA will be carefully screened and checked for credentials and will be interviewed when chosen.
As soon as the candidates have been screened down to just the top choices, they are then presented to the client for the picking. As soon as the client chooses his or her VA, they can then commence with an agreement to work on a project. What is written in the agreement will depend on both parties wherein usually it covers the work hours, the rate of pay, and the workload. A great thing to note when working with this website is that clients are able to manage the time when the VA works. They can both agree to a working time and the client can monitor when the VA is working and what progress is done to the project.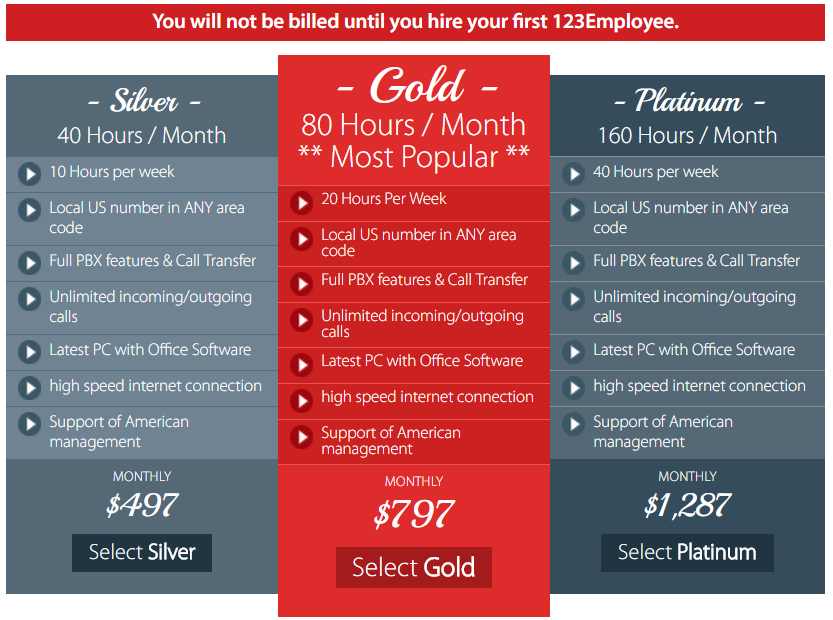 Another edge that 123Employee have among others is the availability of flexible plans and rates. With these plans, it becomes easy to manage a project and the VA using a given budget.
The first plan is the Silver package wherein the VA is paid $497 month and can work for 10 hours within a week. This package is recommended for those looking to perform quick and short assignments with a limited budget.
The second package is the Gold package which is rated at $797 per month with a working limit of 20 hours per week. While greatly increasing the price, the VA also gets to work more hours in a week, therefore, finishing more tasks for the client.
Lastly, if the client has a long project but is worried about the price then the client can just opt for the Platinum package which costs $1287 for every month, however, allows the VA to work for 40 hours week. While this can be a bit more expensive than the earlier packages, it enables more working hours for the VA thus enabling better productivity which leads to better profitability.
When choosing which plan to go to, it is important to bear in mind the available time for the project, the available budget, as well as work load. Also, VA service fees actually come cheap compared to the
profits and benefits that can be attained after the work is done. What is just important to bear in mind is that you already have found a reliable source of VA services to help you with admin tasks and that working with a reputable company disables any risks such as fraud and scams and ensures that each product or output is delivered on time as well with quality and with style.
As you can see 123 Employee is kind of pricey. You can also have an alternative to consider when trying to find awesome Virtual Assistants in the Philippines which is our #1 recommended.