Hi, there! Welcome to our Outsourcing Angel Review!
Businesses and virtual assistants nowadays have been constantly pouring in the digital workspace where a crowd of highly competitive virtual assistant service companies has also thrived. 
Staffing agencies like Outsourcing Angel have graced the VA world with their skillfully crafted hiring and selection process, helping many companies to achieve organizational success. Let's dig into their culture and what drives their team forward…
Company Name: Outsourcing Angel
CEO & Founder:  Linh Podetti
Headquarters: Sydney, Australia
Service Type: Outsourcing/Offshoring
Target For: Entrepreneurs and Business Owners
Summary:
Outsourcing Angel is a remote staffing agency that provides impeccable service to its clients through its pool of highly skilled Filipino virtual assistants.
What is Outsourcing Angel?
Outsourcing Angel is a remote staff recruitment agency based in Australia that exclusively provides skilled virtual assistants from the Philippines to its growing clientele. They jump right in from the recruitment process, taking care of all the paperwork and payroll requirements until a relationship is established between the VA and the client.
But it does not stop there. True to its name, Outsourcing Angel takes the job seriously in ensuring that the client is well taken care of and gets the best of results from their qualified VAs.
Apart from this Angel experience, the CEO & Founder Linh Podetti strongly believes in a business with a purpose – a mission that is well-celebrated by the Outsourcing Angel team. 
Since it was founded in 2015, it has reinvested its profits to charitable projects in the Philippines while serving about 360 clients from Australia, New Zealand, USA, Canada, UK, Europe and Dubai.
What Does Outsourcing Angel Do?
This service-oriented agency takes pride in its true end-to-end outsourcing strategy, taking off the legwork of the recruitment process and partners with the client from the hiring, onboard, HR, and payroll setup. This lets the clients make use of their time on the more critical and high-level items for business growth.
Outsourcing Angel effectively matches its clients with the best and highly skilled assistant or VA team may it be for short-term, medium-term or long-term business goals.
They have catered to companies in various fields such as Digital Marketing, Human Resources, Hospitality Management, Food and Beverage, Real Estate, Education and more.
Their pool of reliable offshore 'angels' work on the following types of requests:
Executive and Advanced Tasks 
Administrative work

Content writing

Research

Digital marketing

Customer support 

Social media management
Specialist Tasks 
Web development

Online marketing

Web design

Audio and video editing and formatting

Web enhancements 

Reporting like blog analysis or Google analytics
They have three types of Dedicated Virtual Angels that can fit your business requirements.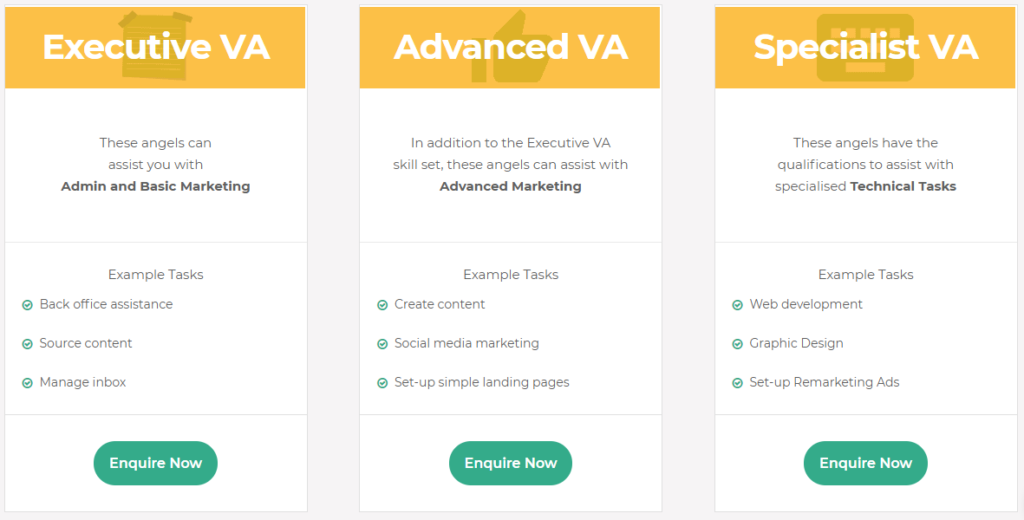 They also have their niche services in LinkedIn Lead Generation, Video Animation and Audio, and Bookkeeping and Accounting.
Outsourcing Angel handles the hiring process efficiently by having a one-on-one discussion with the client about his VA requirements. To avail of their services, here's what you need to do:
Discovery Call – By filling out a form, you can book a free one-on-one consultation with an Outsourcing Specialist regarding your business needs

Strategy Mapping  – The Outsourcing Specialist will give you a proposal and walk you through their VA recommendations based on our requirement

Onboarding  – They will discuss with you the process and the tools to use. 

Interview  – Their HR Manager will start the recruiting process and will provide you a shortlist of the best candidates. (There's actually a deposit fee that you have to pay before they start the scouting)

Hiring – Once you've selected the best VA, they will proceed with hiring and onboarding procedures and setup all the necessities. 

Time to Hit the Road! – You can start working with your VA with the Outsourcing Angel team to support you all the way during the 'nesting' period

Ongoing Support – They will do the HR matters such as attendance and performance monitoring, reporting and appraisals

Payroll – You pay them for the service so, in turn, they can pay your VAs on time.
The VA is required to send you a daily work report of all the tasks they've worked on. Besides this, there will be managers and support team that will oversee the work, so you are assured that your assistant is really performing the task.
The VA will be on a 3-month probationary period and if for any reason, you are unhappy with your selected VA, Outsourcing Angel will find you another qualified VA that best fits your needs.
Outsourcing Angel offers three flexible packages to its clients.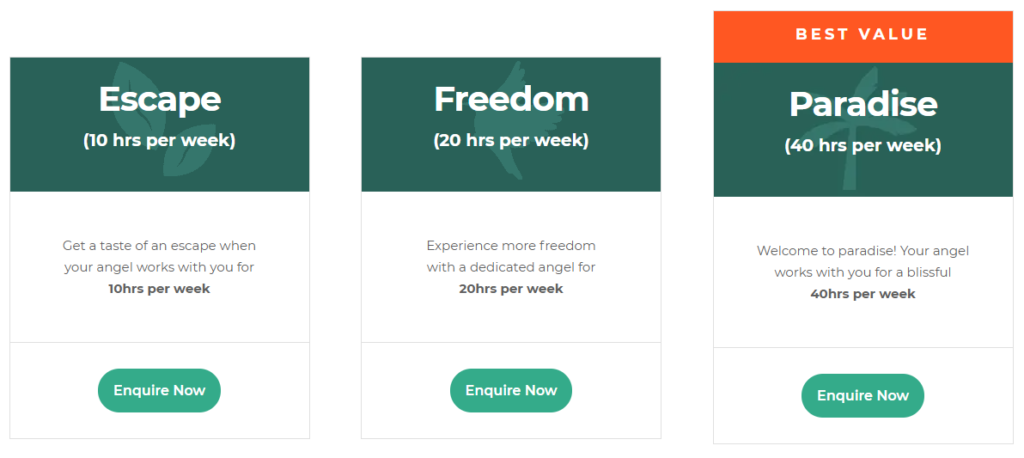 All the packages should include: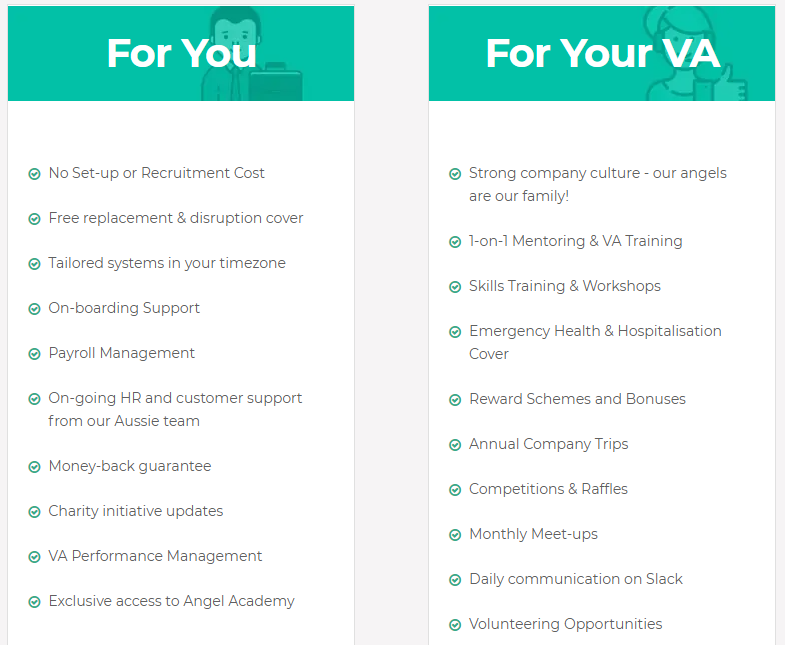 The pricing usually varies depending on the type of VA: General Virtual Assistant or Technical Virtual Assistant; or if you decide for full-time or part-time. Here's a glimpse of how much likely it will be: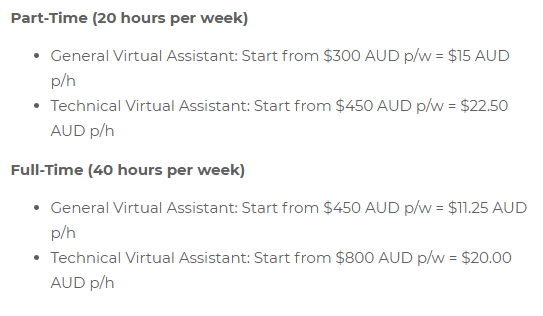 Should you require your VA for extra hours beyond the monthly plan coverage or outside of their regular working hours, overtime pay will then apply to ensure a fair working policy.

My Outsourcing Angel Review and Summary
The meticulous and lengthy hiring process is oftentimes taking a toll on business owners, as well as the repetitive and menial tasks that can easily be passed on to a freelancer. 
Outsourcing Angels works best in both ways – recruitment and placement of only the best assistants for their clients. And, with just a few years in the business, they have already established a good name for themselves, garnering very good reviews from numerous happy clients.
Let's see how'd look in both sides:
Efficient end-to-end outsourcing process

A highly capable pool of assistants

Hassle-free VA performance monitoring

Rehire and disruption cover

They offer a money-back guarantee
Plans are not so flexible (unused hours for the month won't roll over to the next)

Rates are quite high

Extra hours meant paying for overtime fee and not the regular hourly rate
Outsourcing Angel has proven that your company's tenure does not really equal to the level of performance you can deliver. They have a very tight screening process to ensure that their offshore Filipino talents are second to none when it comes to the quality and quality of work.
However credible and recommended their service may be, business owners can still opt to directly hire far more affordable and still results-driven virtual assistants in the very wide online job market. Perhaps, what made them stand out so far, apart from their awesome VAs and commendable service, is their drive to give back to the community by really reinvesting their profits in charitable organizations in developing countries.
Outsourcing Angel Alternative
One of the best alternatives for Fancy Hands should be Onlinejobs.ph. This online job portal is a great source of affordable and highly-skilled full-time virtual assistants in the Philippines.