Many online entrprenuer are engaging online virtual assistants to assist them on their business. As such. online Virtual Assistant (VA) business are quite lucrative and as days goes by, VA is common word in the online world. 
There are a lot of VAs now and you have to get the right one, in terms of quality, knowledge and willingness to improve your project. These are hard to find VAs and to be frank, you really need a good VA company to support you in terms of providing you a good and reliable VA.  
Let's get down to Zirtual review.
Zirtual provides their clients with virtual assistants to perform tasks that includes administrative and executive works, data entries, travel arrangements reservations, scheduling meetings, social media and marketing, conducting research, personal assistant, property management, emails assistant, website maintenance and e-commerce, etc.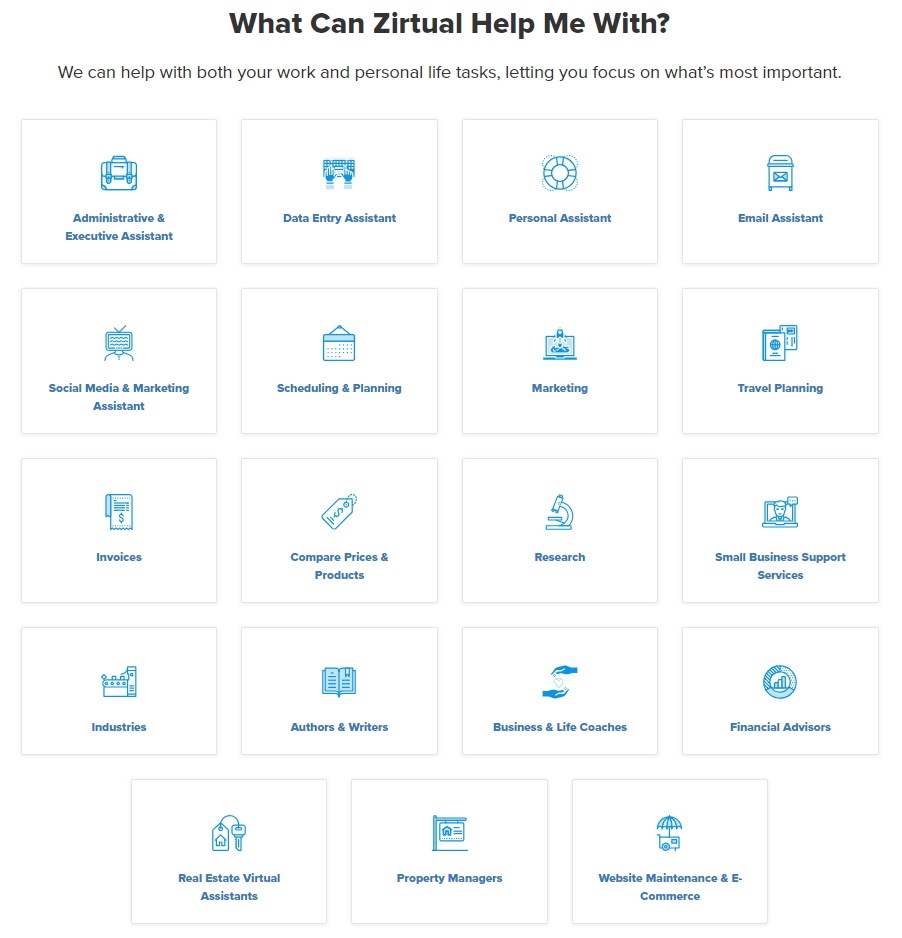 For clients who wants assurance that the VAs that Zirtual provides are quality and better than other companies out there,  virtual assistants that Zirtual hires are thoroughly screened, college-educated and competent to perform specific tasks. This is outmost important as a client focus will be lost if their VAs are not equip with the knowledge and competent. 
Clients will be assured and if there are problems with the services Zirtual offers, a replacement virtual assistant will be appointed. Also, there is an option of a refund in a case by case basis. 
Starting up with Zirtual is an easy process and there are no start-up or initial fees aside from the monthly subscription.
In addition, there are binded long or short-term contracts so clients can choose to use Zirtual on a one-time project basis or sign up for a monthly plan as clients can cancel at any time with no penalty.
Price: Subcription and Plans
There are four plans to choose from and the most popular option is the Entrepreneur plan priced at $449 per month.
The Entrepreneur plan is the cheapest of the lot and clients can choose from the services provided by Zirtual.
From the pricing, based on 12 hours of task work per month, it is around $37 per hour which is affordable. 
If there are additional tasks needed for more than 12 hours per month, clients can choose from Start-up plan or Small Business plan or Team plan. It depends on the preference of individual.

Zirtual has a dynamic team of virtual assistant and recruitment process is an important part of finding a good and quality VAs. 
Selecting VAs is a frustrating thing to do and without a doubt, it takes time to find a good one. 
To share, the first few tasks that you give to the VA should be managed carefully so that they get a feel of how you want things to be done.
Zirtual is a good and reputable company to hire a VA and it is their recruitment process that gives them the edge from their competitors. 
There are others recommendation that you may want to take a look as follows. You may read our reviews before making a decision.
The above products price range are affordable and you get access to their database of candidates. However, you have to do your own screening and interviews.