With the growing need for virtual assistants and with entrepreneurs looking for means to upscale their business but are having challenges in getting the right people, outsourcing service companies like 20four7va can be your best allies.
20four7va has long learned the ropes of the virtual assistant business and for years, they have followed a specialized Road Map that only draws in more effective client-VA pairing. Let's check them out!
Company Name:  20four7VA
President and CEO:  Catherine vanVonno
Headquarters: Maryland, USA
Service Type: Marketplace 
Target For: Small and Medium business owners and entrepreneurs
Summary:
20four7VA is a provider of skilled and reliable virtual assistants for small and medium business owners with cost-efficient services and an assurance of credible in-house support teams.
20four7VA is a US-based virtual assistant service company conceptualized from EconMobile LLC and was eventually established in 2013 which primarily aims to provide cost-effective remote staffing for small and medium businesses around the world. 
They have a wide pool of talented assistants from the Philippines and the rest of Southeast Asia, in Eastern Europe, India, South Africa, and in selected US territories.
The team understands the challenges that entrepreneurs have when it comes to hiring and training the right people to help their business grow.
So, after getting the hang of the whole outsourcing process, 20four7VA formed their own recruitment, training, IT support, and accounting teams.
This VA service provider takes pride in offering reliable and highly-skilled remote staff to more than 1,000 clients across 47 industries such as eCommerce and retail, real estate, travel and tourism, finance, and many more.
What sets 20four7VA apart from other service providers is that they will walk you through the selection and hiring process FREE OF CHARGE, and will only start charging once you have already chosen a VA.
Whether you are looking for part-time, full-time, or project-based assistants, you can be assured that they are equipped to cover all the mundane work that holds you up so you can spend more time with high-level tasks.
20four7VA highlights the following VA services:
Administrative Virtual Assistant

– covers routine yet essential tasks for your business such as customer support, data manipulation, operations management, and business improvement.

eCommerce Virtual Assistant

– their skilled VAs have expertise in Amazon, eBay, Wallmart, and other similar online marketplaces and can provide you with daily support on account management, inventory and orders, listing management, and internet research

Specialist Virtual Assistant

– you can hire a skill-specific VA such as content writer, graphic designer, website developer, video creator, SEO specialist, Social Media, and more.

IT Virtual Assistant

– they have a highly experienced pool of IT assistants that can help you from the setting up to maintaining your website, making sure it's free of bugs and is always up-to-date.

Podcast Virtual Assistant

– they have VAs that can manage your podcasts from researching potential guests to being your creative and technical support staff.

Construction Virtual Assistant – this remote staff can unload the burdens of a contractor or construction company by taking care of the various administrative or office management tasks.
20four7VA provides four easy steps for you to hire a VA.
Step 1: Fill out a consultation form to schedule a call so they get to know your business well and understand your needs and requirements. You can access it here.
Step 2: Their Client Services Team will match you with the best VA from their database.
Step 3: They will set you up an interview with your chosen applicants where you can actually give them a free 30-minute test task.
Step 4: Once you've chosen your VA, they will set up your plan and have your VA to start working with you in the next business day.
Featured Virtual Assistants
The company also features the profiles of their top available VAs on their page. This handpicked talented packet of VAs covers all types of services so the clients have a better chance of hiring the best assistant.
You can access this page here and book your selected VA for interview right away.
Each client-VA pair will be assigned to a dedicated Account Manager who will be providing ongoing support throughout the entire working relationship. Should the VA not work out, they will find a replacement right away and take care of the cost.
While you are focused on the core of your business, their in-house support teams will monitor your VA's performance as well as manage the payroll system.
The packages vary from the VA's level of expertise – Entry Level, Intermediate Jr. Level, Intermediate Sr. Level, and Advanced Level – and task assignment.
Administrative Virtual Assistant Packages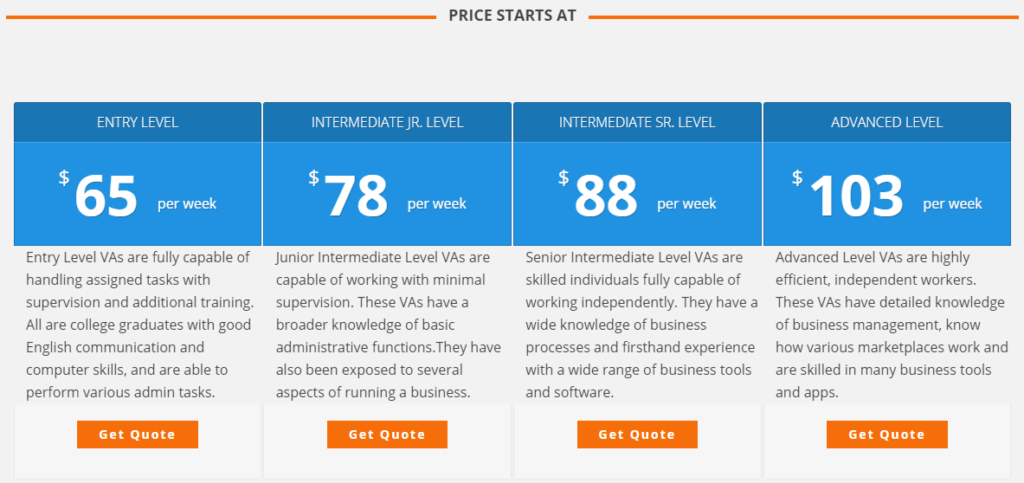 eCommerce Virtual Assistant Packages
Specialist Virtual Assistant Packages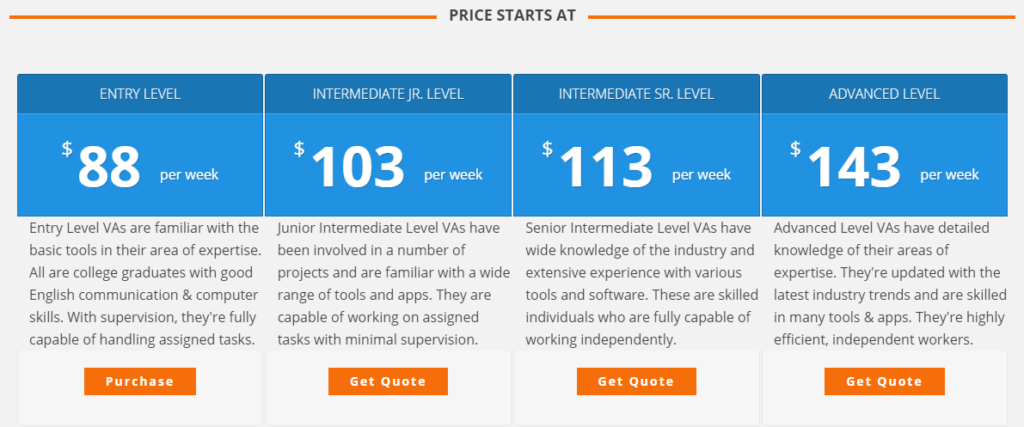 Podcast Virtual Assistant Packages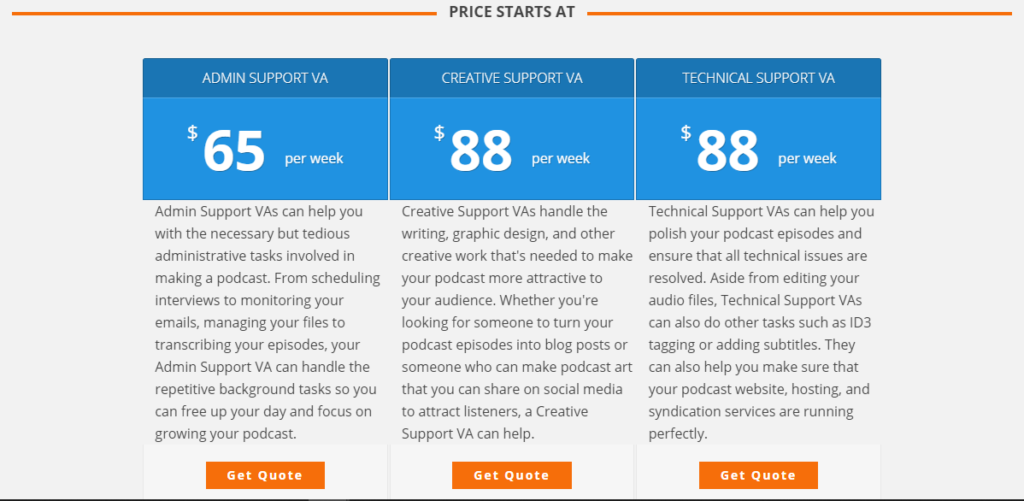 Construction Virtual Assistant Packages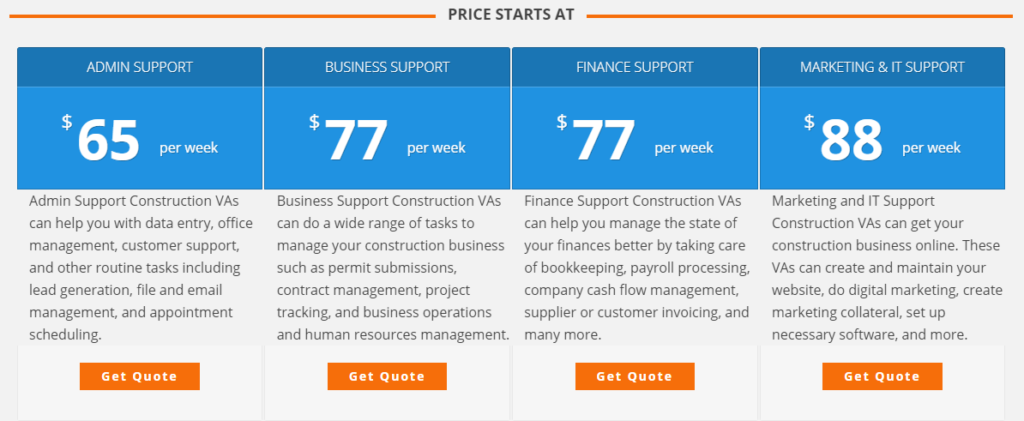 All of the VA packages include: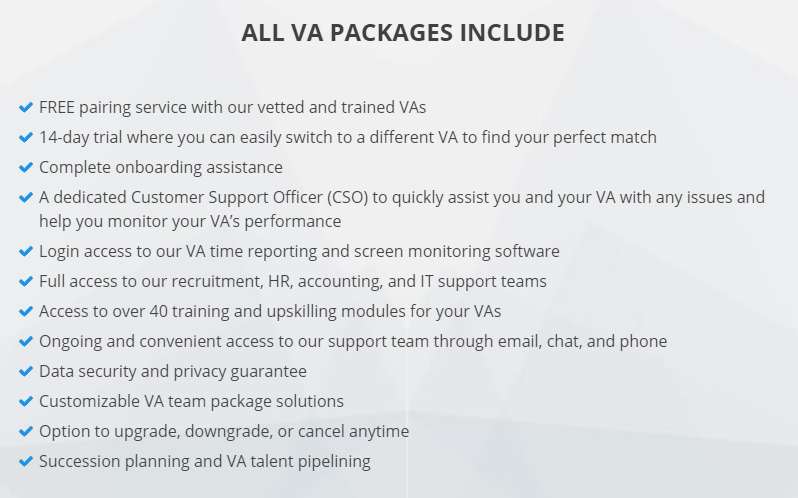 Over the years, VA service providers have evolved with the growing demand and increasing standard of the VA industry. 20four7VA has proven to have been calibrated globally, managing to garner several satisfied clients since it was established.
Here's how we view them:
FREE consultation, selection, and hiring process

Global and skilled VAs to support any timezone

All-in support service from HR to payroll

Dedicated customer support

Covers a wider range of industries
Packages are not that flexible

The risk remains on hiring an unskilled VA

Hiring a VA directly is way cheaper than going through an outsourcing company
With billions of people resorting to online business ventures, the VA industry becomes a rich resource for remote staff that cuts off most of your operational expenses.
Established VA service providers have long been occupying the digital market, along with skilled and dedicated assistants who are ready to jump in at one buzz. If you wish to unload all those redundant tasks that can always be delegated, then all you have to do is find the right place to get help.
The VA market is very wide and looking for the right pool of people can be a tedious job. So, if you don't wish to go through the whole selection, hiring and training processes, outsourcing specialists such as 20four7VA is the best place to go.
For virtual assistant services needs, you may also check Onlinejobs.ph if you are willing to try outsourcing your VA. This online job portal is a great source of affordable and highly-skilled full-time virtual assistants in the Philippines.