Welcome to our MarketerHire Review!
Marketing specialists add so much value to your business, especially if you are still putting up your name out in the online world.
As much as other virtual assistants, marketers are equally essential to help you out in the branding and digital marketing aspects.
MarketerHire ranks high in this field, given its tenure in the industry. Let us know how its team has built a reputation in such a short amount of time.
Company Name: MarketerHire
Co-Founders:  Chris Toy, Raaja Nemani

Headquarters: San Francisco, CA

Service Type: Marketing and Outsourcing
Target For: Business owners and entrepreneurs
Summary:
MarketerHire is an online platform that connects top notch freelance marketers with businesses quickly and seamlessly.
Co-founded by Chris Toy and Raaja Nemani in 2018, MarketerHire is a US-based online platform that connects businesses with marketing experts all around the globe.
Being marketers themselves, the founders understand the challenge of finding the best people who can help improve your brand's online presence.
The company has been a trusted marketer resource by hundreds of clients, focusing more on direct-to-consumer e-commerce companies.
Their fast pairing and efficient vetting processes are what draw more clients in, ensuring that they only provide experts in the field.
What Does MarketerHire Do?
MarketerHire is a credible network of pre-vetted freelance marketers who service clients with efficacy. May it be for one-time projects, hourly-based, part-time or full-time, they can help you find the right expert no matter where you are in less than a week.
Here's what they do best: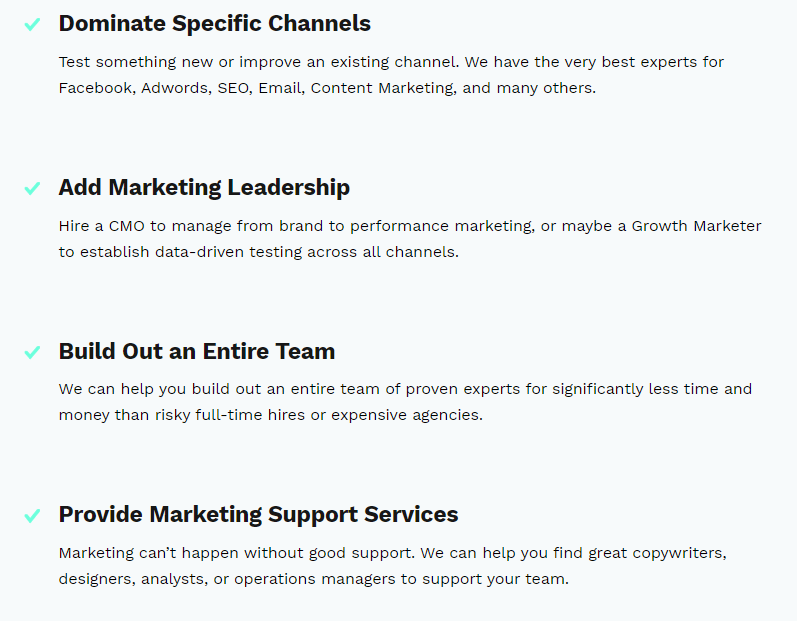 They have a wide range of marketing specialists that allows you to hire one or more to make the team.
Amazon Marketer

– these experts possess optimization skills, paid advertising, SEO, and promotion management, which are critical skills for top Amazon freelancers to upscale your business.

Growth Marketer

– these marketing specialists know the tweaks in unlocking growth the fastest, focusing on the right channels and opportunities.

Brand Marketer

– these proven marketers will guide you in planning your marketing campaigns and help you get aligned with the latest trends of branding strategies.

Paid Search Marketer

– their SEM (search engine marketing) experts are best at leveraging your paid ads, driving more traffic to your site, and drawing in more customers.

CMO (Chief Marketing Officer)

– these pre-vetted officers have proven their effectiveness in the field, with expertise on lead generation, retention and engagement, marketing communications, brand positioning, and research and analytics.

Paid Social Media Marketer

– they only have top-notch social media marketers such as Facebook marketing experts who are always up for the game of producing convertible and visible returns.

Content Marketer

– MarketerHire makes it easy for clients to meet the best of the best content writers in the digital space who are not only adept in writing skills but can also integrate marketing strategies into the content for optimal results.

SEO Marketer

– expert SEO marketers are well-versed with long-term and smart strategies by optimizing keyword searches and rankings.

Email Marketer

– people best communicate with emails, and it's equally important to use this channel to maintain and sustain your audience. MarketerHire can guarantee that you only get the most excellent specialist in this field.

Social Media Marketer – these SocMed marketing experts know the ins and outs of maximizing multiple platforms, so you can be assured that their marketing drives aim to boost your business.
MarketerHire makes it seamless for businesses to connect with their pool of marketing experts. 
Below is a simple 3-step guide for you to hire a perfect marketer:
Step 1: Fill out a questionnaire about your business and marketing requirements. A Marketing Manager will then reach out to you to better understand your needs.
Step 2: They will start searching for the perfect match, and within 48 hours, they will schedule an intro call between you and your marketer.
Step 3: Once you hire your marketer, you can then start working on the project. The Marketing Manager will be providing ongoing support along the way, checking in every two weeks to ensure everything's going smoothly.
MarketerHire does not charge recruiting fees, and the 30-minute intro call with your perfect marketer is actually free.
Should you feel unhappy or unsatisfied with your marketer, they'll do a re-match though they are highly confident that what they lay on the table is less than 5% of the total applicants.
MarketerHire has not set any base plan or pricing for its clients since their experts set their own payscale based on their marketing specialty, years of experience, location, and other factors. The more specialized and critical the need is, the higher the rates.
They, however, provide a general price range:
Furthermore, MarketerHire guarantees no placement fees, termination fees, and long-term contracts with its clients.
Finding the best marketing person or team to drive growth for your business can be very challenging, especially as more and more marketers join the industry who are claiming to be a specialist.
This is where MarketerHire comes in, doing a rigorous pre-vetting of its applicants to create a network of marketing experts that help the clients achieve their goals.
Here's how we see them so far:
Proven and pre-vetted candidates

Fast matching turnaround time

Transparency on charges and no long-term contracts to sign up to

Ongoing support 
No flexible plans or packages available

Absence of a performance monitoring system
Marketing specialists can be considered among the core contributors to the growth of one's business. Advancing to the latest trends and digital marketing strategies is proven to be an effective method to promote your brand, increase your online traffic, and sustain your audience. 
However, this won't really work well if you don't get the right person in place. There are a lot of marketing functions that have to be filled in, and looking for the perfect people to take in these complex roles can be a difficult task given an ever-growing pool of marketers in the industry.
MarketerHire understands this challenge and has transformed this need into a global service, providing businesses, entrepreneurs, and platforms a great resource of pre-vetted marketing experts who work no less than delivering results, driving performance, and sustaining growth.performance, and sustain growth.