Hi! Welcome to our Workana Review!
Newcomers in the online marketplace of skilled virtual assistants must have taken a big leap in order to thrive, especially that established VA providers have already crowded the market. Remote staffing has become a trend for a while, and this only results in the rapid increase of virtual assistant service companies.
Workana has built its name as an innovative organization providing a diverse set of talents for its global clients. Let us earn more about them!
Product Name:  Workana
Founders:  Tomas O'Farell, Guillermo Bracciaforte, Fernando Fornales, and Mariano Iglesias
Service Type: Outsourcing 
Target For: Business owners and Entrepreneurs
Summary:
Workana is an online marketplace that connects clients with the best freelancers for any type of project that can be done remotely.
Founded in Argentina in 2012, Workana came out to the world out of the personal experience by one of its founders, Tomas O'Farell, who, much to his interest, discovered the potential of remote staffing.
Along with his partners, Guillermo Bracciaforte, Fernando Fornales, and Mariano Iglesias, they created Workana and it has become a leader since in Latin America when it comes to providing virtual workers.
Workana is an online hiring platform that connects businesses and entrepreneurs to a vast pool of skilled freelance talents.
Since it was established, they have already served to around 30,000 monthly projects, took in more than two million freelancers, and their platform saw a steadily increasing number of users every year.
Workana covers varied industry sectors from regular administrative works to legal, engineering, and manufacturing. This flexibility is a great advantage to reach out to a broader market of clients from all corners of the world.
The company features the following services:
IT & Programming – this includes PHP Developer, JavaScript Developer, MySQL Expert, WordPress Developer, CSS Developer, Facebook Developer, and more.

Design & Multimedia – you can hire a Graphic Designer, Illustrator, Web Designer, Banner Designer, Audio Editing Expert, 3D animation expert, and more.

Writing & Translation – get their talented Article writer, Copywriter, Creative writer, English-Spanish translator, Spanish-Portuguese translator, and more.

Sales & Marketing – this involves Marketing expert, SEO consultant, Sales specialist, Social Media Marketing expert, Advertising expert, Google Analytics expert, and more.

Admin Support – you can hire Administrative assistant, Customer Service expert, Data entry specialist, Medical Transcription expert, Researcher, and more.

Legal – they have a pool of skilled Legal Research expert, Legal advisor, Civil Law expert, Intellectual property expert, electronic commerce expert, Paralegal expert, and more. 

Finance & Management – Financial analyst, Project Manager, Business analyst, Negotiator, Recruiting expert, Analytics expert, and Operations agent.

Engineering & Manufacturing – AutoCAD expert, Civil Engineer, Solidworks expert, Electrical Engineer, Industrial Engineer, Electronic technician, and more.
Workana allows you to hire the best-fit freelancers from among thousands of available talents. Having these many options, Workana encourages employers to check each of the freelancer's profile to know his/her skills, their work portfolios, and the feedback from the clients he/she has worked for.
To get someone to work on your project after signing up, you just have to follow the steps below:
Step 1. Post a project. Describe the tasks you want to get done remotely, advise them of your deadline, and specify your budget, and within minutes, you'll be receiving proposals from freelancers.
Step 2. Reach out with freelancers. Review the candidates' skills and work portfolio or chat with them to further know about their capacity and availability. Then, choose who you find to be the perfect freelancer for the job.
Step 3. Pay using Escrow Service. After choosing your freelancer, Workana will ask you to pay the total amount of the project. They use Escrow service for payment protection, so you're sure that the payment is only released if the freelancer completes the work.
Step 4. Job Completion. You can communicate with your freelancer via chat, voice or video call, and exchange files, so you can track the progress of the work until it gets done. If you're satisfied with the completed work, you can then release the funds.
Workana has two project types you can choose from:
A fixed-price project – budget was already set and specified

Hourly project – you pay the freelancer on an hourly basis, for as many hours that you need
For hourly projects, Workana has a way of letting you keep track of your freelancer's progress.

In Workana, you can always get as many freelancers as you want, which is an excellent way to complete several tasks at the same time quickly.
Furthermore, the company values transparency throughout the entire duration of the project. They set some guidelines to guide both the freelancer and the client. You can access the full text here.
Posting a project in Workana and chatting with freelancers are free of charge. However, they suggest that clients may as well get a plan to explore their varying levels of service. 
The company offers Basic, Plus, Prime, and Enterprise plans with freelancers setting their own pay scales.

Basic Plan – Free

Plus Plan – USD 49 per month

Prime Plan – USD 99 per month

Enterprise – priced for your needs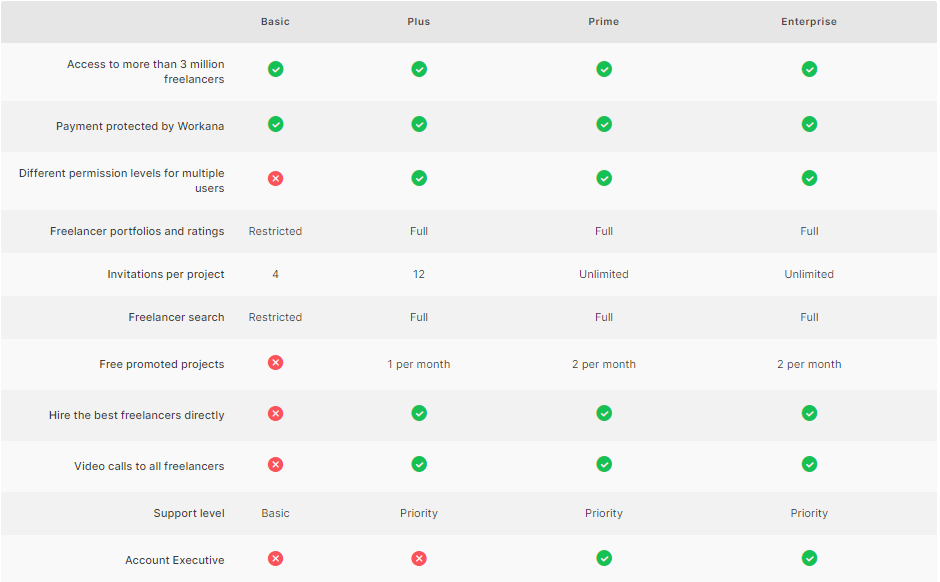 For many years, Workana has become one reliable source of freelancers for just any type of work that their clients need. They've grown considerably as a company, having to employ around two million freelancers to work on thousands of projects each month. Surely, that's enough measure for credibility.
With all this, here's how we see how they're doing so far:
Wide-range of services offered

Free project posting and initial chatting with freelancers are free

Payment is protected until the job gets done

A work tracker in place for progress monitoring
Absence of a tight screening process

Risk of getting incompetent freelancers

It costs way cheaper to hire a freelancer directly

No managerial or continuous support service after the hiring process
With the very tight competition in the market, virtual assistant providers must learn not only to blend in but evolve and explore all the possible strategies to stand out.
Both business and freelancers are now looking for premium and trustworthy services that speak of positive growth and profitability.
Workana is among the few who managed to ease its way in when the industry was a bit younger, setting standards and earning its reputation gradually.
However, these days, clients need more than the traditional hiring process – they need a personal touch and an assurance that they are in the right place to get help.
Workana may still need to add this value in their system. Nevertheless, they surely have a substantial number of users and clients who continually trust in their process.
For virtual assistant services needs, you may also check Onlinejobs.ph if you are willing to try outsourcing your VA. This online job portal is a great source of affordable and highly-skilled full-time virtual assistants in the Philippines.