Welcome to our 99 Dollar Social Review!
Social media has been a powerful tool used by companies nowadays in promoting their brands in the market. Businesses hire virtual assistants who are experts in social media management either directly from online job portals or from outsourcing agencies who provide this type of service.
99 Dollar Social may not be a forerunner in the field but its exclusivity to social media content management service has earned praise from several clients around the world. Let's get to know them better!
Company Name:  99 Dollar Social 
Co-Founder: Tara Holling
Headquarters: Phoenix, AZ
Service Type: Social Media Content Management 
Target For: Small Businesses
Summary:
99 Dollar Social offers affordable custom social media solutions to clients through its experienced content specialists since 2011.
What is Elementor Experts?
99 Dollar Social offers social media content management services to small businesses to help the owners maintain an online presence on social media.
Their US-based content specialists will provide customized content on your social media accounts like Facebook, Twitter, and Instagram every day for the whole year.
Founded in 2011, 99 Dollar Social guarantees the effectiveness of their service as their content specialists have a skillful way of creating content that surely targets your audience and your specific niche.
With an affordable package and sure-hit posts, 99 Dollar has proven to be a very capable company in the marketing and advertising industry.
What Does 99 Dollar Social Do?
99 Dollar Social commits to providing individualized content to your social media pages every day. With them managing your social media marketing, all that you have to do is focus on more important decisions for your business.
Each of their cost-friendly plans  comes with these features:
Content posted once a day, 7 days a week to Facebook and one network of your choice (Twitter, LinkedIn, Google+, or Pinterest)

Unique content, specifically created for your business

Articles and images carefully chosen to interest your target audience

Weekly promotion of your company's products and services

Consistent use of hashtags to increase your chances of being found in social searches

Top-notch support via email, phone, and chat. We're here to help!
Getting started with 99 Dollar Social is quite simple. The steps below will guide you how.
Step 1: Sign up. Once you click the 'Get Started' button, you will be routed the 'Plans & Pricing' page. Once you selected a plan, you will then go to the 'Check out' page where you have to fill out a few details about you before paying your subscription.
Step 2: Tell them all about your business, the products and services you are offering, and any other pertinent information that will help them to get to know you and strategize properly on the contents. You will also be providing them access to your social media accounts so they can start posting.
Step 3:  Posting starts! Within 2-3 business days, they will start posting to your social media pages every single day, ticking this off from your daily task so you can spend more time on more important functions.
If you feel that you are still not ready or if you still have questions about how the service works, feel free to reach out to their Global Retail Sales Manager via chat or schedule a call.
99 Dollar Social plans are affordable month-to-month commitment and no-contract deals which offer flexibility should you wish to cancel anytime.
Here's a look at all the packages they provide: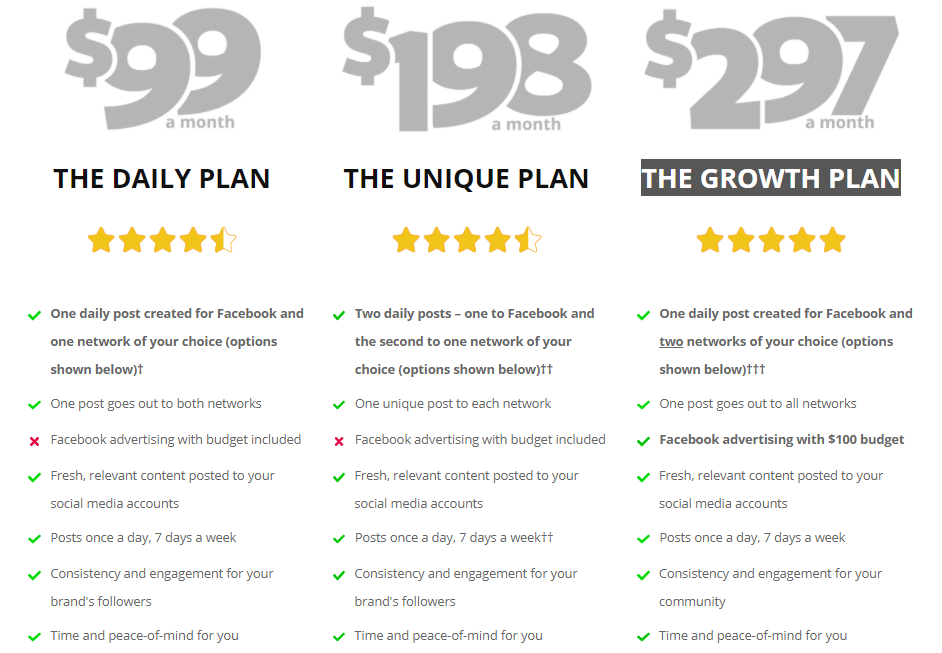 All of these plans include the following:
Individualized content, including articles, images, and videos created to appeal to your specific target audience and tickle the interest of the social media communities.

Ongoing promotion of your products and services in well thought of strategies, building links that get your customers to frequently visit your site.

Content curation and customization by a well-educated, well-trained US-based Content Specialists assure you a quality social media posting fit for your business.

Social profile optimization to maximize your visibility is guaranteed as SEO-standardized contents promote healthy online traffic for your business
99 Dollar Social also offers a money-back guarantee should you wish to cancel within the first 14 days from the time you signed up for the service.
My 99 Dollar Social Review
Growing your business by making sure that you stay 'present' online and be connected with your customers can be one tedious and time-consuming task. Daily contents on your social media pages are way too important to ignore that small businesses would rather hire someone to take this task.
99 Dollar Social has shown its clients that they only provide high-quality content curated by their experienced content specialists for their target audience. Here's our take on their services:
Affordable $99 plan

No long term commitment, you can cancel anytime

Ensures daily posting on social media pages

Unique and customized marketing solutions
Access to your social media accounts

Risk of irrelevant and unauthentic posts

Pinterest and Instagram are add-ons and cost more

Feedback on terrible customer support
In order to thrive in the online business world, you must catch up with the latest marketing strategies and reflect these on your social media pages. Social media is a very powerful tool to monetize and maximize your brand through relatable and effective content that drives customers into your site.
We have not known any specific company yet that focuses on social media content management. However, there are plenty of outsourcing companies in the market that provide the same support and service at a more affordable price. 
Surely, as a small business owner, you may still have trouble balancing all of the major tasks to grow your business. Getting help and outsourcing experts to efficiently promote your business online and get a solid base of clients is actually a great option. If you trust that 99 Dollar Social's customized social media solutions are a better fix to gain a strong online presence, then it may be worth giving them a try.
99 Dollar Social Alternative
While there is no exact alternative, one option is to look into credible online hiring platforms such as Onlinejobs.ph. This online job portal is a great source of affordable and highly-skilled full-time virtual assistants, the likes of social media content specialist, in the Philippines.