Hi, there! Welcome to our Priority VA Review!
In the very busy world of online business, it is important to always keep up not only with your competition but also with the needed growth you need your business to achieve. This is where virtual assistants come in – they make your life easier. All that you have to do is find the perfect place where you can hire a competent one.
Priority VA is smashing in this field. And the best thing is, they put passion into work. Let's get to know them more!
Priority VA Review Summary
Company Name:   
Founder:  Trivinia Barber
Service Type: Outsourcing
Headquarters: Rincon, Georgia
Target For: Founders, CEOs, and Small Business Owners
Summary:
Priority VA provides dedicated Executive VAs to support busy leaders and business owners, taking off those routine tasks from their daily schedule so they can focus on more important of the business.
Priority VA was founded by Trivinia Barber in 2013 to bring forth support to overworked leaders and small business owners who tend to spend most of their time doing the routine tasks.
Priority VA offers its high-skilled US-based Executive VAs who are more than capable and ready to jump in and give their clients a hand.
Their passionate Executive VAs can handle just about anything and surely are all professional and experienced. They've partnered with some of the big names in the market so that's proof enough of their credibility.
What Does Priority VA Do?
Priority VA matches their pool of efficient Executive VAs to clients who are looking to outsource staff for the tedious yet equally important day-to-day tasks.  
Their dedicated Executive Assistants are up for longterm work relationships and Priority VA will ensure that you get the best match for your needs. Here are some areas that your EA can help you with:
Inbox Management and Collaboration

Complex Calendar and Scheduling

Executive Travel Preferences, Budget, and Coordination

Event Planning and Budget Creation or Executive Team Support

Attend Meetings – Create Meeting Minutes and Action Items

Reporting, Research, and Purchasing for Executive Needs
They also offer some programs and resources for businesses who are interested to scale up:
The Momentum Method

Onboarding Success Kit

Done With You Hiring Service

Done For You Hiring Service

The Momentum Method Quick Start Service

Momentum HQ Program/ Community
More of it here.
Priority VA understands the needs of their clients so their commitment to providing the ultimate liaisons reflects on how their EAs are screened, mentored, and deployed.
They take a four-step relationship-based approach: discover, curate, mentor, and develop.
Step 1: Discover. You can start by clicking on the 'Schedule Call' button for a 30-minute strategic call with a manager via Zoom to get to know more about your business. This will help them understand what type of support you need.
Step 2: Curate. After the Discovery call, they will review all your information and choose among their pool of vetted candidates who will match perfectly with your needs, considering not only the skills but the personality as well.
Step 3: Mentor. Once you're paired with your Executive VA, they will walk you through their 100-day journey wherein they will constantly check in with you and your VA for coaching tips and tricks that'll help you feel empowered while working together.
Their 100-day milestone should look like this: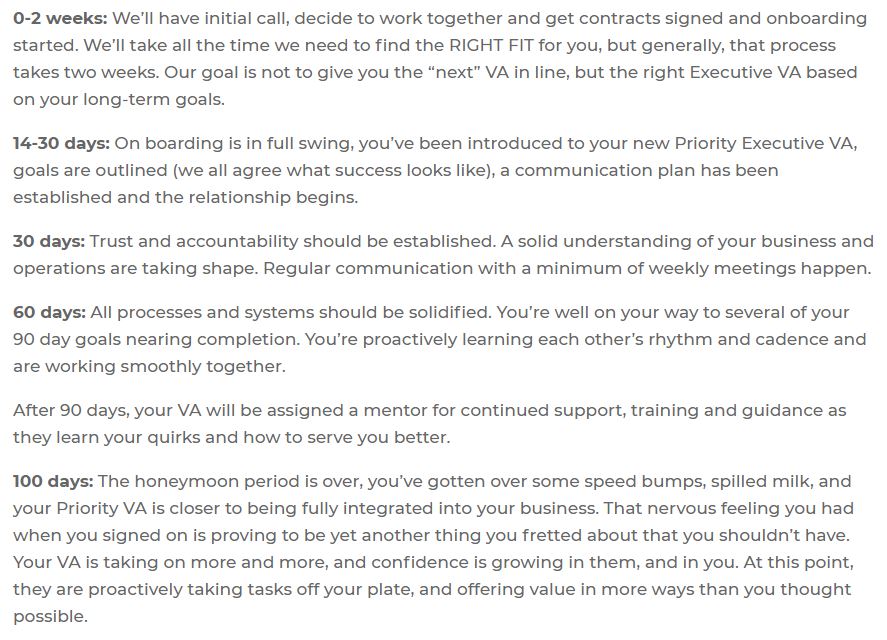 Step 4: Develop. True to their aim of letting you enjoy a long-term collaborative and successful relationship with your EA, Priority VA will check with you from time to time to ensure that you get all the support you need to grow your business.
Priority VA works on unique strategies that best fit your business needs and pair you up with an Executive Assistant that will add value to your business for a long time. Thus, each client gets a specific quote depending on the type of direction he's headed and how Priority VA can help him reach that goal.
During the first step of the process, the 30-minute discovery call is a great opportunity for you to understand the terms and the budget that goes with it.
Priority VA is taking this business seriously, being so invested with both the clients and their VAs to ensure that the working relationship is progressing really well. With a great lineup of clients that Priority VA has served, you can be assured that you only get the best service.
Here's to show how we see them so far:
Highly skilled and experienced Executive VAs

Dedicated EAs mean focused and always available

Mentorship and Strategic programs for business owners

Continuous monitoring and support
No provision for backup VAs

Would have been better to show the range of cost for the service in their site

May not be a good solution for the short-term and project-based tasks
The VA world is continuously growing and evolving and that meant VA service providers must also keep up with the demand and the rising standards of service expected from them.
Priority VA has built its name in providing passionate and rock star Executive VAs that perfectly matched their clients' needs, along with strategic programs that support businesses to scale up.
While Priority VA has its custom plans set for each of its clients, outsourcing Executive VAs and other types of virtual assistants is always accessible from most online job portals – with way more flexible and cost-friendly packages and the same type of service expectation.
We believe that the end goal is to scale up your business and you only have to find the perfect place or VA that will help you achieve growth.
For virtual assistant services needs, you may also check Onlinejobs.ph if you are willing to try outsourcing your VA. This online job portal is a great source of affordable and highly-skilled full-time virtual assistants in the Philippines.