Welcome to our site and this is our VA Networking Review!
Virtual assistants seem to be one of the most in-demand workers these days that it has become easier for companies to source out a remote staff anytime.
The only tedious job is the screening process so might as well know where to look, especially that more and more virtual assistant providers are crowding the online market.
VAnetworking is one of the largest social networking places online for VAs to connect and at the same time, one credible resource to hire the best VAs in the world.
Let's learn how this amazing company built an empire of talents.
Company Name:  VAnetworking
Founder: Tawnya Sutherland
Service Type: Professional Training & Coaching, VA Outsourcing
Headquarters: Surrey, BC
Target For: Business owners and Entrepreneurs
Summary:
VAnetworking is an open network where experienced virtual assistants around the world connect and serves as a job portal at the same time for clients who seek for the best talents to support their business needs.
Established in 2003, VAnetworking was founded initially as a small support forum where the then starting up founder Tawnya Sutherland socialize with a couple of friends about VA business.
Years past, the forum turned out to be one big online resource and stop for thousands of virtual assistants around the globe who need answers on how to better serve their clients.
As the word came out, VAnetworking also became an open job portal where customers or clients can visit, learn how to outsource, and eventually hire an experienced talent by posting a proposal on their VA job board.
What Does VAnetworking Do?
Apart from a 24/7 network for virtual assistants, VAnetworking also exists to help entrepreneurs find the best help for their business needs. Their elite VAinsiders have priority access to online job boards who are well-equipped and ready to jump in and roll their sleeves for just any task.
VAnetworking ensures that the VAs have access to the latest resources and strategies to further their skill set, especially those that are starting their own VA business. They even offer exclusive deals such as paid memberships so members can upscale their training privileges and get better opportunities.
Here are the services that VAs can avail of:
VA Startup System

VA Insiders Club

VA Coaching

VA Online Conference

VA Websites & Hosting
Clients can connect with the social network not only to find talents but to also be guided on how to properly outsource the best VA via an eBook that the founder herself is selling. 
Some of the services that VAnetworking offer are the following:
General Administrative

Web Design

Social Media Marketing

Real Estate
For clients to connect with VAnetworking, below are the steps to guide you.
Step 1: Submit an RFP (Request for Proposal) for FREE via the 'Hire a VA' option on the topmost part of the page. 
Step 2: Fill out the form accordingly. If you are new to the site, the form will serve for both signing up and the job request where you need to input the type of service you need as well as the skills you require for the project. You would also need to log your budget and target completion date for project-based tasks.
Step 3: Once successfully submitted, this RFP will be posted in their VAinsiders job board and interested VAs will then reach out to you via email.
VAnetworking serves to connect you and the qualified VAs so it is important that you do due diligence in the selection and hiring process in order to find the ultimate VA for your business needs.
They also offer an Affiliate Program for those who are interested to link with VAnetworking by providing traffic of potential audiences, students, and clients to their website.
Since VAnetworking primarily supports virtual assistants, they offer affordable prices for those who wish to avail of the paid members' privileges.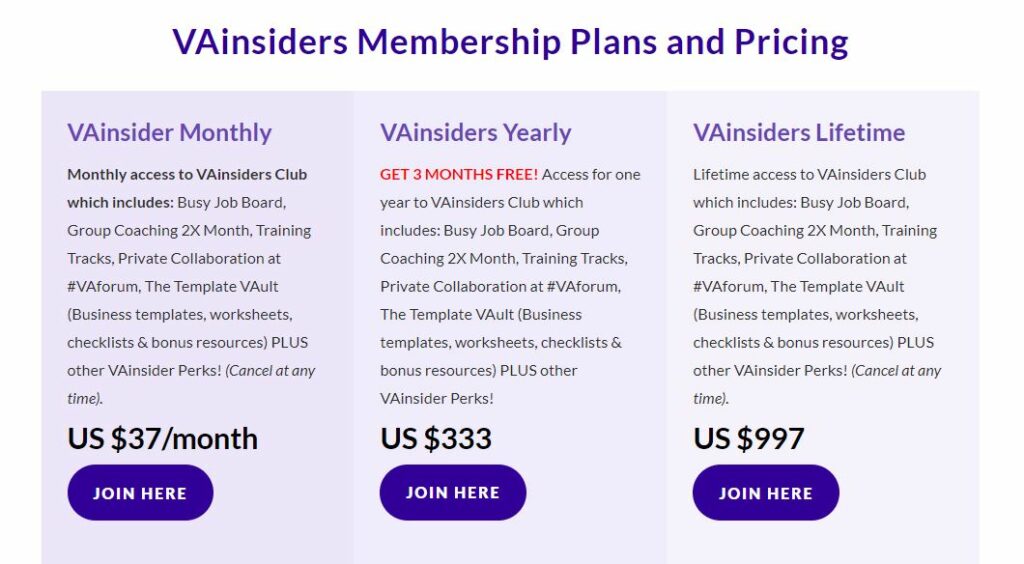 For clients, submitting an RFP for posting on the VAinsiders.com member job board is totally free. Since only paid members have access to this portal, you can be assured that the VAs reaching out to you are the most qualified and takes VA-ing a serious job.
Since VAnetworking has a broad pool of VAs with varying experience levels, pay scale may also vary so you must consider only those that fit best to your skills requirement and budget.
As much as clients need support from VAs, VAs themselves also need a solid base where they can continuously get nourishment to better serve their clients. VAnetworking is a pioneer in the VA world and with close to two decades of providing support to both VAs and clients, they are considered a long-time provider of the best talents in the VA industry.
Learning about how the business works, here's how we see them:
24/7 network and support for virtual assistants

Credible and reputable resource of skilled talents

Posting a proposal is free

No upcharge on rates since you directly hire the VA
You do your own due diligence during the hiring process

You bear the responsibility from training to monitoring your VA's performance

No known ongoing support for the client-VA working relationship
Being a pioneer in one of the leading industries nowadays has its perks. VAnetworking is an established network that has been known to have created a valuable resource for virtual assistants around the world seeking for better opportunities and are trying to upscale their VA business. 
This reputable network has opened its doors to entrepreneurs who want to outsource the best talents to unload them of certain tasks so they can focus more on growing their business.
Every VA service provider has its fair share of qualities, programs, and services and it's up to you to properly scout for the service that fits best your business needs. Posting a proposal in VAnetworking is free, so we believe it's worth giving them a try and find out for yourself how their experienced VAs can impact the growth of your business.
For virtual assistant services needs, you may also check Onlinejobs.ph if you are willing to try outsourcing your VA. This online job portal is a great source of affordable and highly-skilled full-time virtual assistants in the Philippines.