Hi! Welcome to our Human Proof Designs Review!
May it be for business, travel, or personal blogs or a photo gallery, having a good and appealing website gets the traffic going and, well, keep the money coming, of course.
Creating your own site could be fun if you're up for it. However, you always have the option to go for either buying an already profitable site or pre-made sites if you want to get started sooner.
Human Proof Designs has been making a buzz online by the quality affiliate marketing sites they pre-make and customize. If you want to make the most of your website, HPD is worth checking out. Let's learn more about them.
Company Name: Human Proof Designs 
Founder:  Dom Wells
Product Type: Pre-made and Custom-made Affiliate Websites 
Headquarters: McKinney, Texas
Target For: Professionals, Business Owners and Online Marketers
Summary:
Human Proof Designs is a one-stop shop for quality and profitable affiliate sites and website services for beginners and experts alike who seek to succeed in their online business.
What is Human Proof Designs?
Human Proof Designs provides pre-made affiliate marketing sites and does custom projects as well if you plan to lead the path of online marketing business.
Founded by Dom Wells, in 2013, the main goal of the company is to help beginners set up a niche website much easier and provide them with the needed training to grow their online business. 
HPD has been a go-to resource by most entrepreneurs and anybody else who can depend on quality affiliate sites and services they offer. They integrate vital factors as SEOs, keywords, and rankings when building sites making sure that they are all unique, searchable, and profitable, even for beginners.
Since its birth, Human Proof Designs has already created over a thousand affiliate sites, around 41,000 articles written, researched about 179,000 keywords, and built more than 8,000 backlinks. It's no wonder why they ranked first among others in this industry.
What Does Human Proof Designs Do?
There is more to Human Proof Designs than just selling pre-made affiliate sites. They also provide its members access to training resources, coaching, and a private community where they can seek help from industry experts and successful internet marketers.
With Human Proof Designs, you absolutely get the following:
1.  Affiliate Sites – They offer a guaranteed lineup of done-for-you websites where you can start building up your business. Here's how they build their affiliate sites:



2. Training – HPD also provides top-level training, expert coaching, and private forums to help you maximize and monetize your websites.
Among all the training services available, they feature the Human Proof Method (which you can actually avail of at $7 only for a 14-day trial period) where members can have access to video training courses, exclusive expert interviews, a private community, and step-by-step instructions on how to succeed as an affiliate marketer. More of it here.
3. Website Services – You can outsource your affiliate site services from them such as SEO-based articles and contents, keyword research, effective links, and many more.
Getting an affiliate site with Human Proof Designs, be it pre-made or customized, is pretty simple.
Step 1: Search through their guaranteed profitable niches and find the site that works best for you. They normally launch new sites twice a month. 
Step 2: If you can't find anything you like from their ready-made sites, you can choose custom-made so their team can match you with the right niche.
Step 3: Once you've chosen a site, you can purchase it right away. Their team will then reach out to you for the details. (For custom made sites, turn around time is approximately 4 weeks)
Human Proof Designs offers well-researched niche sites that guarantee great results and returns. They also have aftersales support that helps you through the setting up phase.
Also, by enrolling in their Success Guarantee Program, HPD will have to buy back the site should you wish to discontinue with it after 12 months. Learn more about this policy here.
With all the elements a profitable site must have, picking up a starter site with HPD gets to you at least $319 savings.
Here's how their Standard, Supreme, and Authority packages look like: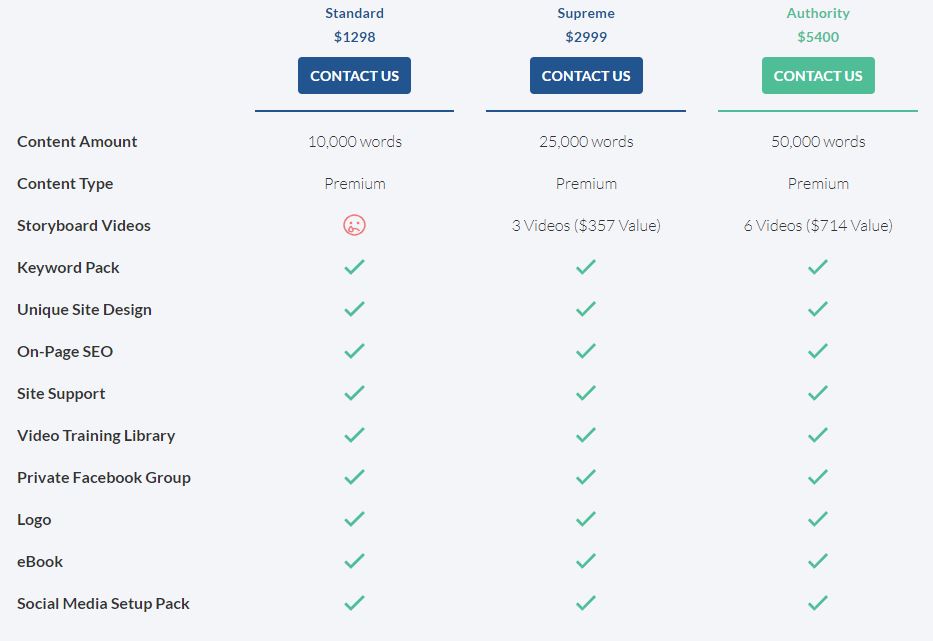 Their products and service include:
Sites (Affiliate, Dropship and Local Lead Generation Sites)

Content

SEO

Keyword Packs

Training
Dropship Sites & Local Lead Generation Sales

My Human Proof Designs Review
Getting started with your online business can be difficult, much more if you are not equipped with the tools and knowledge or don't even know where to look for when building your own site. Among the existing companies in the market, Human Proof Designs simply has a credible reputation that even internet marketing experts can vouch for.
Looking through how they've managed to build their name over the years, here's how we see them:
A One-stop shop for quality sites and premium training resources

Guaranteed profitability even with custom-made projects

An In-depth niche building process

Access to expert coaching sessions and a solid support system
Affiliate sites are too pricey for a beginner

Reaching out to their support or anyone from the team is only through their '

Contact

' page. No other means to connect to them.
Acquiring an affiliate site or getting your own website set up can be made easy with the help of online experts that know the tweaks and turns in the industry. However, sourcing some help comes with a price.
Well, if you have the means and more than willing to invest in an all-in website, better know who to connect with; make sure that you work with people who are credible, passionate, and dependable.
Building your website takes time and the guarantee of returns remains a question. So if you wish to skip these agonizing processes of building and waiting, Human Proof Designs has a proven success rate of providing professional-looking websites to satisfied clients who surely have thrived in the online business. 
Still, it is important to note that to be in this industry for a long haul means that buying and owning a niche website is just the starting point. To make the most of your website's potential,  you must work hard for it, continuously building it up through known effective strategies that will guarantee good returns.