Hi! Welcome to our Promo Republic Review!
If you are one busy entrepreneur handling multiple products or services, or even clients, managing the marketing platforms will not really be a happy thought. Despite hiring a virtual assistant to for this task, diverting to automation is still key as far as social media management is concerned.
When it comes to the best social media marketing software, one of the rising names in the industry is PromoRepublic. Becoming a trusted platform by several businesses around the world is no mean feat! Let's get to know them better!
Company Name:  PromoRepublic
Founder and CEO: Max Pecherskyi
Product Type: Social Media Marketing
Target For: Small Businesses, Franchisors and Marketing Agencies
Summary:
PromoRepublic is a social media marketing solution for a more effective content management of multiple social media platforms through its easy-to-use interface, rich with vibrant and relatable stock images and design templates.
Founded in 2014 by Max Pecherskyi, also the CEO, PromoRepublic is a provider of social media marketing solutions through a user-friendly interface that allows integration of various social media platforms to automate content posting and distribution.
They opened an office in Helsinki first, then had one more in California to cater to the North American market. It was this time that PromoRepublic was recognized as one of the fastest-growing companies offering SaaS, boosting its reputation.
The years had seen PromoRepublic modify and upgrade its services to meet the needs of the growing market.
They've grown so much over the years, now with over 40+ members of the team and with 5 offices so far across the globe: Helsinki, Kyiv, New York, London, and Palo Alto.
What Does PromoRepublic Do?
PromoRepublic typically allows you to manage various social media pages in one place. It offers a social media marketing suite service that allows editable content distribution, post scheduling, managing of multiple clients or locations, running of local ads, and monitor analytics. Here, you can link are Facebook, Instagram, Twitter, LinkedIn, and Pinterest channels in the interface.
They have solutions available for marketing agencies, small businesses, franchise and multi-location brands, and direct sale businesses. 
For a list of their products, please see below:
This product allows you to properly manage your posting schedule.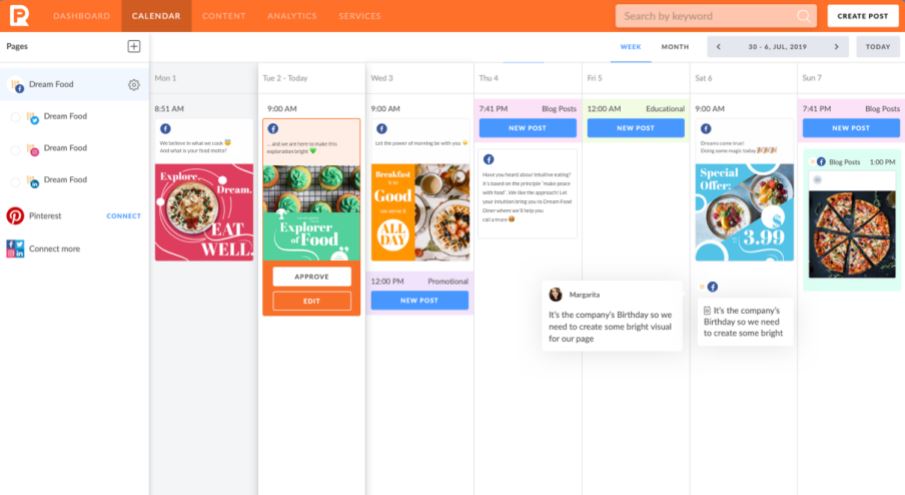 What this product can do:
Automate posting to the main networks

Elevate reach f your posts with AI

Recycle successful posts

Keep involved in discussions
You can design and edit your content through their graphics editor with thousands of stock thousands of post ideas/premade templates. This is actually their selling key.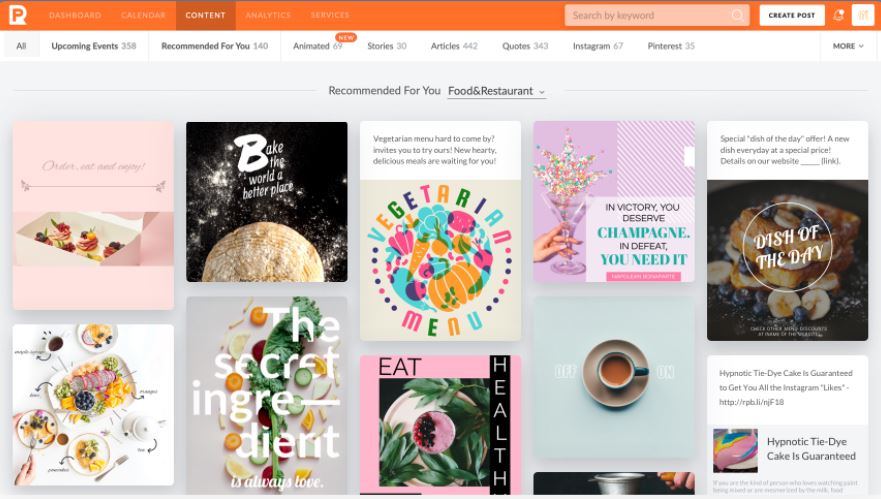 What this product can do:
Allows you to edit visuals within the interface

Saves you time on content creation through premade templates

Promotes creativity for the team

Store content on a branded platform through

White Label

 
This section allows you to manage the workflow for your content distribution and approval processes.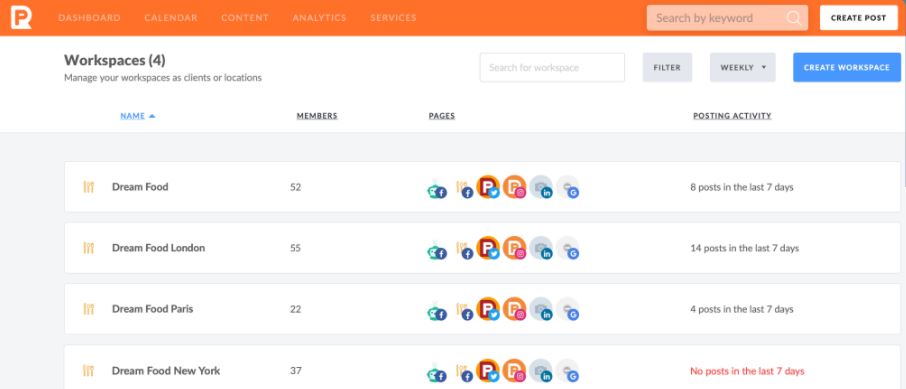 What this product can do:
Create a structure per client or per location where team members can share and comment on their ideas for the content

Setup proper permission levels

Allows you to get post approval via Social Media Calendar

Share ideas real-time on content prior to posting

Notifications and mail alerts keep you on top of the process and aligned with clients and your team.

Simplified access to the platform
This feature gives you a complete overview of your social media performance by tracking the statistics of all the contents you posted. You can share the analytics by directly downloading the report from the interface.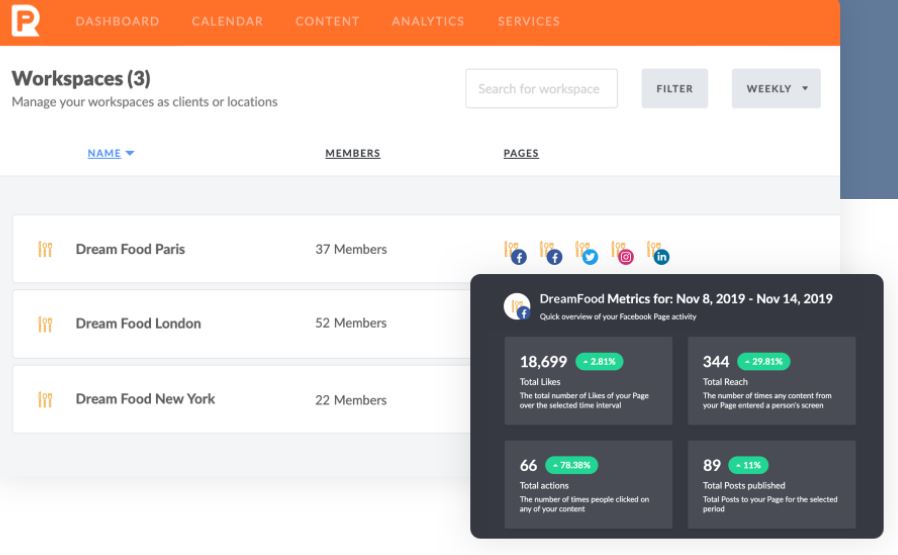 What this product can do:
Identify gaps in social media performance

Find the weakest and outstanding social media pages

Get detailed reports per page

Check how each of your posts performs
PromoRepublic accepts requests for customized 20 editable and reusable post templates which its creative team can produce in just 5 business days.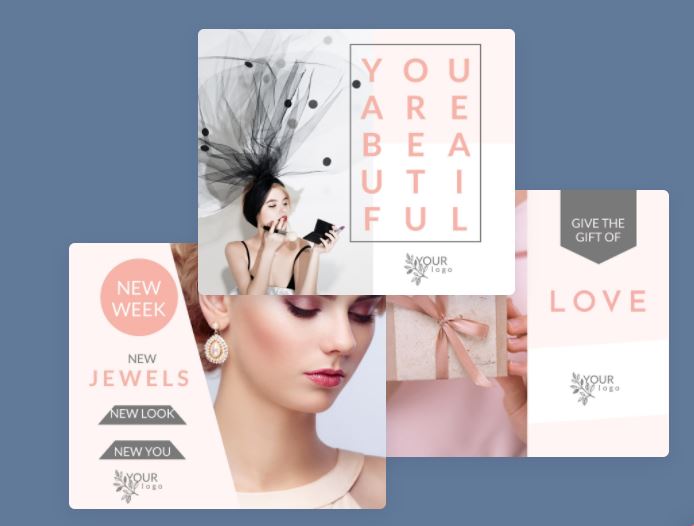 You can start availing of PromoRepublic's service by signing up. 
Step 1: Create a free account to signup. You can either have a PromoRepublic login or use your Facebook account (where you will be asked for the pages/groups you'd like to link).
Step 2: Link your social media pages. Ensure that you are logged in to the right account before connecting it to PromoRepublic.
Step 3: Choose a plan that you are interested in or based on your needs.
Step 4: Once you've selected a plan, you will be routed to the 'Purchase' page to process the payment. Within 24 hours, you should get a notification in your email that you are good to go.
Once all you are set, you can then start exploring the interface, setting up your social media pages, creating workspaces (client folders), browsing through their very creative content templates, and scheduling your posts.
All that you need to know about each feature is here.
Also, if you still wish to know how it really works or just test the platform, you can either book a demo or start a 14-day trial.

PromoRepublic offers Solo. Standard, Professional, Enterprise, and Content Bundle. For small business owners, they suggest Solo and Standard plans while for freelancers or agencies, you might consider Professional and Enterprise packages.
For a better view of how their plans compare, please see below:
As a busy entrepreneur with several social media accounts to manage, having a user-friendly platform as PromoRepublic makes content posting and monitoring convenient. As a trusted interface for many brands and companies, this gives you confidence that the interface is credible and very effective.
Here's how our take on them:
Interface and features are easy to use

Thousands of stock images and premade templates

You can customize your content or the template available via Graphics Editor

Scheduling your post is easy, and you can even recycle them

Monitor your posts and retrieve analytics report
User restrictions – only one login for multiple users

Not much available graphics and content for some industries or categories

Sharing someone else's contents (like Instagram and Twitter) is not possible

Instagram posts need approval or need to be validated before posting
With the current trend of using social media as an effective marketing tool to connect to your target audience and customers, it is vital that you also learn how to manage the accounts properly, automate some processes and get the best possible content and graphics that can capture your market.
While hiring a social media management VA can really help to ease the burden of this tedious task, handling multiple accounts or clients is best taken care of by using a marketing software that saves your team time on creating content and posting and at the same time.
Apart from helping you monitor your pages' performance, these tools can also give you accurate reporting that allows you to manage your strategies well.
PromoRepublic is by far a great solution to your social media marketing needs and with its recognition as one of the most trusted companies in the industry, they are definitely worth a try.