Hi, welcome back! Today's for GoTranscript Review.
If you are working with multiple audio and video files such as doing interviews, seminars, lectures, or blogs to be posted online, having to deal with transcription can be a nightmare. Turning to transcription service companies is the best solution these days if you wish to have faster and more accurate output.
While some companies have built their own team of professional transcribers, you can also hire independent contractors or transcriptionist via online job portals.
Transcription is the process in which speech or audio is converted into a written document. Transcription service may seem to be underrated but it somehow makes media more engaging and interactive. With modern technology, transcription nowadays has become much easier and accessible. 
GoTranscript has been in the business for a while and is considered to be one of the most trusted companies in this field. Let's get to know them better!
GoTranscript Review Summary
Company Name:  GoTranscript
CEO:  Peter Trebek
Service Type: Transcription, Captioning, Translation, & Subtitling 
Headquarters: Edinburgh, Scotland
Target For: Educators, Marketers, Students, and Professionals
Summary:
GoTranscript is one of the largest online professional transcription and translation companies that has been providing quality transcriptions for 15 years at affordable rates, and is trusted by thousand of companies around the globe.
Founded in 2005, GoTranscript is a professional audio and video transcription services company based in Edinburgh, Scotland. Back then, they understood the pain that transcribers had to go through mainly because of the many hours spent on manual transcription, much more if they had to work on large volumes. 
GoTranscript answered this need by developing an audio transcription service that aimed to provide a systemized process for the transcriptionists, reducing manual work to provide quality transcriptions to customers.
GoTranscript started with only 37 transcriptionists and 15 proofreaders. But the years have seen them grow bigger, now with around 20,000 team members, trusted by more than 10,000 clients, and has transcribed about 144 million minutes. 
It is no doubt that they remain true to their claim of being one of the largest online transcription and translation agencies in the world.
What Does GoTranscript Do?
GoTranscript offers online transcription services for industries such us education, media, marketing, medical, legal and many more. 
The main services they offer are:
Audio Transcription

Video Transcription

Translation (Text/Audio)

Foreign Subtitles

Captions
GoTranscipt also provides special services such us focus group transcriptions where they take pride with their highly-trained professionals' experience in roundtable discussions, office meetings, business group discussions, brainstorming sessions, strategic planning sessions, research group discussions, seminars, and workshops.
Other special services include legal, medical, academic, research, and verbatim transcriptions.
They even offer rush order option and custom orders as long as you specify your turn around time and requirements for the tasks.
The team guarantees 100% human-generated transcription services and accurate and reliable transcripts. They assure clients of confidentiality of data, fast and quality transcriptions like no other.
Connecting with GoTranscript to get a high-level accuracy on your transcriptions has never been easier. 
Step 1: Select 'Place Your Order' on the topmost part of the page to get started or click on the 'Order Online' button, still on the main page.

Step 2: Choose the type of service for your order (Transcription, Captions, Subtitles, or Translation) then add your files or paste the URL where the file can be found (shared link).
Step 3: You will be prompted to either login or signup. If you already have an account, just key in your login credentials. Otherwise, you have to setup your own account first so you can proceed.
Step 4: Process your payment. You will be presented with your order summary depending on a few factors: language, turn around time, and number of speakers. (If you wish to know the transcription cost ahead, you can use their online transcription cost calculator and even download the quote).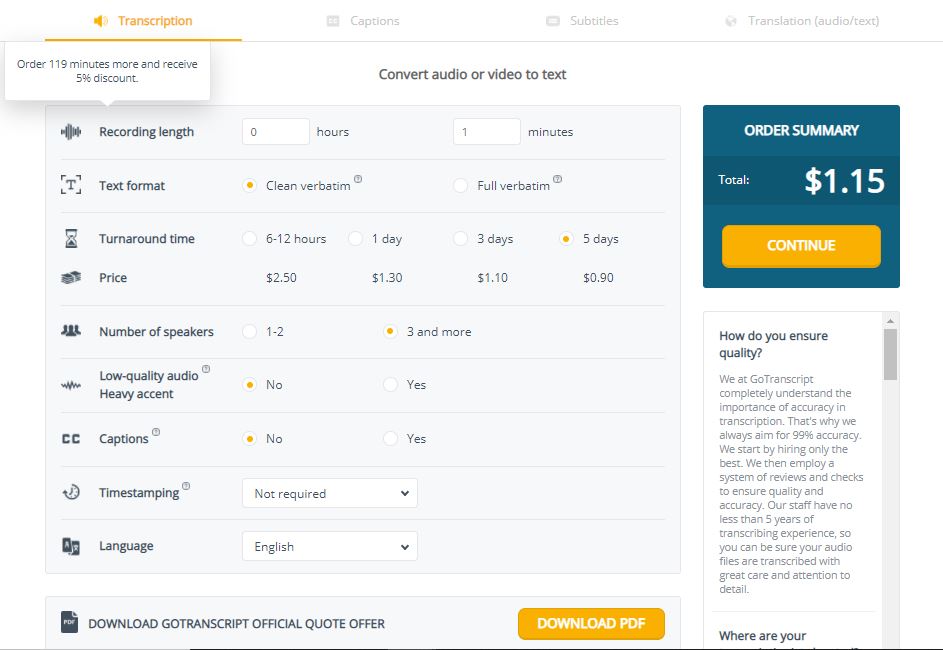 Once selected, you can now complete your order.
Step 5: Wait for the results based on the TAT you asked them to. You can get your completed transcriptions via email.
To ensure the security of data, GoTranscript uses a 2048-bit SSL encryption and either supplies an NDA or sign the one that you will provide for confidentiality. They basically accept almost all types of formats so that's allowing flexibility of the files right there.
They follow a four-step process that guarantees accuracy:
Dividing transcriptions into sections for their professional transcriptionists.

Reviewing the sections and adding timestamps.

Proofreading the texts to ensure that nothing is missed.

Second proofreading is done for 99% accuracy.
Even after the thorough review, GoTranscript allows clients to edit the transcripts through their built-in editor. 
Should you have issues with their transcriptions, you can always contact their Customer Support for claims within seven days upon receipt of your material. If the delivery is late, however, they will give you a partial refund.
Furthermore, you can download their Mobile App (both for Andriod and iOS) which is a simple voice recorder that allows you to record any event anytime and send it easily for transcription.
For larger operations, they recommend GT Enteprise Tranlation Solutions especially for high volume and recurring projects.
Still unsure? You may want to check their sample transactions here or go for a free trial first.
Price for GoTranscript's services starts at $0.72 per minute and guarantees no hidden charges. They have quality yet cheap transcription, captioning, subtitling and translations rates.
Standard pricing is as follows:
Here's to show how much each of their services costs:
GoTranscript offers discounts on Free Trials, through Customer Loyalty Program, if you are a student, or if you have bulk orders or larger volumes.
My GoTranscript Review Summary
Automated transcriptions are still seen with many errors, thus, employing professional transcriptionist provides additional layer of accuracy to the work. GoTranscript has verified and mastered the process of delivering quality transcriptions given their 15 years of experience in the industry.
Rating their efficacy, here's how we see them so far:
Quality transcription and good TAT

Free trial and discount privileges

24/7 customer support 

Quick and easy ordering process

Availability of the Mobile Apps
Still cheaper to work directly with transcribers

Chances to pay for extra costs

Feedback on dashboard and editor as basic and not that efficient
Clients will always go for quality over cost if the service is efficiently delivered and the company has proven its credibility in the industry. GoTranscript is one of the long standing online transcription services available and one of the largest there is currently.
Though hiring direct transcriptionist in known online job portals can be cheaper and output can be closely monitored, it will be difficult if you face larger volumes of files that need to be subscribed. Most will rely on automated transcriptions for a much faster turn around time but output is still not error-free.
With GoTranscript's 100% human intervention on transcription through their experienced transcriptionists and with their thorough review and proofreading, you can be assured that they will only provide output with high-level accuracy.