Hey, there! Welcome to our Verblio Review!
Content writing has been a trend since the digital adaptation of printed media came to the surface and blogging spiked the interest of many. These days, content writers can be anywhere, in several online platforms, agencies, or writing companies.
With thousands of freelance writers crowding the online market, you need to filter the most credible websites that offer quality services in order to hire the best writer to create your content. 
Online writing platforms such as Verblio make it easier for clients to connect with experienced writers that produce quality content. Let's get to know them better!
Company Name:  Verblio
CEO:  Steve Pockross
Service Type: Content Writing
Target For: Enterprises and Agencies
Summary:
Verblio is an online platform that connects expert writers and clients who are looking for quality, rich and effective content to power modern content marketing.
Headquartered in Denver, Colorado, Veblio is an online content writing platform that serves SEO-based content for digital agencies and businesses through their 3,000 top-tier US-based content writers.
Verblio specializes in providing quality content such as blog posts, newsletters, press releases, website content, eBooks, video, product descriptions, and more. They connect these great writers with clients from almost every industry for content creation, most especially to power digital marketing and SEO.
Originally founded as BlogMutt in 2011, Verblio now serves around 1,500 businesses every month across the U.S. and 15 countries around the world.
Verblio is a powerhouse of content creators, part-time and full-time freelance professionals, who have in-depth experience in their field, making them subject experts for any niche topics.
They cover clients from enterprise businesses, large franchise businesses, and companies in several industries.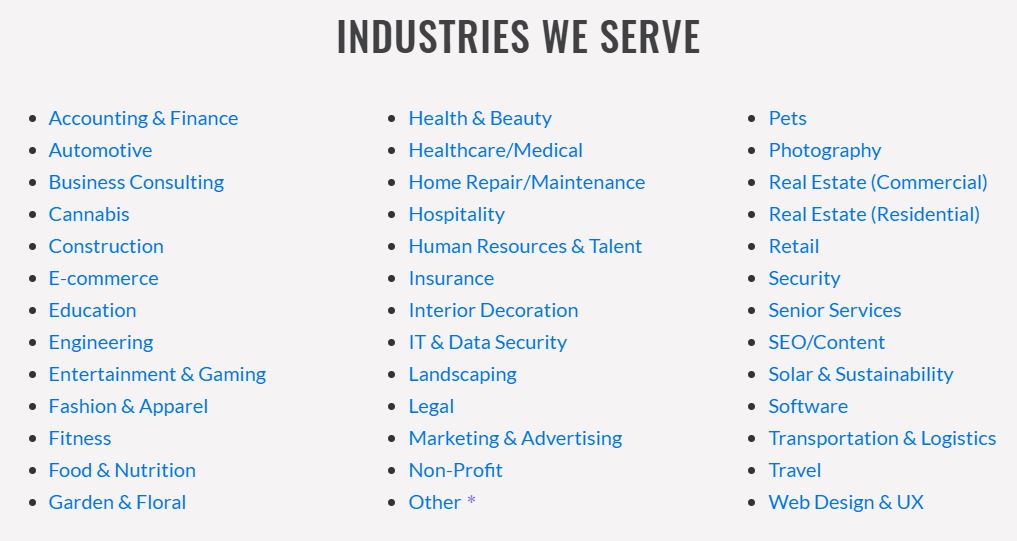 They also work with digital marketing agencies, ad agencies, e-commerce agencies, and more to deliver engaging and effective content to keep up with modern content marketing strategies nowadays.
If you want to outsource unique content for each of your clients, Verblio's expert writers are always ready to deliver high-quality output every time, on time, and at a reasonable cost.
Below are the following content writing solutions they offer:
Blog posts written by subject matter experts

Web page copy

Press releases

Product descriptions

Article writing services

White papers or ebooks

Technical writing

Meta descriptions
They also have Custom Agency Solutions, such as for clients below: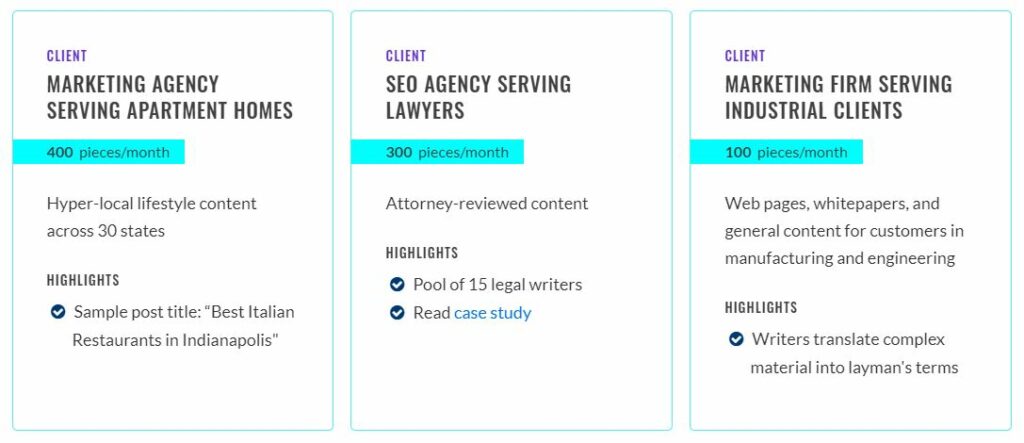 Verbio serves the following agencies:
Digital marketing agencies

Content marketing agencies

Ad agencies

SEO agencies

PR agencies

E-commerce agencies

Full-service agencies

Lean, bootstrapped agencies

As of June 2020, they take pride to have already served 247 agencies and have written more than 13,000 articles this year.
If you are looking for a managed solution for 100-2,000 pieces of content per month, Verblio's superb writers can definitely handle that.
Below are the following content writing solutions they offer:
Blog posts written by subject matter experts

Newsletter content

Product descriptions

Web page copy

Promotional content

Local landing pages

Technical writing
A few content solutions for some clients below: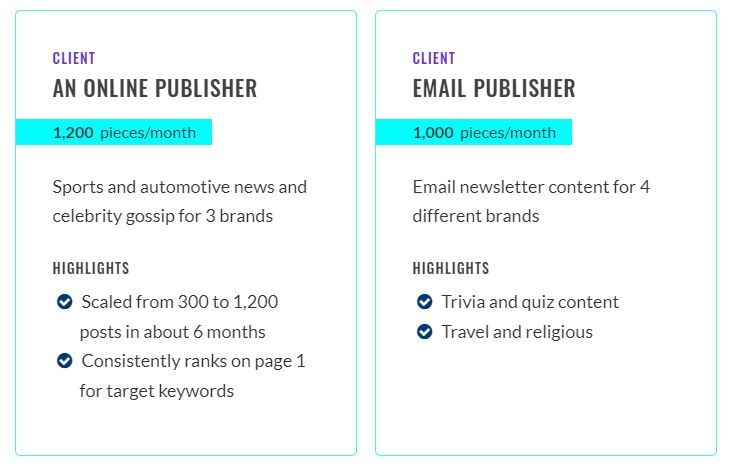 With Verblio, your enterprise can get:
Volume discounts

Custom workflows

Consistent quality

Account management
Verblio is very efficient at kickstarting your strategy, brainstorming blog topics, tackling SEO, or managing it all. 
This service is ideal for businesses that don't have the time, resources, or desire to get hands-on in the platform. Agencies also consider this service especially if they handle multiple clients and deadlines.
With Verblio, you can turn written content into videos by availing of their video service.
Verblio makes its platform easy-to-use to promote better collaboration between writers and clients. 
To co-create your content, you just have to follow these steps:
Step 1: All Aboard. Take the onboarding process with Verblio and tell them about your audience, and your preferred tone for your content. They would also need to check your website and learn about your SEO requirements and style.
Step 2: Build your Plan. Choose among their selection of subscriptions considering the word length and number of pieces per month. 
Step 3: Request Content. Describe to the writers your content requirements and assign a deadline.
Step 4: Receive and Review your Content. Get the content within 48-72 hours. After reviewing, you can either decline, accept, or request for edits. Publishing the content makes it easier with WordPress and Hubspot integration.
Step 5: Leave feedback. By leaving feedback, writers will eventually understand the kind of content you want. You can also bookmark writers who provide you with great and fitting content.
It's important to note that Verblio offers no platform fees and no long-term contracts so you can change plans anytime. 
Also, Verblio takes plagiarism very seriously and has set up a three-stage process that scrutinizes and evaluates every piece of content that their writers make. 
On top of this, you can only take contents that you like or those that best fit your requirements. So, you can take a full refund within 30 days as long as you don't accept any content.
Verblio allows its clients to freely choose the type of plan that works best for them.
All of the plans include:
100% original content

Built-in WordPress and Hubspot integrations

Month-to-month subscriptions, no contracts, no platform fees

Flexibility – change your plan anytime

30-day money-back guarantee
For Website Content services, Verblio offers $200/page for 600-1,000 words per page and $100/page for under 600 words per page. More of this service here.
If you wish to first test their services, you can have them work on a single piece of content in your first month, but they have a minimum order amount of $104.85.
Still undecided? You can always talk to their content expert here.
My Verblio Review Summary
If you are an enterprise or an agency that is unable to manage your site's contents or juggling between many clients and deadlines, hiring content writers is always the best go-to option.
Verblio has a long-running and credible track of happy clients, so there is no doubt that they provide the best writers you can find in just any niche you can think of.
Here's how we see them:
A pool of highly-experienced niche-focused US-based writers

Covers a wide array of industries

No contracts and platform fees

Flexible plans
Plans are not cheap

You can pay much lesser if you hire content writers directly
With the surge of outsourcing and virtual staffing, hiring online content writers is a typical setup especially for enterprises and agencies that are too busy to manage their websites and respective clients.
It is best though to always find the perfect source of content writers – one that is proven its efficacy and has a credible record of providing quality and effective content. You can find several online writing platforms in the market and it is worth filtering the efficiency of their writers, the uniqueness and richness of their content, the cost, and the availability of their support services.
With Verblio, plans are flexible and they have a no-contract setup which is a good way to try them out without spending so much.