The ever-growing virtual industry never ceases to demand quality virtual assistants and outsourcing companies anywhere in the world.
Along with this growth is an increasing standard expected from VAs and the lesser chance of start-up VA businesses to penetrate the market.
Your VA Mentor comes in to help in these struggles, with the founder being a very big advocate of the virtual assistant industry herself.
Let us walk you through how Your VA Mentor can simply be part of your success.
Company Name:  Your VA Mentor
Founder:  Tracey D'Aviero
Service Type: VA Training, Coaching and Support
Target For: Virtual Assistants and VA business owners
Summary:
Your VA Mentor is a perfect resource for virtual assistants and VA business owners who wish to see growth in the VA industry.
Your VA Mentor was launched and is being managed by Tracey D'Aviero — an experienced virtual assistant, trainer, and mentor. She used to be working in the hospitality sector but moved into establishing her own VA business in 2005. 
The company is built to train, mentor, and coach virtual assistants as well as VA business owners who have been struggling to get steady clients and simply can't figure out the best step forward. 
She maintains a magic formula to achieve success in your business: 
The Secret of Success   =  Decide your best service offering +
      Charge what you are worth + 
      Work with people who need you most
With Tracey's vast experience in the field, along with a great team of VAs she has, they make Your VA Mentor a simple yet effective avenue for learning to become successful in the VA industry.
What Does Your VA Mentor Do?
Your VA Mentor believes that it is essential for a business owner to get support to be successful, and they can be the best help you can find to put all the pieces together.
They can help you with the following:
get a solid foundation in place so you are set up for success

decide what it is you love to do … and help you do it!

figure out who you can best support – and help you to find them and connect with them

define your marketing message so you speak directly to the people who you hear you

streamline your marketing efforts so you spend less time marketing but produce better results
Their services normally cover private coaching, group programs, and self-study programs.
Virtual Assistant Coaching Services
Private coaching aims to help build strategies and plans for your business decisions. Sessions can be done via phone, email, personal coaching, or a combination of these depending on your needs, availability, and budget.
For people who would rather do a self-study, Your VA Mentor also launched somewhat like a self-starter kit especially for those who are just getting started in the VA world. You can get this guide by clicking here.
Apart from this, there are lots of free online resources available on the website such as blogs and training videos that would surely help you in your VA business journey.
All the programs, training, and coaching sessions by Your VA Mentor are well-thought of, information-packed, and straightforward, making sure that each student gets the most of everything he needs to start as a virtual assistant or as a business owner.
You can browse through the different services and avail of your chosen program by registering online. Each program will send you to a separate browser where you can see the range of prices. Then, you just have to click on the 'Register' button.
This will route you to another browser where you have to fill out your personal details, select the payment plan, and enter your payment details.
If, after reading through the list of services and training materials, you are still unsure which program fits you best, you can always schedule a 'Cut to the Chase' call with Tracey by submitting your contact information here.
Your VA Mentor offers flexible plans that you can choose from monthly to six months' worth of coaching and training sessions.
Virtual Assistant Coaching Services
1.  Weekly Mastermind Group – Inspired Action VA Mastermind. 
This service aims to provide regular inspiration and support for you to grow your business. More of it here.

2.  Weekly Private Accountability

3. Private Coaching, Support & Advice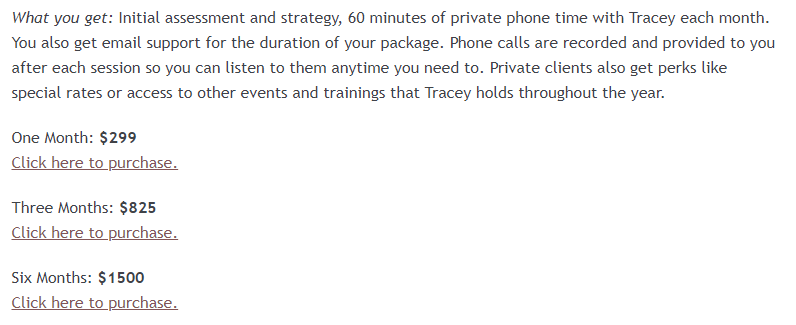 Your Get Started As A VA Kit offers the following: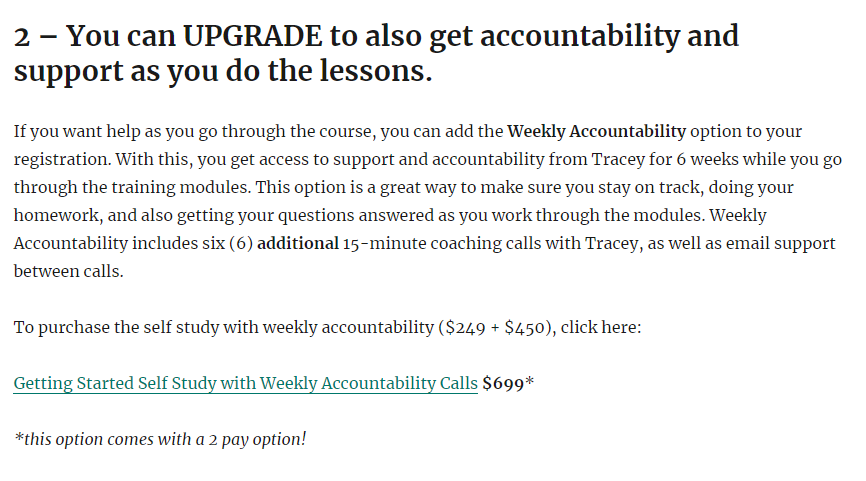 Starting up a VA business, or getting a headstart for that matter, has always been challenging. There are several tutorials, blogs, and videos available online to guide you through if you ever plan to take the VA route.
Your VA Mentor has proven to be effective in this field, offering easy-to-follow and compact training essentials that clients find really helpful and effective.
Here's how we find it so far:
Easy and compact resource

Experienced Trainer, Coach, and Mentor

Staggered payment system for packages exceeding 1 month
Plans are not that flexible (e.g. hourly consultation/coaching session)

You can always find informative and helpful resources online or get a cheaper one-in-one consultation anytime
There is no shortcut to becoming an effective virtual assistant as much as being successful in your VA business. It will always be the usual trial and error regardless if you are trained or not. 
The advantages of being equipped though are all in the preparation – by understanding what you can offer, how much you can charge, and your target clients.
Learning the ropes of being an effective VA or business owner lies in the actual implementation – when you start performing your tasks and establishing a working relationship with your clients.
Getting ready is always necessary but you really don't have to spend so much for it; only when you find it critical to get help. If talking to experienced professionals can boost your confidence in starting up, then Your VA Mentor may just be your great resource.