Hi, welcome back! Today, we will have the Motion Invest Review.
These days, with all the technological advancements and millions of people using the online platform to sell products and services, anything is just possible through the internet.
I really haven't thought about this, but did you know that besides products and services, people have actually been buying and selling websites online?
Well, I guess you already know. But commonly, for transactions like this, one would expect a website broker or an online intermediator of some sort that comes in between the seller and the purchaser.
I tell you what, Motion Invest is totally different (in a good way, of course!) and even has an easier process! Let's find out more about this amazing company!
Motion Invest Review Summary
Company Name:  Motion Invest
Founders: Jon Gillham, Spencer Haws, and Kelley Van Boxmeer
Service Type: Buying and Selling Profitable Websites
Target For: Website owners or builders, inviduals who are interested to monetize a website
Summary:
Motion Invest is a perfect place to sell a small content site at a fair market value or buy professionally vetted websites which are guaranteed to be profitable.
Motion invest is an online marketplace where you can buy and sell websites at a fair market price. Founded in 2019 by a credible team of online business gurus Jon Gillham, Spencer Haws, and Kelley Van Boxmeer, these respected professionals found the need for smaller but promising content sites to actually find a place in the market.
Thus, the creation of Motion Invest.
Established and reputable website brokers such as Empire Flippers, FE International, and Flippa are more on higher valuation deals and premium websites.
Motion Invest, however, caters to websites that are making $50 to $2,000 per month. 
With this range and their smooth and no-friction process, many website builders and owners have actually been encouraged to try out their service. And, all we hear are good things so far.
What Does Motion Invest Do?
Let's clear it out: Motion Invest is NOT a broker.
They basically purchase a website, after careful consideration, own it and all its rights, then sell it through their website's own listing. 
This means that what they post on their website have all gone through in-depth due diligence, ensuring that these are certified earning websites. 
Plus, you work with people who are really experienced and reputable in this field so, this is a really serious business.
Typically, Motion Invest goes with two major services: buying and selling profitable websites. And each process is simple and easy.
How Do You Sell Your Website to Motion Invest?
One thing that they mostly differ from website brokers is that they don't charge brokerage fees (which is around 10% to 15% of the sale) or listing fees. So you get the whole sum on your own after successfully selling it to them.
There are 2 options:
1.  Directly selling it to them
What you get: Guaranteed sale, 0% success fees and listing fees, and you get your money in 72 hours
2.  List your website on their marketplace
What you get: No guarantee of a sale, 0% listing fee, 15% success fee, 31-day exclusivity, and 20-day post-sale support
When selling a site to Motion Invest, here's what you have to do:
Step 1: Submit for Evaluation – simply fill out a form with all the needed details. It's important to note that they will be needing this set of information: website URL, access to google analytics, monthly profit, and proof of income.  
Once it's done, their team of experts will review it and revert to you.
Step 2: Their team will reach out either to ask for more information should your website fail their due diligence process, or with an offer price.
Step 3: Buyer Agreement – Once you opt to have your site in the marketplace listing, they will send you an agreement to sign. As soon as this is done, they will make the listing page on their own site and share it with you via email.
Step 4: Back-Up Site and Transfer – If you opt for direct selling, the transfer process will immediately start as soon as the agreement is signed. On the other hand, the transfer process for a marketplace listing option will only start after it's purchased.
Step 5: Domain Successfully Transferred – Once the site is successfully transferred and backed up, Motion Invest will send in the funds.
Here are the benefits of selling your website to Motion Invest:

Prior to selling your website, you may wish to know how much your site is worth by clicking here.
How Do You Buy a Website from Motion Invest?
It has already been pointed out earlier that Motion Invest gladly takes in promising websites that consistently earn $50 to $2000 monthly. 
And you can guarantee that these are personally vetted by the founders themselves, letting all the sites pass through their meticulous due diligence process which includes income verification, Google analytics, SEO verification, and keyword ranking to name a few.
So what you see in their listing have all passed these measures. You can check all the available websites. 
Once decided on the website you'd like to buy, you can either process it online (wire transfer, Paypal or credit card) or book a call with them.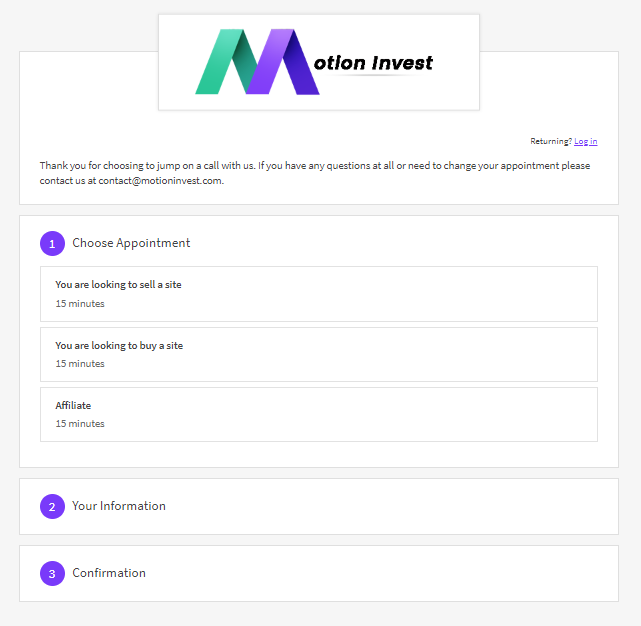 Soon as the purchase is done, Motion Invest will then start the transfer process which normally takes 3-5 days for portfolio sites while a marketplace site sometimes takes 10 days.
They will also do the post-sale support, helping you out during the transition period.
Here's how you will benefit from buying a website on Motion Invest:

Motion Invest properly analyzes the website you sell in order to offer a fair price. You can always try to haggle a bit but know that these people are a real deal and are really good at their job.
So, what they normally lay to the table is the best price based on the value and performance of your website.
The same goes for the posted selling price – they know how their vetted sites are worth, so they basically priced them reasonably. 
Perhaps, the only thing I see that they're charging you for is the $25 monthly subscription fee which grants you access to viewing all the available sites they're selling.
Motion Invest draws a line in the traditional website buying-and-selling business when, instead of aligning with the usual website brokers, they put their focus on smaller content websites which actually shows potential.
It has not been long since the company has been established but they are already making rounds of positive feedback.
Here's what we can say:
Puts value on smaller content sites

Credible and respected founders

No brokerage and listing fees

In-depth due diligence process ensuring that you only get a profitable website

Fast and Easy buying/selling process

Post-sale support
Prices are a bit steep

No option to bid the price in the website
The business of buying and selling websites has grown over the years since online business became a global trend. And if you are just starting up, maybe buying a site that earns over $50 a month is a good start.
For a website that you probably don't have so much time updating or taking care of, selling it could be a great option. However, when it comes to buying a website, you could at least do some research to really get to know if it's the kind of website that you need or that interests you.
Also, there are still others who offer to build you a customized website much lesser than the cost of buying an already established one. You might want to consider this option and then reach out to those companies that offer SEO ranking and link building services to promote your website's online presence and increase your traffic. 
If you opt to monetize your site, then start small and take this combo. However, if you want to take the shortcut and go for the 'instant' way, then Motion Invest will be more than glad to help you out.