Welcome to our The HOTH SEO Review!
This article will highlight how The HOTH has managed to become the leading SEO Service Company today.
SEO is a highly regarded digital marketing tool responsible for making your business or personal websites easier for users and search engines to find and navigate.
If you wish to make your site be on top of the searches whenever someone goes in and look for content or information online related to your niche, then you better be immersing yourself with the most credible SEO services that can guarantee you with great results.
We've heard so much about The HOTH and the height of their unbelievable success in the world of SEO, digital marketing and content management services. We have seen how users and clients are deeply satisfied with the experience and a lot of them have posted wonderful feedback about The HOTH's services. 
So, let's get to know more about The HOTH through this review, how they have grown to be, their culture and their amazing SEO services. Let's dive in!
Product Name:  The HOTH
Owners/Partners:  Marc Hardgrove, David Martin
Product Type: SEO and Content Marketing Services
Headquarters: Saint Petersburg, Florida
Target For: Business owners and personal websites who aim to grow their online presence
Summary:
The HOTH helps the client achieve online rankings and traffic without worrying about the tedious tasks of making the marketing strategies work.
The company's famous brand name actually means 'Hittem Over The Head' and that simply translates to serious business when it comes to SEO services and link building. Their rich portfolio of success stories are proof that The HOTH is fully capable of managing your business' online presence and maximizing your SEO tool kits.
They started off as a full-service SEO agency in Chicago that ranked clients online. And as the market expanded, the SEO demands also evolved making them experiment on various strategies to cope. And they did! They have grown to be one of the most fast growing, sought-after and highly recognized SEO companies these days.
In the simplest of terms, The HOTH provides SEO and content marketing services enabling clients' online presence become more established and still thrive amidst the overwhelming online traffic.
The HOTH considers itself as a white label SEO company and offers a variety of streamlined packages made to suit the clientele's needs. As the company stands firm with their principle of putting the clients first, you will expect that The HOTH will be providing full support to your business, getting involved every step of the way, tracking progress to ensure you only get the best of results.
The HOTH offers a variety of products that aim to meet each of its client's needs and preferences. Once you sign up, the following SEO services will become available for you to navigate on and choose from.
However, let us focus more on The HOTH's highly recommended options and best sellers.
One prime service that The HOTH is known for is contextual link building via HOTH Foundations. 
Their natural link building strategy works effectively through posting backlinks of your website on high-ranking blogging platforms, thus, allowing you to build a base of authority for your own website. 
Apart from this, they will also help you manage your website content by establishing relevant and SEO-oriented key texts focused on your discussion topic or niche.
Here's to help you understand how it works:
Send The HOTH the URLs and text you want to base your link with

Let The HOTH do the job of writing the content and building the links back to your website

Receive the white label reports of your links
Below shows the packages you can avail of for HOST Foundations link building service.
Here are more of the different link building services that The HOTH offers:
HOTH Guest Post

HOTH Local

HOTH Business Listings

HOTH Blitz

HOTH Boost

HOTH Syndication

HOTH Citation Cleanup
The HOTH is also best known for its impeccable SEO management tools and services. One of its best sellers which they just launched in 2017, is HOTH X – a fully-managed, advanced SEO service.
This type of service aims to maximize your online presence through the establishment of ad campaigns fit to your niche and market. When you avail of the product, a dedicated Campaign Manager will be assigned to work hand in hand with you on laying out a customized SEO plan to increase your traffic and rankings online.
The Campaign Manager is responsible for doing all the work to meet your goals – from researching your current ranking as compared to the competitor, content creation and specially structured link building.
And this just does not stop there. You'll expect 100% transparency when it comes to reporting and ranking updates.
Here's to better understanding how HOTH X works:
Upon joining, tell The HOTH a little bit about your website, your products and even about your competition

The HOTH's dedicated Campaign Manager will jump in and design your campaign after a thorough research

The Campaign Manager calls you in for approval of the strategic campaign created for you

Campaign production starts after your approval

The HOTH gives you access to real-time campaign reports and progress

Receive monthly reports and the chance to review the progress with your Campaign Manager
Below shows how much you can pay for this awesome package:

And you basically get these:
High Quality Content

Strategic Link-Building

Transparent Reporting

Dedicated Campaign Manager

Customized SEO Strategy

Advanced Keyword Research
Here are sample HOTH X hot deals: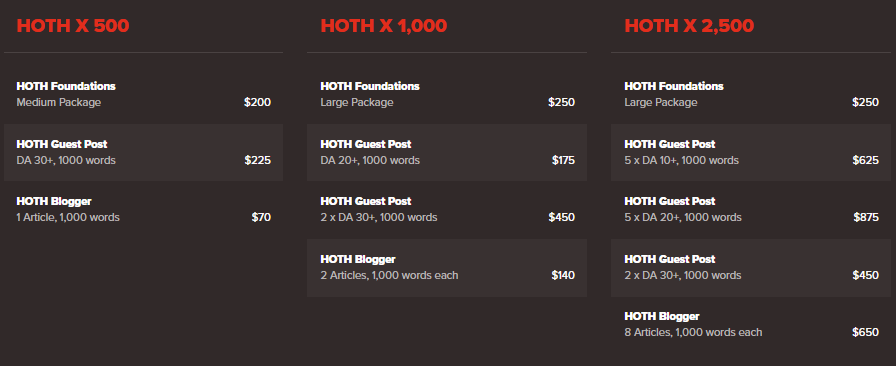 My The HOTH Review and Summary
The HOTH relatively is very effective at handling strategies for various clients and still achieving a great deal of numbers – figures that simply show that they are a top SEO Service Company you can find.
Rating their efficacy, let's take a look at both sides of the coin:
Highly recommended for quality SEO and content marketing services

A wide array of SEO online services to cater the client's needs

Includes free SEO tools

Results-driven and proven effective marketing campaigns
Products and services are quite expensive especially for companies that are still starting

Guest links may not be that safe at all

Customer support responsiveness appears to have declined
If you are looking for a high calibre SEO service company that is geared towards getting you the best results, The HOTH is definitely the perfect fit. However, it is also a point of argument if you are just new to website building or online business.
You don't expect to be that established the moment you started and tried the online platform, but it would surely help to learn the ropes on your own at first. Building your online presence takes time as much as having a steady market or audience. 
And, as you foresee growth is on the way and you basically would like to adapt a more effective marketing campaign in maximizing your online ranking and traffic, then, it's time to link with credible and strategic SEO service companies such us The HOTH.