Welcome to our WERVAS Review! 
Today, we will talk about WERVAS – a rising household name when it comes to highly efficient virtual assistant services not only in India, but also in other parts of the world. 
India has established a record of providing quality services and cost-effective labor for just any type of work, project or industry around the globe – virtual assistance is among them. While there seems to be a broad and thick competition present for companies taking this line of business, WERVAS has found its way through and managed to continually go uphill.
Let's find out how, from one humble beginning, WERVAS has reached this record of recognition and greatly satisfied clients. Let's go!
Company Name:  WERVAS Virtual Assistance Services
Founders: Jayanta Guha, Rupak Chakraborty
Headquarters: Kolkata, India
Product Type: Virtual Assistance, Web Development and SEO Services 
Target For: Entrepreneurs, Small and Medium-sized Businesses who want to hire VAs
Summary:
WERVAS offers quality VA services at affordable prices, along with 24/7 support and assistance.
WERVAS is one of the leading virtual assistant service companies established and headquartered in Kolkata, India where a wonderful team of around 80 experienced consultants is being housed. 
Its name simply serves the very purpose of the company's existence – We are Virtual Assistants. Cool, right? Definitely cool and more! They initially started from a simple small cottage idea of founders Jayanta Guha and Rupak Chakraborty back in 2016.
The goal then was to present a platform that would cater to the needs of busy business owners – from start-ups to small and medium-sized companies, offering 'extra hands' to allow them to enjoy a work-life balance. 
And in a span of time, this mindset and objective has made WERVAS stand out, expanding its network to over 500 happy clients, completing about 130 projects and saving around 79,000 hours to date.
WERVAS has three focus areas – Virtual Assistant Services, Web Development and SEO Services, each one is equally competent as the other. The company promotes a healthy environment of driven employees who are highly-skilled and trustworthy in providing quality work for all its clients at a very affordable price.
Virtual Assistant Services
This area typically covers any work or task that a personal assistant does. WERVAS offers 24/7 virtual assistant services to ease your burden in completing multiple tasks when you are running out of time. Hiring their skilled VAs is definitely a great decision to help you run your business smoothly.
Below are the services that most clients avail of:
Online Research

Email Management

IT Support

Calendar Management

Social Media Management

Administrative Works

Customer Service

Market Analysis

Presentation
WERVAS makes it a point to assist its clients in the field of website building and design. Their creative IT team is equipped with experience and vast knowledge on the latest trends and technology in order to produce friendly interfaces tailor-fit to your business' demands and market.
The company also takes pride in its quality SEO services and surely just has experts in-house to take its optimization tools to greater heights. Their professional team, who has a good track record of proven results, can build a personalized campaign that will definitely pave the way for your business' visibility and presence in the online world.
They have a structured optimization process in order to help you understand what they are gearing at.
On-site Optimization Process – Part 1

–

This is where they do market and keyword research for your company's brand, competitor research and keyword mapping

On-site Optimization Process – Part 2

–

This is where they start to select high-return keywords for more traffic, technical survey and audit in your website and getting your approval for technical implementation

Off-site Implementation Process

–

This is where they start link building and featuring your brand in established websites and blogging platforms. They will also provide end of month reports where you can see the updates and progress done in your website
Getting connected with WERVAS is very easy. It's 24/7 virtual assistant service is always ready to attend to entrepreneurs and businesses which basically need another set of hands to help them run their administrative, technical and operational activities.
Reach them through email, skype, chat or phone with the type of service you wish to delegate

An Account Manager will set up a meeting with you for VA selection

After you select your VA, you can then choose the best plan

Tell WERVAS your task through the Admin Panel, if not, through Skype, phone or email

Enjoy your time while the skilled VA handles your tasks

The Account Manager will send you the completed task after rechecking
WERVAS offers affordable pricing packages and effective plans where clients can basically choose from depending on their time flexibility and preference.
Virtual Assistant Services Plans
You can choose among hourly-based, task-based and their special quarterly plans. Below shows the different price ranges.
Hourly Based Affordable Virtual Assistant Plans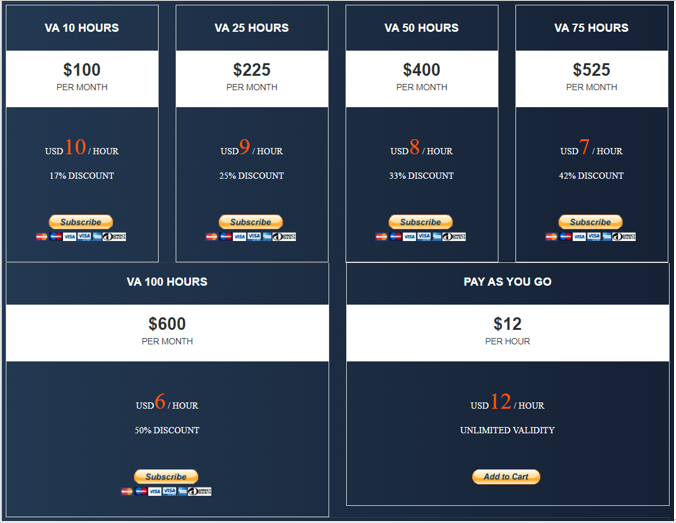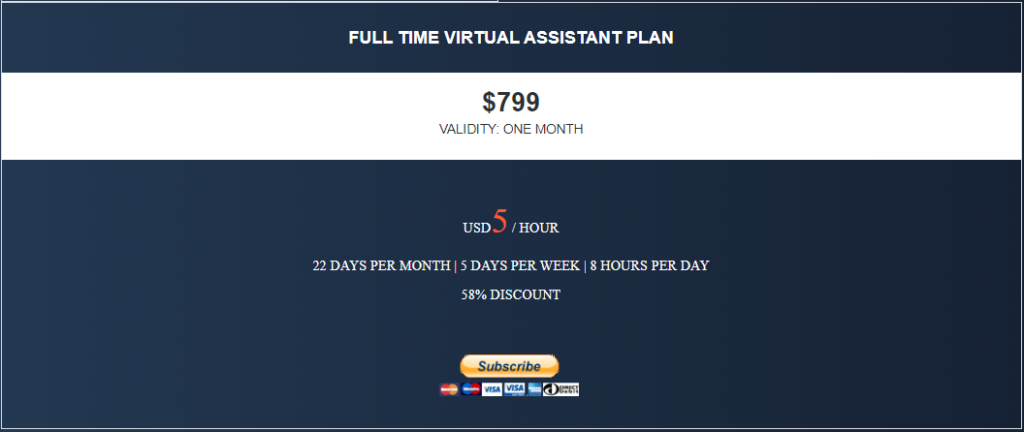 Task Based Affordable Affordable Virtual Assistant Plans

Special Quarterly Affordable Virtual Assistant Plans

You can choose among three cost-effective monthly pricing plans – Silver, Gold and Platinum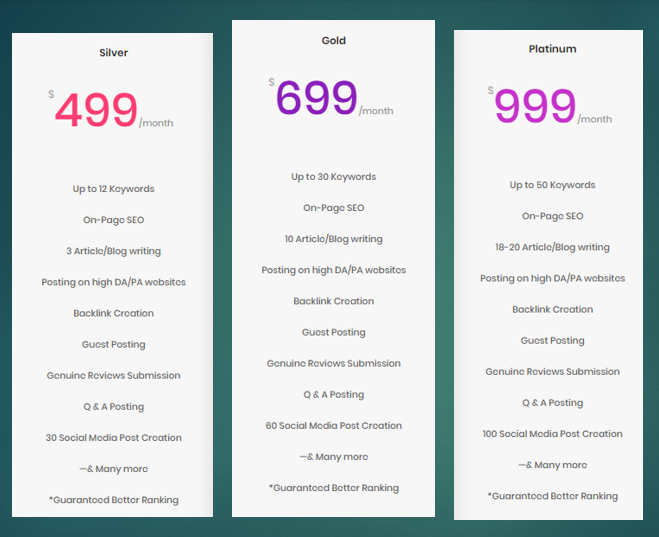 My WERVAS Review and Summary
WERVAS Virtual Assistance Services indeed has come a long way to gain recognition in the very populated VA world. They have established their own unique strategies and set up skilled resources to cover as many types of work as possible.
Let's try to point out a few bits of both sides:
3-hour Free Trial plan for 2 days

Affordable pricing and packages

You can have a dedicated VA

24/7 support and assistance
Other VA sites offer more flexible packages

There are far more established and well-rated VA companies than them
May you be a start-up or established business, you can always take away all the hassle of several tasks that you can actually delegate by hiring virtual assistants. WERVAS has proven for years that they are highly effective and credible in this field.
While they are thriving in the VA world, we cannot deny that there are already companies who are highly-recognized and well-respected when it comes to providing online services and skilled virtual assistants. 
For start-up business owners and overly busy businessmen who are needing dire help in managing the daily operations and personal tasks, hiring a quality-driven and affordable 24/7 VA company like WERVAS might just be a good plan. Who knows, you might be a perfect fit for a long-term engagement.
One of the best alternatives for WERVAS Virtual Assistance Services should be Onlinejobs.ph. This online job portal is a great source of affordable and highly-skilled full-time virtual assistants in the Philippines.