Welcome to our Fancy Hands Review!
It's high time to talk about how this amazing virtual assistant company got so many businesses and entrepreneurs hooked to its valuable and reliable services!
Fancy Hands has made rounds of reviews online and most of these are positive responses and appreciation on how well and efficiently they are managing a variety of work. The ever-growing online world presents a vast market of virtual assistant services, and without a doubt, Fancy Hands is able to establish itself as one tough competition.
Let's dig a little deeper about Fancy Hands and how it has built its name in the VA world. Ready? Okay. Here we go.
Company Name:  Fancy Hands
Founder:  Ted Roden
Headquarters: New York City, USA
Product Type: Virtual Assistance Service
Target For: Entrepreneurs, Business owners, Developers (and just simply anyone)
Summary:
Fancy Hands is 24/7 virtual assistant service company which can be your go-to for one-time and quick-response-time kind of tasks.
Fancy Hands is a US-based virtual assistant company that has employed around 100 quick and savvy native English-speaking assistants to get things done for its clients. Ted Roden, the founder, started the business back in 2010 with the idea of taking off even the littlest of loads from people's already busy lives and easily pass all these one-time tasks to an online assistant to get the job done.
Their target market? Well, just simply anybody who wishes to delegate their tasks in one click and you'll have their team of assistants more than happy and ready to serve you 24/7 – may they be office and clerical duties or personal errands, saving you so much time.
Apart from a fast and efficient way of completing the work, they offer an affordable cost as compared to other virtual assistance services in the market.
What Does Fancy Hands Do?
As most VA companies do, Fancy Hands exists to take off that burden of extra work or worry from you from day to day so you can spend your time on more important things. 
You see, Fancy Hands is just a message away wherever you are and whenever you need anything as long as it is legal (that's what they said). They have outlined what they can and cannot do so customers will be guided if they are sending requests.
To have a better idea of what they can offer, here is a list of their featured services:
Scheduling – Let them manage your calendar and worry no more.

Text Messaging – Just simply text them your request and they'll be on it ASAP.

Purchasing – Besides research, they can also purchase items on your behalf.

Rollover Requests – If you are a member, your unused requests can be carried over to the following month

Recurring Requests – You'll have access to set your recurring request on repeat through the Dashboard

Accessibility – Let them know what you need to get done via phone, web, SMS and email

Referral Credits – You get free credits for each referral you get to sign up with the service

Usage Stats – You can view how much time and money you've spent and saved using their service
Fancy Hands can basically do anything for you and you'd be amazed at how quickly and efficiently they can complete the job. 
A Dedicated Virtual Assistant
If you wish to just connect with a dedicated assistant instead of just random assistants available to pick up your request, you can actually do so!
What's in it for you?
Work with the same person in all your requests

Your assistant is always available for your requests

Your assistant can use your credit card should you need something purchased anytime

You are billed by the minute

Communicate in any way you want

You can have a project manager for special projects

You don't have to worry about a contract

You get 50% off your first month
Besides the regular single tasks, they also work with businesses and special projects which will require a special set of features made to suit your business needs. 
Teamwork is a service that Fancy Hands offers for employers or organizations that manage a larger team. This simply allows your team members to delegate repetitive tasks to the skilled assistants so they can focus on more productive work.
You can avail of the service at zero setup cost with the following features:
Administrative controls

Track Usage

Pay As You Go

No Minimums

No Contracts

Confidentiality Guaranteed
The more team members you sign up, the more you can save on the cost.
Fancy Hands has a network of assistants that help developers build their own app – from the most basic to the most complex ones. All you have to do is send them the instructions in plain text, the type of structure you want back and your budget. Someone from their team will then reach out to you once everything is set.
Here are some examples of what you can build with their powerful API:
On-demand Car Service

Food Delivery Service

Outbound Call Center

Sales and Lead Generation Service

Appointment Scheduling Service
How Does Fancy Hands Work?
Using Fancy Hands' service is easy. You just have to sign up and once you have created your account, you can start sending your request via email or SMS through the web or mobile app. 
They have two types of requests – Standard Request and Live Request.
 Standard requests take only 20 minutes to complete and are typically answered within 24 hours. If a request takes more than 20 minutes, the virtual assistant will usually assess it the first time and will advise you how much time is needed before they start on the task. 
Live requests are used for a 10-minute live chat per request. It allows you to connect to an available live chat assistant who you can communicate with real-time. This is usually for tasks that can be completed in a much shorter time. If the time goes beyond 10 minutes, you will have the rest of the live chat time allocated for the next task.  
How To Send Your Request?
There are many fast and easy ways that you can send requests to Fancy Hands.
Mobile Apps – Their application is available for both iOS and Android

SMS Texting – Just like the Live Requests, you get 10 minutes for this service. You can view the transcript of your conversation through your Live Request log

Email Texting – You can send your request via email and have the copy of it saved in your dashboard

Call in – If you'd prefer calling, you can always do so and just leave them a message. The thread of the request is always accessible through your dashboard.
Once you hit 'Submit' or send, you'll expect that an assistant will surely be responding to you quickly with an answer to your request or to let you know that the job has already been taken care of.
Fancy Hands has a dedicated number for SMS and Calling services as well as an email address for the Email service. You'd better be saving these in your phone for a much hassle-free way of contacting them. 
Fancy Hands offers affordable plans which you can choose from depending on how many requests or tasks you need to get done.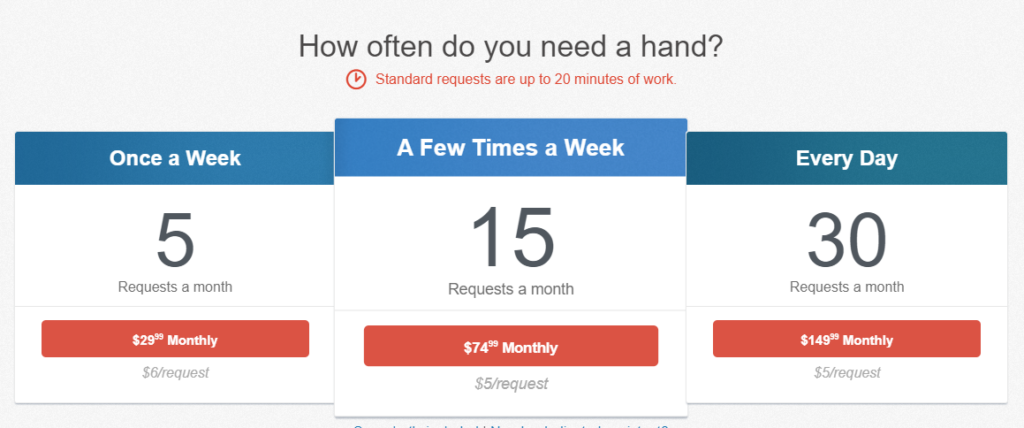 API Service for Developers
My Fancy Hands Review and Summary
Fancy Hands is best known for its fast turnaround time service at an affordable cost. Its team of virtual assistants is available 'round the clock so customers can just basically ping them whenever, wherever and however.
Native English assistants anywhere in the US

24/7 service

Affordable pricing

Several ways to contact – SMS/email, App/web

Fast turnaround time
The longer the task is done, the more you are billed

The tendency to get runarounds on your request

Claims on poor customer service 
Surely, virtual assistant services are there to ease you out of the burden to do routine work or extra tasks when you can hire someone online to do it. Fancy Hands takes this seriously and their team of assistants can save you time and effort in getting the job done on the spot, apart from the money you can save doing the task on your own.
However credible the service is, some would always opt to hire permanent and more reliant assistants from renowned and highly-credited companies where you can be assured that the VA you get has the specific skill set aligned to your needs.
The VA service market is so wide and you can always scour for highly efficient and more cost-effective VAs if what you want is a long-term engagement. But for tasks that require quick responses and are meant for one-time assistance, Fancy Hands can definitely take them on.
One of the best alternatives for Fancy Hands should be Onlinejobs.ph. This online job portal is a great source of affordable and highly-skilled full-time virtual assistants in the Philippines.