Virtual assistant service companies are thriving especially in the US, especially these days that most companies are going digital. 
Probably, the best way to squeeze into the already crowded market of both virtual assistants and outsourcing companies is to answer the rising demands of VAs from other sectors of the society.
And My BTLR did just like that – offering a wider scope of services to a much diverse and larger market. Let's learn more about them!
Company Name:  Mt BTLR
Founder:  Brad Turner
Headquarters: Alpharetta, Georgia
Service Type: Virtual Assistant Service 
Target For: small business owners, real estate agents, bloggers, financial advisors, entrepreneurs, and business executives
Summary:
My BTLR provides a dedicated US-based virtual assistant to support in the administrative tasks and all the little things that cosume most of the busy people's time.
My BTLR is founded in 2016 by Brad Turner, an experienced executive in North America's largest staffing company. My BTLR understands the needs of busy people and businessmen, so they come in as a good help in those "little tasks that tend to slip."
This virtual assistant provider teams you up with a dedicated US-based assistant, who they refer to as butler. Your butler takes on any tasks that you want done – personal or business – so you can maintain a stress-free work-life balance.
The best thing about My BTLR is that they have stretched out the variety of their services and expanded their reach in order to cater to as many professions or areas as they can.
My BTLR helps you manage your workload by providing only the best-fit assistants to your needs. They can handle just about anything as long as it is not illegal, immoral, or unethical.
They are expert in matching the best assistant for just any profession or industry:

Virtual Assistants For Business
Your dedicated VA can help you manage your calendar so you can only focus on more critical items. Some of the tasks that you assistant can help you with are:
Daily Appointments & Calendar Management

Bookkeeping & Payroll

Inbox Management

Marketing & Advertising Support

Website Management

Social Media Management

Meeting & Event Planning

Lead Generation

Customer Follow-up

Satisfaction Surveys

Document Prep
Virtual Assistants For Professionals
You will have all the mundane yet important administrative tasks covered by your skilled VA. Among the many professions they cover are:

While your VA can take care of the following:
Presentation Support

Social Media Management

Email Follow-up & Inbox Management

Website Management

Travel Planning & Booking

Electronic Document  Filing & Storage

Client Follow-up

CRM Management

Document Prep

Calendar Management

Advertising & Marketing Support
Virtual Assistants for Real Estate
If you are a busy realtor, My BTLR can provide you an exclusive VA that can free you up with some of the work, so can focus on meeting clients and closing deals. 
So, while you are doing your thing, your dedicated VA will be working on the background:
Social Media Management

Website Management

Listing Updates

Blog Support

Email Follow-up

Ad Campaign Management

CRM Management

Document Preparation & Follow-up

Setting Up Meetings& Calendar Management

Client Follow-up
Virtual Assistants for Trade Contractors
My BTLR offers talented contractors and trade administrative assistants who will serve as a back office support for several tasks. 
These are the types of contractors that they are experienced helping with:

While you're running the business, your VA can take care of the following:
Order & track parts

Customer follow-up

Warranty claim processing

Inbound & outbound marketing

Vehicle tracking & maintenance scheduling

Preparing estimates & quotes

Managing timecards & technician schedules
Virtual Assistants for Families
Hiring a dedicated virtual assistant from My BTLR will enable you to manage time properly and enjoy life with your family. 
Your skilled VA can help you so much in little things, including:
Calendar Management & Reminders

Record Keeping & Important Paperwork

Plan Social Gatherings

Manage Home Services

Online Tasks & Shopping

Book Vacations & Travel

Manage Projects

Track Expenses & Pay Bills

Stay Healthy
Virtual Assistants Bookkeepers
My BTLR also offers businesses or busy people with their own credible bookkeeping VAs who can help you manage your books while you are occupied with running the business.
Your VA can cover the following tasks and more:
General bookkeeping

Dedicated person in the USA

Paying bills

Billing & invoicing

Bank reconciliations

Payroll

Credit card reconciliations

Expense reports

Payment processing

Financial statements

File compliance documents
My BTLR provides a wider scope of services with its US-based and background checked virtual assistants to help all its clients of varying industries across the country.
To get started with My BTLR's services, you just have to contact the number they plug on their website or click the link provided for a free consultation with their Relationship Manager.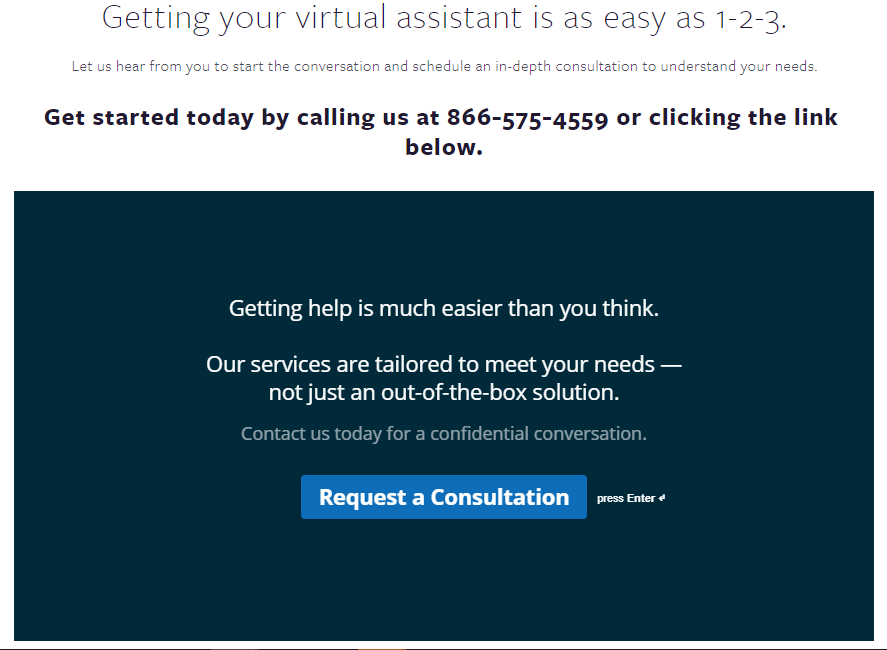 My BTLR uses a 3-step OptimalFit process to ensure that your VA is tailor-fit to your needs and can support you all the way.
Step 1: Consultation. After they get all the details, they will scout for the best talent in their database to meet your requirements
Step 2: Present Top Candidates. They will present their best matches for your approval.
Step 3: Once the assistant is chosen, you can now start the working relationship
They pride themselves in providing only US-based virtual assistants, vetted, verified, and background-checked, instead of overseas resources and call centers as they believe in a more personal approach in handling clients.
My BTRL offers varied pricing depending on the needs of its clients. However, their plans start for as low as $299 per month.
They also offer an Affiliate program where all you have to do is apply for it by completing the form provided on the website. Your task is to simply recommend them to your network, so you get to enjoy the reward.
By becoming an affiliate, you receive a $250 every referral that you get to sign up. Subsequently, your referrals will enjoy 20% off of their first month's invoice.
My BTLR, despite of it being new, has amazingly garnered a lot of positive feedbacks from its clients so far. Their promise of personal touch, having to hire proven and tested US virtual assistants may have been a factor in a fast turn around of tasks and getting things done smoothly by their butlers.
Here's what we thought of them:
Wider range of services and larger scope of clients

Experienced dedicated US-based assistants

Free consultation service
Price is not cheap

No provision for back-up VAs in case the dedicated assistant quits
The emergence of many virtual assistant providers in a congested digital market only shows that the demand for remote staff is ever-increasing.
My BTLR, with a proven experienced founder himself on staffing, seems to easily sneak into this business niche and is rolling out just fine amidst the tight competition.
Still, it can't be argued that companies who outsource staff can save more while offering much affordable packages to their clients.
There are just way more credible, more cost-friendly, and reputable virtual assistant service companies in the market that still can guarantee highly-skilled virtual assistants providing quality work and service all the time.
For virtual assistant services needs, you may also check Onlinejobs.ph if you are willing to try outsourcing your VA. This online job portal is a great source of affordable and highly-skilled full-time virtual assistants in the Philippines.