Freelance platforms on the internet have been around for quite awhile now and when people think about freelancers, most of common services that comes into a person's mind is engaging web developers, content writers, graphics designers, SEO writers.
Nowadays, there are many services you could look for such as online tutoring services, legal advices, finance, etc. It is the flexibility of the services that have evolved and as such, it is easy to find freelances in the internet. 
Let's review Toptal.
Toptal was founded by Founders, Taso Du Val and Breanden Beneschott. 
From their website, Toptal was created by engineers and are entrepreneurs who are passionate about growing their exclusive network of the top talent in business, design, and technology in the world.
Both aso Du Val and Breanden Beneschott have created a team from CTO, Talent Operations, Engineering, Finance, General Counseling to Publications.
Toptal, focused on software, design, and finance services, is funded by Andreessen Horowitz, Adam D'Angelo, and Ryan Rockefeller.
Toptal instill a top 3% successful recruitment from rigoruos screening process to identify the best.
From the thousands of applications Toptal sees each month, only fewer than 3% are accepted. Toptal does everything for their clients from software developer, designer, project manager to finance experts. 
There are a few steps you need to do to hire from Toptal.
Step 1: Click on the selection and submit a job.
You will need to submit a preference for Toptal to find you the right candidate. Detail and preference of the hob scope is important for Toptal to understand your project.
Depending on your budget, Toptal can set up you up with a freelancer or a team of freelancers. Once you confirmed the job scope and description, Toptal will have a team to review it, touch base with you for clarifications.
Step 2: Toptal matches your job description to  freelancers. 
Finding, interviewing the right candidate for the job will usually takes a few days and Toptal to stay incontact with you on the progress of right candidate.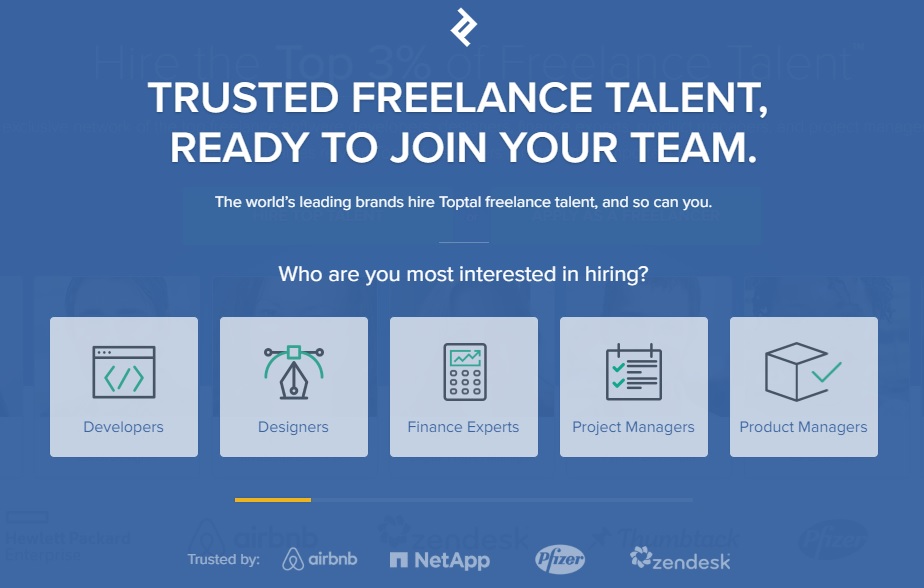 Step 3: Toptal finds you a match.
Once Toptal finds a freelancer, they will introduce you, and you may start your project together with the freelancer. 
Step 4: One good thing about Toptal is you can start the process again if you are not satisfied with your freelanncer. There is no additional cost for you to change a freelancer and from the 3% stringent recruitment process, most clients from Toptal has benefited from their freelancers. 
There is a deposit of $500 once you start with Toptal and hire a freelancer.  
The deposit will be refunded if you decide not to hire with Toptal. On top of the deposit, you will also need to pay the freelancers fees, ranges from $60 per hour onwards. 
Toptal is a good platform for finding a freelancer or a team of freelancers. However, pricing wise is slightly higher. Like Upwork or other platforms, you can find a freelancer at a range of $5/hr but for Toptal, you have to pay a premium.
From the reviews, hiring process can also takes too long and most clients tends to be put off by the long hiring process.
Other alternatives that you may want to take a look as follows. 
You may read our reviews before making a decision.
The above products price range are affordable and you get access to their database of candidates. However, you have to do your own screening and interviews.