Hi, there! Welcome to our Vgrow Solution Review! 
Going for the online hustle these days is about wise strategies and being able to cope with the trends. Digital marketing has always been an effective scheme yet promoting your brand is never that easy. Hiring virtual assistants focused on this field or employing digital marketing experts eases the burden of managing your online business activities.
Vgrow Solution offers over a decade of marketing solutions to businesses around the globe and has also been providing quality virtual assistant services for this industry. Let's get to know them!
Vgrow Solution Review Summary
Company Name:  Vgrow Solution
Service Type: Virtual Assistant and Digital Marketing Services
Headquarters: New York, USA
Target For: Small and medium-sized business owners, realtors, entrpreneurs
Summary:
Vgrow Solution is one of the most trusted provider of quality virtual assistant and digital marketing services to several business owners around the globe for over a decade.
Founded in 2010, Vgrow Solution is a US-based virtual assistant and digital marketing service company with expertise in providing online solutions such as paid advertising, social media marketing, optimized content writing, graphic design among others.
As one of the leading organizations in this field, Vgrow Solution offers a variety of highly-efficient and affordable services that meet the needs of its clientele, assuring a stabilized growth for your business. 
Vgrow Solution has proven its credibility over the years and has been a trusted service provider of qualified and experienced virtual assistants in the world when it comes to digital marketing solutions.
What Does Vgrow Solution Do?
Vgrow Solution offers a variety of marketing solutions to small and medium-sized business owners, realtors, entrepreneurs, and spa owners through its highly-trained virtual assistants. They customize their services tailor-fit to every client's needs in the field of IT, communication, and estate and enterprise solutions. 
The goal of the company is to help busy clients in managing their online business so they can focus more on their core functions. With their talented virtual assistants and team members, your mind will be at peace as you deal with more important operational activies while Vgrow Solution help build your business for success.
Vgrow Solution is a one-stop-shop for your virtual assistant and digital marketing needs, offering the following platforms:
Website Design – responsive website design, E-commerce website design, secure hosting, landing page design, mobile-friendly design, and more.
Virtual Assistant Services – VA for customer service, small business, content writing, and social media, and administrative assistant
Digital Marketing Services – SEO, PPC Management, social media marketing, inbound marketing, content marketing services, and email marketing
Amazon Marketing and Optimization – comprehensive Amazon marketing plans, Amazon SEO services, Analytics and Reporting, and more
Video Creation – business video production services, video editing services, specialized video editing, online video marketing services, and more
Vgrow Solution follows a simple three-step process that makes it easy for clients to connect with them.
Step 1: They need to get to know your business by understanding your needs and the goals you want to achieve. They will analyze your IT, infrastructure, and digital requirements so they can customize fitting strategies for your business growth.
Step 2: Based on your requirements, they will choose the suitable members that will make up your talented team. They will then set these staff in a secured office space.
Step 3: They will manage the team on your behalf and monitor their work efficiency. They can handle most of the work, even the operational activities, and give you the results you expect.
Should you wish to initially check the cost implications of availing of their services, you may get a FREE quote 

Vgrow Solution customizes strategies and offers unique digital marketing services and thus, plans and pricing may vary depending on the needs and requirements of the clients.
They do, however, offer a glimpse of how much it costs for Basic, Standard, and Preium Business solutions:
For Virtual Assistant Services, plans and pricing depends on the time requirement you need the assistant to work for you.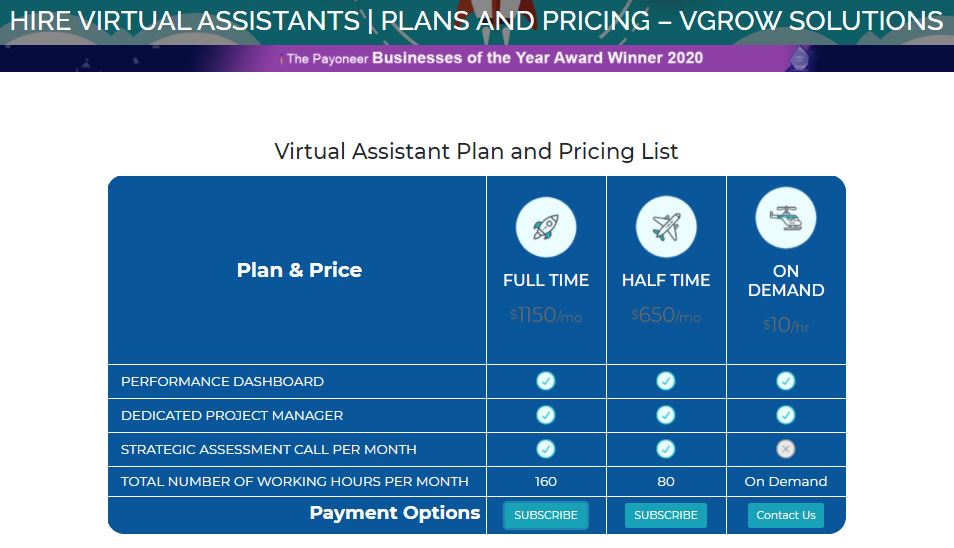 A trustworthy company earns such title by being exactly one. Working in the digital world can be tricky, so entrepreneurs must make sure they cover all the bases before entrusting their businesses to others.
Vgrow Solution, with its years of expertise in providing efficient virtual assistant and digital marketing services, earns the reputation of being one of the best-rated full-service digital marketing agencies in the industry.
Let's check both sides of the coin:
Reputable organization

Customized digital marketing solutions

Highly-experienced virtual assistants

1-month free trial
It still cheaper to hire VAs directly from online job portals

No system set for filtering outputs especially for content writing services
Finding the right service and dream team in the area of digital marketing is no easy task but will be worth it once you employ the perfect company to help you boost your business. The crowded market of remote workers and service providers makes it hard to choose which among the offers you will go for. 
However, by looking into the statistics, though figures can be altered, perhaps the only factor that will matter is how steady they are as well as their tenure in the industry. If you are looking for the perfect fit, service credibility, partnered with cost-efficiency, can get your business to places – features that Vgrow Solution has always been known for through the years.
Vgrow Solution Alternative
There are still a lot of promising one-stop-shop digital marketing agencies online when you just look further. However, if you opt for direct hire, then we highly recommend Onlinejobs.ph, an online job portal where you can outsource affordable and highly-skilled full-time virtual assistants in the Philippines.