Hi, there! Welcome to our Virtual Latinos Review!
Virtual Assistant Service is a fast-growing and top-of-the-trend business endeavor these days. Virtual assistants and marketers are valuable assets to any company or anyone who needs an extra pair of hands to take over most of the time-consuming tasks in running a business.
Virtual Latinos has built a community of top VA talents from Latin America to serve small businesses around the globe. Let's learn more about them!
Company Name:  Virtual Latinos
Founder & CEO:  Jaime Nacach
Headquarters: San Diego, CA
Service Type: Virtual Assistance and Virtual Marketing Services
Target For: Small business owners, entrepreneurs, agencies, and teams
Summary:
Virtual Latinos is an oursourcing company that provides pre-vetted virtual assistants based in Latin America to serve its growing clientele in the US, Canada and around the world.
Founded in 2018, Virtual Latinos is a virtual assistant service company that aims to connect virtual assistants and virtual marketers from Latin America with businesses and entrepreneurs in the United States, Canada, and all over the world.
Their pre-vetted Latino virtual assistants seek to support all of their client's online needs, taking care of all the time-consuming tasks that prevent them from being productive.
Virtual Latinos was founded to offer solutions for business owners who are looking for affordable yet high-quality and passionate Latin American assistants and marketers.
Virtual Latinos has represented 18 Latin countries and only hire 7.5% of the total applicants which meant that only the best talents go past their meticulous screening process in order to meet the needs of their customers.
What Does Virtual Latinos Do?
Virtual Latinos is a platform that enables entrepreneurs, agencies, and teams to source out bilingual, hand-picked, experienced, and talented professionals from Mexico, Central America, and South America.
They serve several industries and companies including, but not limited to:
Property Management

Real Estate

Tech and Software

Marketing Agencies

Entrepreneurs

Non-Profits

Retailers and Wholesalers

Medical and Healthcare

Law Firms

Accountants
There is a wide range of tasks that VAs from Virtual Latino can do and they can definitely become anything you want them to be, and more:
General Administrative Assistant

General Digital Marketers

Customer Support

Sales & Customer Reps

Writers & Bloggers

Project & Operations Managers

Branding & Graphic Designers

Social Media Marketers

E-mail & Automation Experts

Web Designers

Advertising Experts (PPC)
Virtual Latinos emphasized the following reasons why hiring assistants from Latin America seems the best option for your company:
Same timezone, or minimal time-difference with the U.S.

Affordable

Bilingual 

Skilled, Creative, and Experienced VAs
Virtual Latinos handpicked and pre-screened applicants to guarantee their client's success. They specialize in digital marketing in order to help small businesses achieve most of their potential in the online world. 
There are two ways to hire an assistant in Virtual Latinos:
Virtual Latinos Agency

Virtual Latinos Directory
Through this service, you can hire an assistant who can work for you at least 40 hours per month or 10 hours per week.
Step 1: Create a Virtual Latinos Account. Register to create an account and select your package.
Step 2: Fill out a short questionnaire. Tell them about your company, the products and services you offer, and your job requirements by answering this short survey.
Step 3: Virtual Latinos will find you an assistant. They pre-select and screen assistants for you and come up with the best 2-3 profiles for you to choose from.
Step 4: Review and confirm your assistant. You can re-interview the selected applicants if desired and once you've chosen, the assistant can start working with you right away. Virtual Latinos will then send you an agreement and invoice based on the plan you selected.
Step 5: Manage your assistant while Virtual Latinos provide ongoing support.
Virtual Latinos Directory
You can directly hire an assistant through their directory to be paid quarterly with no long term commitments.
Step 1: Sign-up and subscribe to their directory. Register to create an account and choose a membership plan.
Step 2: Explore assistants or post a project. You are free to browse their listing and filter according to skills, rate, experience, etc. You can then post a project and invite assistants to apply for the job.
Step 3: Reach out to your selected assistants via their internal messaging system and conduct an interview to choose the perfect fit.
Step 4: Once you've chosen your assistant, you can negotiate with them the salary or payment structure and even agree on working hours and deadlines.
Step 5: Manage your assistant's work via Toggl, Hubstaff, or TimeDoctor and pay them directly via Paypal or any payment method you prefer.
Should you find that the VA you hire is  not the right fit, Virtual Latinos will find you a new and more qualified VA (up to 3 total VAs per hire) if hired thru the Agency. They do, however, require that you work with your VA for at least 2 weeks or a minimum of 20 hours before you come up with this decision.
If hired through the Directory, you'll be allowed to hire up to 2 different VAs, as long as you're hiring for the same role (not a new one). This applies only to those memberships that are pre-paid for 3 months at a time or longer.
If for any reason you are still unhappy with your hires, Virtual Latinos offer a Satisfaction Guarantee.

Virtual Latinos provide only the best talents you can find in Latin America at an affordable cost. Below are the different plans they offe if you hire via Agency or Directory.
Virtual Latinos Directory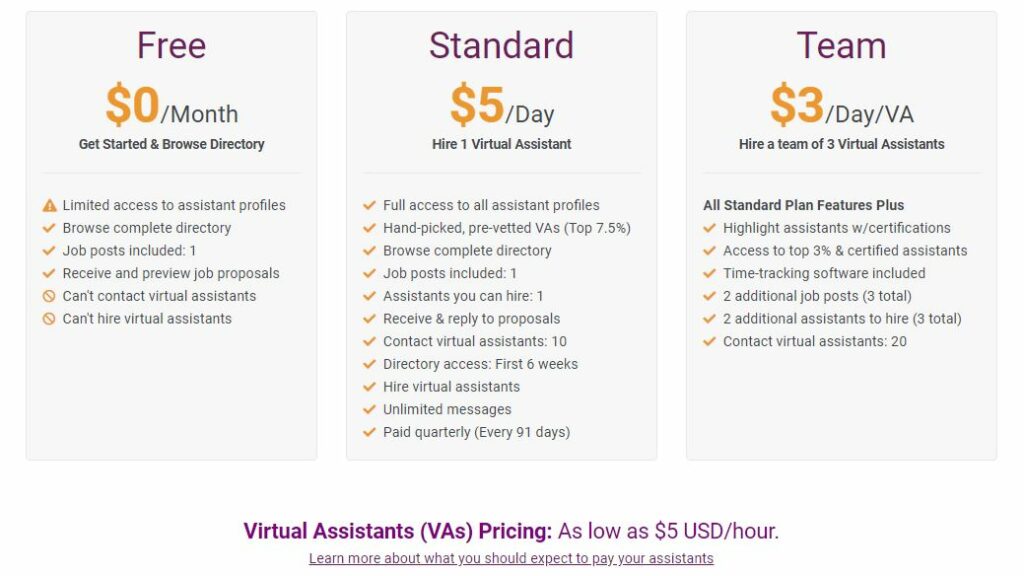 To have a rough idea on the pay scale for VAs you hire through the directory, hourly rates are expected to look like this:
$5-$7/hour – A beginner with not much experience

$7-$10/hour – Entry level, some experience

$10-$15/hour – Intermediate level, few years of experience

$15-$20/hour – Advanced level, many years of experience

$20+ /hour – Expert level, lots of experience
My Virtual Latinos Review
Virtual Latinos offers a tight-knit community of staff sharing the same culture and ethics, and can be seen as an effective way to maintain successful service delivery to all its clients. Their experienced pool of talents makes Virtual Latinos an attractive source of the best virtual assistants and marketers in Latin America.
Here's how we see them so far:
Same timezone or a minimal time difference with US and Canadian clients

Affordable, pre-vetted, bilingual assistants

No long term commitments

No access or setup fees
Hiring directly (via Directory) means you have to spend time on training and onboarding

You manage your VA's performance on your own

No free trial
Hiring a virtual assistant is always the best choice if you are someone who's bombarded with all these tiny and tedious tasks. Also, if you need assistance on the marketing side, it's best to hire virtual marketers instead who are much experienced in helping your brand penetrate the market.
Virtual Latinos is a great option if you are looking for affordable solutions in keeping your business' growth. One thing that they can definitely help you with is if you plan to diversify, targeting the Hispanic market. Apart from their pre-vetted talents, they only hire the best Latino assistants who are a guaranteed help in making your business achieve milestones.
Virtual Latinos Alternative
If you are not very specific with your VA's location, you may check Onlinejobs.ph  This online job portal is a great source of affordable and highly-skilled full-time virtual assistants in the Philippines.