Hi, there! Welcome to our Outsource Accelerator Review!
Outsourcing has made its breakthrough for years now, enabling businesses to thrive and still get quality results by hiring remote workers or virtual assistants anywhere in the globe. The Philippines is known to be one of the largest sources of outsourcing suppliers in the world and has been a hub of the best Business Process Outsourcing companies in the industry.
Outsource Accelerator is passionate about helping businesses grow through tailor-fit outsourcing solutions, making it its mission to make outsourcing accessible to everyone. Let's get to know them better!
Company Name:  Outsource Accelerator
Founder & CEO:  Derek Gallimore
Headquarters: Manila, Philippines
Service Type: Outsourcing and Advisory
Target For: Small and Medium Businesses and Enterprises
Summary:
Outsource Accelerator is a leading marketplace of the most established outsourcing suppliers in the Philippines, and at the same time, offers a trusted independent advisory and expert implementation of BPO.
What is Outsource Accelerator?
Outsource Accelerator is the leading outsourcing marketplace, providing staffing solutions for small and medium enterprises, start-ups, and enterprises in almost all industries existing. 
They link Business Process Outsourcing companies in the Philippines with businesses and clients around the globe with its directory listing of about 700 outsourcing companies. OA's website also serves as a resource hub with over 5,000 pages of contents such as articles, guides, and podcasts for all there is to know about BPO.
Outsource Accelerator was founded in 2016 by Derek Gillmore, a leading expert in outsourcing who has been in the business for 20+ years and 10+ years in outsourcing. He believes that outsourcing generates game-changing opportunities that can benefit everyone and it has become his mission to make outsourcing understandable and accessible for all.
What Does Outsource Accelerator Do?
As the world's number one "aggregator marketplace for outsourcing," Outsource Accelerator covers almost every sector in the industry, serving global clients by providing a directory of Philippine outsourcing suppliers for them.
These are the industries they are serving:
Real Estate

Financial Services

Hospitality

Legal

Telecommunications

Healthcare

Transportation

Utilities Energy

Travel
And the roles they can provide are the following:
Customer Service

Design & Graphics

Digital Marketing

Finance & Accounting

Human Resources

Lead Generation & Sales

Payroll

Software Development

Virtual Assistant Services
Outsource Accelerator makes its website more engaging and informative by having a resource hub or repository called "The Source" which contains news, BPO directory, articles, guides, podcasts, and anything you need to learn about outsourcing.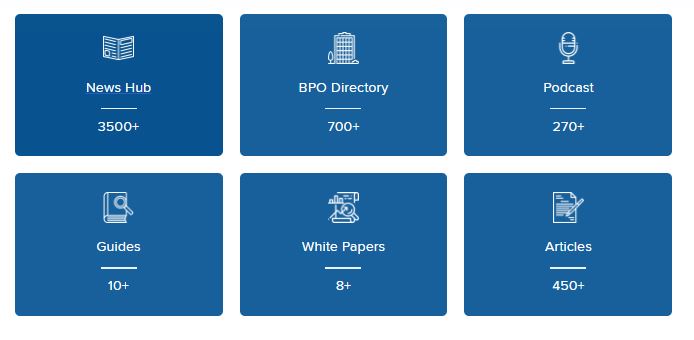 Apart from the offshoring solutions, Outsource Accelerator also offers independent advisory, expert implementation, and co-management services.
To connect with Outsource Accelerator, you can either book a call with an outsourcing expert or get a quote by answering a quick and easy form.
Outsourcing Accelerator can get you connected for free to the best fit among over 700 verified outsourcing suppliers.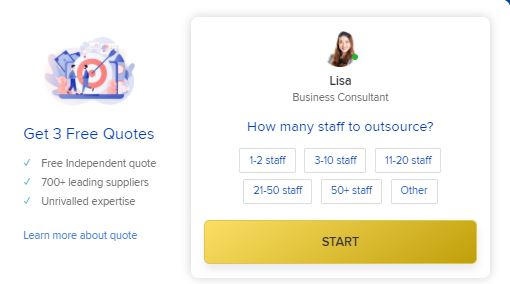 Step 1: Tell them how many staff you want to outsource.
Step 2: Tell them how big your company is/how many staff do you have.
Step 3: Identity the sector which your company belongs to.
Step 4: Your requirements for the role you are outsourcing
Outsourcing Accelerator does not charge or make any revenues once you proceed with outsourcing. They are true to their mission by being a trusted link between the clients and the supplier, and thus they emphasize,
"The process is completely confidential for the client and transparent and fair for all parties."
Outsource Accelerator offers a range of competitive products which are proven solutions to optimize the integration of outsourcing in your business.
Depending on the role and experience level, the BPO facility, service levels, and quality, you can expect an average monthly outsourcing cost of: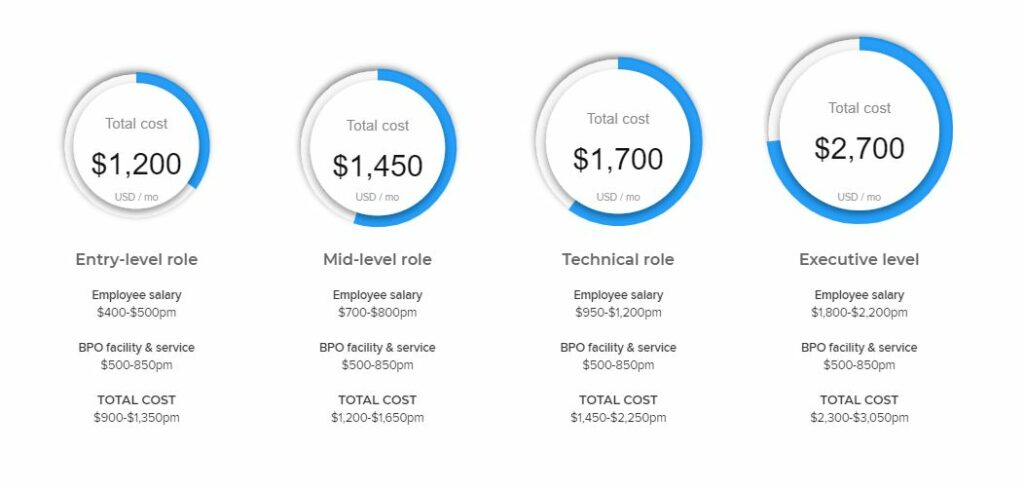 My Outsource Accelerator Review
Outsource Accelerator is not your typical outsourcing supplier. They are passionate about their mission in making outsourcing easy and accessible for clients all around the world.
Besides being a trusted intermediary, they also aim to provide an independent and unique resource that would help businesses understand more about Business Process Outsourcing.
Here's how we view them so far:
Vast coverage of sectors they cater to

Has a focused group of outsourcing suppliers

Independent and rich BPO resource hub

Secured facilities, performance monitoring, and operational assistance
More applicable for larger staffing requirements

Hiring VAs directly is cheaper
Business Process Outsourcing has been running the world for many years and with the growing need for remote and effective staffing solutions, making an investment to agencies in this field always involves risks.
The good thing about Outsourcing Accelerator is that their team of dedicated and experienced outsourcing specialists come in handy with all the resources you may need to assure that you only get the best results. 
They have partnered with the most qualified 700+ outsourcing suppliers in the Philippines that will definitely guarantee a match to your business needs, and help you build and operate with an offshore team.
Outsource Accelerator Alternative
If you wish to test the remote staff in the Phillippines directly or for a small scale requirement, you may check Onlinejobs.ph  This online job portal is a great source of affordable and highly-skilled full-time virtual assistants in the Philippines.