Hey, there! Welcome to our site and this is WP Fix It Review!
WordPress is a popular open-source and flexible online writing platform used by most bloggers, content writers and businesses for their website. Millions of websites are using this platform to this day, and that only means more opportunities for companies running dedicated WordPress support, just like WP Fix It.
WP Fix It has been a go-to WordPress website fixer by many customers for more than a decade now. Let's check them out!
Company Name: WP Fix It
Owner:  Jarrett Gucci
Headquarters: Irvine, California
Product Type: WordPress Support Service
Target For: Businesses or Professionals who use WordPress as their website
Summary:
WP Fix It is a credible 24/7 WordPress support company, providing a fast fix on any website issues.
WP Fix It is a 24/7 WordPress support founded by Jarrett Guccii back in 2009. After four years of building and managing WordPress sites, he came up with an idea about creating a service that provides a flat fee in fixing any website issue. 
Since they started, they are pleased to have serviced around 380,000 WordPress tickets from clients all over the world and have maintained about 18,000 active customers. Their services have evolved through the years and have been achieving a 30-minute average resolve time for normal website issues. That is really one, fast fix!
This reputable company offers a wide array of services from general and common issues to complicated ones. With any type of service you avail of, you surely will expect their experienced agents to handle your concerns smoothly.
Their most popular services include:
General Support  – If your website is not working properly, this is an instant fix service that is best for you

Infection Removal – They can guarantee that your website will be as clean as ever

Speed Service – Well, if you think that you have speed issues, then this service is the right fix
They also have free services such as Free Speed Audit Report and Free Inspection Scan. Other services include:
Premium Security Service – This is a very detailed service offer for infection removal  and infection insurance

Optimization or Tune Up Services – This covers speed service, site tune up and woocommerce checkup (best if you run an online store)

Monthly Support Services – This includes having them to manage your site and doing the daily back ups

Site Setup Service – This service features backup/restore, SSL Https Service, site migration/clone, PHP 7 + compatibility

Custom Support Service – They also offer hourly support service and custom WordPress work
Long hours spent on fixing a website is definitely frustrating that is why WP Fix It is there, always ready to help.
Right before you go and purchase a service, you may want to first connect with their live support to be sure that you are choosing the right product for your needs. Their chat representative will be quick to respond and assess your problem, and will eventually recommend the service that best fits for your website issue.
Once that's been done, you may now proceed to the following steps:
Step 1: Click on 'Fix My Site' on the main menu (top most, you can't miss it)
Step 2: Select a Service
Step 3: Process the payment
Step 4: Submit a detailed description of your website issue
Step 5: A skilled agent will be assigned to your ticket and will give you updates until the issue is resolved
If you wish to check the status of your ticket, you can just log in to your account and click on 'View Tickets'. Select the ticket number assigned to the issue and you will see the full details of the progress. You can also use this portal to communicate with the agent instantly.
WP Fix It offers reasonable pricing for its services as compared to other WordPress support companies. Given their fast resolve time and instant fix for a flat one time fee of $39, they surely are worth the time and money than dealing with the stress of fixing the issue yourself.
Premium Security Services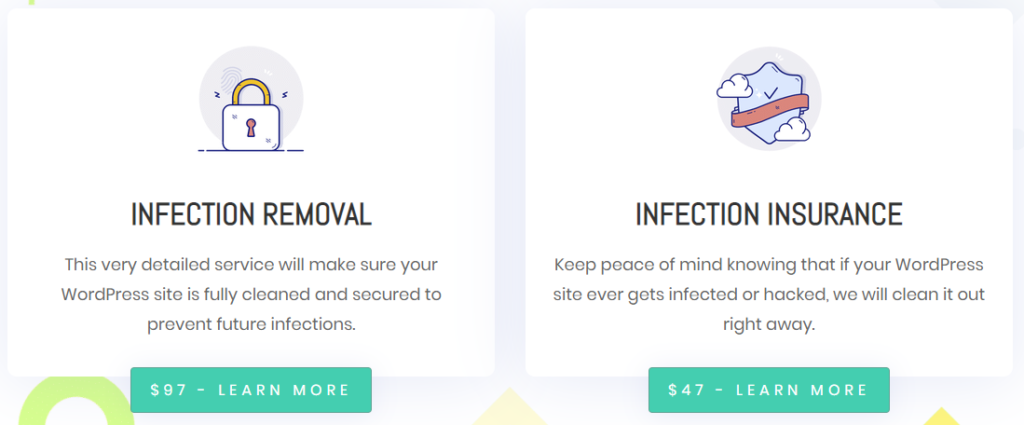 Optimization or Tune Up Services

My WP Fix It Review and Summary
Whether it's a common white screen or plug in issue to an overly infected and non-functioning website, WP Fix It has a 24/7 support service on stand by to attend to all its clients' WordPress website issues whenever and wherever they may be in the world.
 WP Fix It is highly recognized in this field and it still is best to understand how it's doing on both sides:
24/7 support service

30-minute resolve time for general tickets

Money back guarantee should an agent fail to deliver

10+ years of experience in fixing WordPress website issues
Multiple issues mean multiple tickets, thus more cost

Plans are not flexible (e.g. discounted cost for fixing multiple sites)
With WordPress becoming a go-to platform on website building for your online business or professional and personal profiles, it is inevitable that certain issues will arise like bugs, unknown plugins and malwares trying to jeopardize your site. This will surely leave you crumbling for ways to fix it, but knowing that WordPress support companies like WP Fix It exists, that should keep your worries at bay.
When you want to go for a fast fix, WP Fix It is definitely recommended, given the amount of years they've been servicing clients on website issues. For beginners, the cost may be a bit too high for the job so it is also best to properly understand the problem and try to fix it on your own. But if Google recommendations fail to give you a resolution, forget all those frustrating hours and give WP Fix It a try.