Virtual assistants are among the best remote workforce to have for any kind of business. This is for the reason that they are inexpensive, easy to manage, and they are able to work anytime and anywhere. 
Needless to say, since VA's are experts in certain fields, a client doesn't have to train them and can get started with work right away upon hiring. With the increasing demand for virtual assistants today, more and more providers are becoming available over the internet. 
The only problem is that not all of these providers are legit and some may be providing low-quality service. If clients are unaware of the things to look for when hiring a VA, they end up throwing their money down the drain. 
So to help clients, we've made the research ourselves and found one of the best options when looking for virtual assistants on the internet – and this is eLuminous Technologies.
About eLuminous Technologies
eLuminous Technologies is among the early starters in the virtual assistant industry. It started its venture in the early 2002 and is owned and managed by Hrushikesh Wakadkar along with Sandeep Aher who is both expert entrepreneurs who experienced first-hand the importance and reliability of having a VA when managing businesses and when handling administrative tasks. 
With its more than a decade of experience in this field, this company has accumulated a good amount of loyal clients along with techniques, systems, methods, procedures, and skills to provide highly accurate and efficient VA service without having to spend much on the fees. 
With its established name in the industry, it also has developed a team of well-experienced and trained staff that can cater to any kind of VA project.
Regarding the services offered by the coming, it comes almost endless. Among the common projects and tasks dealt by the assistants include business intelligence, web and mobile applications, web development, general VA and administrative tasks, SEO, customer support, content management, consulting, and many others. 
Basically, anything that a business owner needs to manage a business and any task that can be done through a computer.
Clients are able to work with close to a hundred available virtual assistants who are all experts in specific fields. They are also able to work during specified hours which the client chooses. 
Of course, each of these assistants is equipped with the basic skills such as computer management skills, general software skills, general English skills, and are all proficient in using basic computer applications such as Word, Excel, PowerPoint, and others.
The company is based in India where they operate in a single main office. By having to work at a single office, they are able to closely monitor each project as it progresses and each client as well as the assigned assistant.
While the company offers expert VA services to clients, they also offer careers for aspiring workers who want to be part of their team. 
They have a regular opening for various positions which include VA positions, digital marketing positions, SEO executive positions, business development executive positions, and so much more. 
Although the company accepts all applicants, they are very strict with their criteria to ensure quality, honesty and excellent performance among their workers.
How it works
For clients to get started working with eLuminous Technologies, they are simply required to set a callback or contact the company through the information provided on the contact page of the website. 
They can be reached either through phone, email, and fax or via snail mail. Clients can also choose from different branches to refer to such as the corporate office which is located in India, the South Africa branch, or the Singapore branch. 
Although all inquiries using different mediums will surely be attended to, it is advisable to contact the website via phone or email in order to receive an immediate response to inquiries and consultations.
Whenever inquiring or opening a consultation with the company, it is important to specify as many details as possible about the project or task in question.
 Among the details that clients need to specify include the volume or quantity of work involved, any software or program that can be used to perform the tasks, due dates, expected level of proficiency from the assistant, desired language spoken or used by the assistant, desired experience of the assistant, gender, and many others. 
Having to be as detailed as possible with regard to the preferred VA can help the company track and reduce the huge number of possible VA's from their list to just a few. 
After which, the company will present the client with the best candidates for them to make the final decision on who to hire.
The client can also perform additional interviews, tests, and assessments in order to gauge the proficiency of their VA. Of course, all these processes will be monitored by the website in order to guarantee the safety of both the client and the VA from fraudulent activities and to ensure that rules and regulations are always followed.
The pricing of the services is dependent on specific packages which usually involve the maximum number of hours when working with a VA.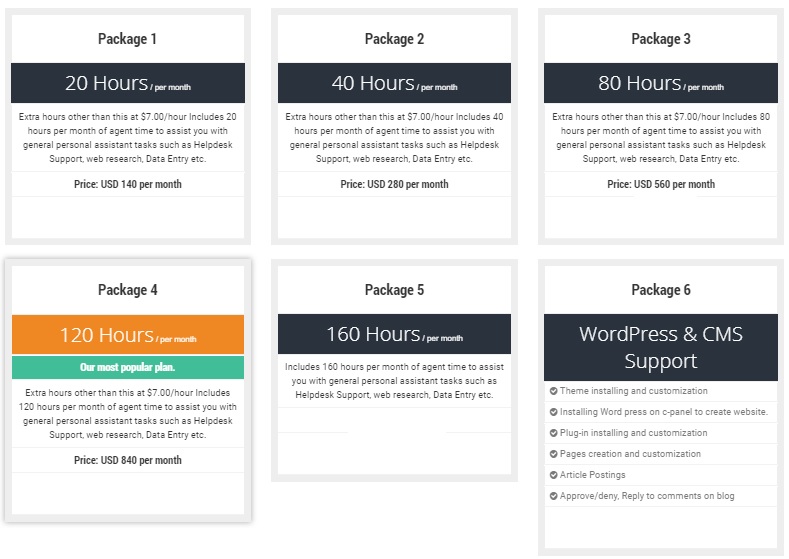 Clients are able to choose from 20 hours package, 40, 80, 120, and 160 working hours package. Each of these has their specific rates as well as inclusions or perks. 
Also, as the number hours increase, expect a bigger discount on the total fees while getting more benefits. Of course, when choosing a package it is important to consider the volume of work involved. 
For those dealing with a huge project which can be long-term, it is best to opt for the biggest package instead of making recurring purchases on small packages in order to save more.
Our final thoughts

Whenever looking for your ideal VA over the internet, experience, and credibility are the best criteria to consider. 
With eLuminous Technologies, you are ensured that you are getting the best services that are worth your every penny. 
Plus, consultations are totally free and you can get an advice on which plan or package to pursue whenever choosing to work with the website.