Running a business has never been easy. This is even more challenging if you're dealing with the limited budget, time and extra hands to help you with the mountain load of work. Fortunately, there is a perfect way to deal with this dilemma and that is through hiring a virtual assistant.
Virtual assistants these days are more of a trend in the online industry. It relieves business owners, entrepreneurs and the normal internet user of tasks that are almost impossible to complete with a limited time and budget. 
These kinds of services are commonly preferred today instead of making the usual hire and work in an office because it relieves the worries and tension of having an actual assistant to work in the office. 
With such services, it is possible to complete a task anytime and anywhere. Regardless of the time limit of a project and regardless of the amount of work, getting yourself a VA can help you with all your troubles.
The only problem, however, is that there are a number of VA service providers available today and it is hard to tell which ones are legit and which ones are not. Fortunately, there are review sites that could attest to the legitimacy of a VA service provider and that previous users can conveniently post their experiences with the website as proof. 
Amongst the credible as well as reliable VA service providers that we have today is VIrtualStaff.ph. In this article, we will share with your why this website is among the top and what sets it apart from its competitions.
About VirtualStaff
VirtualStaff.ph is a leading virtual assistant service provider from the US and backed up with staff and assistants coming from the Philippines. It started its way in early 2016 and has immediately fired up its way to becoming among the best providers despite its young age. 
This is for the reason that they have consistently provided clients with the quality of work that is at par with competitions having substantial experience in the industry.
This company is an open marketplace for both freelancers and clients wherein one can post freely their orders and freelancers are welcome to apply to such posts. When you look at the website interface and all its features, it is similar to yet another prestigious VA service provider which is OnlineJobs.ph which is also a partner of the website.
This site is founded by Michael Brodie who is an online entrepreneur and an expert in the industry of virtual assistance. He had been among the youngest entrepreneurs to be recognized in Europe and had started to outsource work from the Philippines after having tried their services and their expertise. He noticed the hidden potential of working with Philippine VA's that's why he made up his mind to put up the website.
What makes VirtualStaff different from its competitions
First of all, what makes this website different among its competitions is that the majority of its labor force comes from the Philippines. The Philippines are among the ever developing countries in Asia which come with some of the brightest minds in the field of computer technology and admin assistance. 
Another great thing about having to work with Philippine VA's is that they are flexible with any kind of time zone. Plus, they are equipped with a very good level of English which is almost similar to natives.  Of course, the pricing for the services is also much lower for the reason that the Philippines have the much lower cost of living compared to western countries.
All staff coming from this website is home-based which means they simply work from the convenience of their own home. While other assistants work as part-time while they are working on the website, others are devoted to working on the site for a full time. However, the main advantage of having to work with a full-time VA is that a client is able to assign jobs at any given time that is flexible for both parties thus allowing more work to be done.
Among the most prominent jobs that are requested out of the website include blogging, data management, customer support services, telemarketing services, website management, and even technical jobs such as coding and designing.
How it works
Unlike other VA service providers online, VirtualStaff allows clients or employers to post job openings containing specific descriptions of their ideal VA. 
Some of the descriptions that can be posted include the desired skill level of the VA, the experience, proficiency in using certain software or program, availability, expected rate, and many others. Having to include these details on a post helps to narrow down the list of candidates available for the job.
The client can also go through each of the VA profiles that are posted on the website. On the profiles, the client can see the projects that are finished, skills, feedback from previous customers and other essential details that could help clients make a decision if a certain VA is a perfect match for their needs.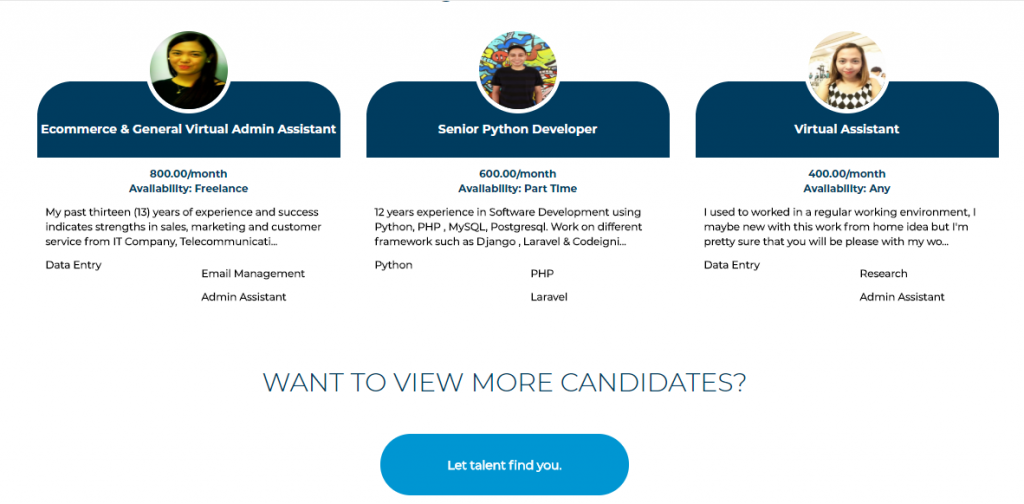 Prior to hiring an assistant, the client can also perform a series of tests, checks, and interviews to gauge the level of proficiency of a candidate. 
In this regard, the website can intervene in the interview process and tests in order to make sure that there are no third parties involved and to avoid fraudulent activities to protect both freelancer and client.
Compared to other websites that offer such services, VirtualStaff does not impose users with ridiculous fees. Instead, they want to make sure that both client and freelancer or assistant is happy and that they somehow get a commission from it. 
Per month, clients are charged $40 to cover for service fees and no longer charge other fees from there. As soon as a hire is made with an assistant, the client will make an agreement with the assistant and they will be the ones talking about the rates for the project. 
Here, the website no longer intervenes in their dealings and both parties have complete control of their transactions.