Price
Score: Worth Your Investment
94%
Building a website is already as challenging as it sounds. However, it can be more challenging to actually maintain a website and ensure that it is generating traffic indefinitely.
While doing these tasks can be easy for someone with a good set of skills and knowledge about coding or building a website, it can be quite a challenge for beginners. Fortunately, there is a platform that allows easier website set up and maintenance using less coding – and this platform is WordPress. However, having to access or know WordPress doesn't take away the work of maintaining and building a website.
A website owner will still need to undergo some tedious works involved in owning a website. The good thing, however, is that assistants can always be hired online who can take of such daunting tasks.
Among the best providers of VA services involving WordPress websites is Codeable.io. In this article, we will share with you all the things you need to know about Codeable and why you should depend on it whenever looking for assistants to deal with WordPress-related tasks.
About Codeable
Codeable.io is a platform that helps WordPress website owners or builders. This website provides assistance with developers and experts that deal with any kind of issues, problems, tasks related to a WordPress website.
However, one should not think that this website is under WordPress itself. It is an individual company that provides VA services specific to WordPress tasks.
It is launched in the early months of 2013 and had its main office located at Denmark although the majority of its staff and employees from English-speaking countries like the US and the UK. It is home to some of the best VA's in terms of WordPress website management and development.
The best thing about hiring VA's from Codeable is that you only get a specific skillset out of their assistants which makes your head hunt easier.
All the assistants are equipped with the knowledge as well as experience in managing websites. Also, they come prepared with software and programs that are necessary for their line of work and for the requirements of the building and maintaining a website or page.
Having the tools and programs already prepared when hiring a VA from Codeable, the client will no longer have to spend or bother about obtaining programs which the VA will be using.
Codeable is also a go-to place whenever you're looking to fix some bugs and errors in a page within your website. Some bugs and viruses cannot be fixed by simple website maintenance. It requires a thorough knowledge of the online industry and tools for the trade.
With a Codeable WordPress Developers, solving such problems will be just a walk in the park.
What to Expect With Codeable?
Of course, one thing that you should be expecting whenever hiring a professional VA from Codeable is that a hefty service fee may be involved. Compared to other VA providers, Codeable takes pride in what they do and what each of their VA's has to offer which is why they have a slightly higher service fee compared to its competitions.
Among the services offered on this website include building a website, maintenance, fixing bugs, customizations, developing personal pages, customize plugins, personalizing themes and many others related to WordPress and building a website.
All the VA's will come prepared with all the necessary tools and platforms that may be required to handle any kind of project related to managing a WordPress website.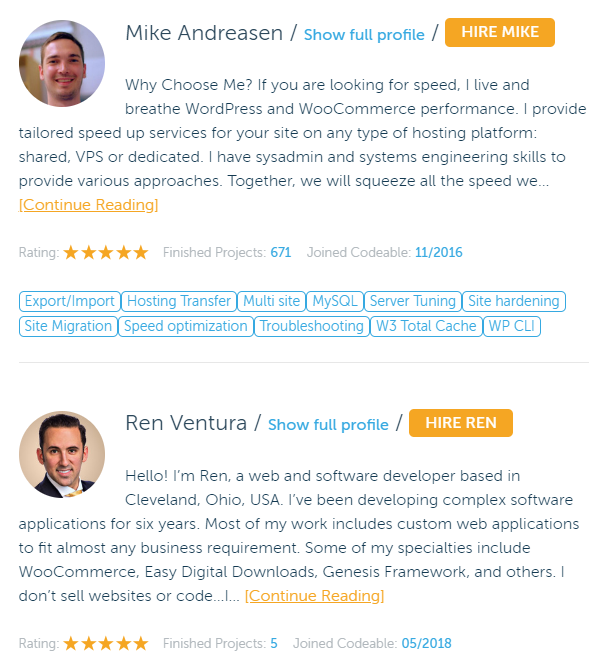 Expect that the VA's are all professionals and masters in their own field. Prior to actually being hired as a VA in the website, the applicant will undergo a series of interviews, tests, trial projects and even examinations to gauge and monitor their knowledge as well as experience.
As a minimum requirement, the applicant should also have a good educational background as well as at least 2 years of experience in the field of website management. Lastly, the applicant should have his or her own computer which is capable of executing and running programs and software used for the projects.
Also, the website has a 24/7 platform available which allows clients to get an estimate regarding their projects within minutes after request. When making a request or job order, the client will simply have to post all the details about the project and about their ideal VA. In this post, they can include details such as the required programs for a project, the due date, the amount of workload, the procedures and processes involved when performing a task, and even the expected rate out of the VA.
In addition, the client can perform further interviews and tests to the ideal VA to gauge his or her skills, however, these tests and interviews can only be done under the supervision of the website in order to avoid any third party intervention and to steer clear from scams and any fraudulent activities.
The expected costs would range from $150 to $200 per project which can be accomplished within 48 hours upon request. But still, these costs would still depend on the amount of work involved, the time duration, the tools needed (wherein some may require a paid subscription prior to use), the VA's expected rate, and the formats or file types involved. Nevertheless, the fees are flexible and the client will always have the final say with regard to the rates involved.
Our Final Thoughts 
Despite having a much greater cost out of its services, Codeable.io guarantees fast and quality service which beats is popular competitions. Furthermore, as a project progresses the client can continuously monitor the VA to ensure that no error or mistakes are done.
Whenever this happens, the client is always free to request for revisions, additions, or alterations until the client is satisfied with the results.
The best thing about hiring a VA at Codeable is that there is no room for mistakes and that each client is guaranteed to have their projects done in the most accurate and fastest way possible.