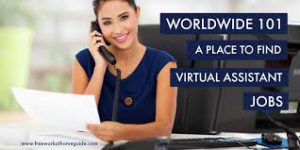 Virtual assistants are hard to find these days. This is for the reason that there are simply a lot of providers available however not all of them are reliable with regards to the quality and performance of their assistants. Fortunately, though there are still a few providers that are trusted by many business owners and entrepreneurs whenever looking for extra hands to handle admin work. Among those that are trusted VA service providers is Worldwide101. In this article, we will share with you why this website is among the best VA service providers and why you should start investing in them if you're looking for your ideal assistant.
About Worldwide101
When it comes to international as well as world-renowned VA websites, Worldwide101 is simply one of them. As its name suggests, it is a global solution to any kind of virtual assistant need whether it be for short and quick projects or for long-term projects that take months and even years to finish. It has the majority of its workforce coming from the US and other English speaking countries thus the majority of the clients also come from English-speaking countries. However, it is still open to other countries with different languages since the assistants are proficient in other languages as well, and can definitely communicate with clients using other languages.
It was launched mid-year of 2009 which by then had only a few dozen assistants that cater to clients. However, through the years, it has accumulated a considerable amount of assistance coming from all over the globe – all proficient in their specific fields of expertise and is well knowledgeable of the common requirements and needs of clients.  This company was founded by Sandra Lewis who discovered the success in virtual assistance through personal experience. As being an entrepreneur, she had the need to hire virtual assistants to take away some of her workloads. It is through this experience that she found out the potential to make money and at the same time help assistants earn a living.
Sandra also explains "Our approach is very personalized, carefully matching team members with clients based on skills and personality. The team member assigned learns the client's business and becomes an integral part of their operations." This means that the website is not only after VA services that are done half-heartedly or with low quality but instead, they make sure that each service is delivered in the best way possible without compromising quality and quality. This is what sets Worldwide101 from other VA sites that aim only to make money and not to provide quality service.
In terms of the quality and qualifications of the assistance available in the site, the staff should have at least 7 years of experience in the field of virtual assistance. Also, the assistant should be proficient in the English language as well as in using some of the basic and common software and programs such as MS Applications, use of social media websites, and managing groups and pages on such websites.
How Worldwide101 works
While it is said that the website focuses mainly on admin support, marketing tasks, customer service services and data management, they also provide services for tasks such as c-level executive assistance, project management, content management and writing, bookkeeping, email handling, basic to the complicated data entry tasks, and many others. Basically, there isn't a limit to what the website can offer – just as long as it can be done through a computer and with amendable terms.
Whenever finding your ideal assistant in the website, you as a client should provide a detailed description of what kind of assistant you are looking for. You will also need to provide the specifics of the contract and tasks you are looking to get done by your assistant. Among the things you can include in your job description include the date of submission for the project, the quantity or workload, the specific program and software that will be used to do the project and even the required skills out of the assistant.
As soon as you open a posting for your ideal assistant, the website will commence with presenting you with ideal candidates whom you can hire immediately as soon as you like. Once you have your assistant, you can then proceed with other ventures related to work such as instructing your assistant, teaching him or her how to use tools and programs and others.
While the website provides clients the opportunity to get their tasks done as soon as possible without compromising quality, it also provides convenience to online freelancers are they are given the opportunity to work with the company.
What to expect
Worldwide101 is more focused on business-related works such as admin support, office-related tasks, and other tasks using a computer. While it provides assistance to quick projects, it also provides services for long-term projects that last for months and even years. Also, the majority of the projects come from English-speaking clients however they also entertain other projects outside the language barrier.
When it comes to the costs, you'll also be surprised to know that the website charges a much smaller fee compared to its competitions. The rates start from $18 an hour which can still be flexible depending on certain discounts and agreements which the client and the assistant will have. Nevertheless, the assistant will be equipped with the expertise and knowledge that no client can find in any other VA service provider. While this cost amounts to the service of the assistant, it also includes the safety and confidentiality out of each project. With the extra level of security, you will be guaranteed that no information about your business that is used in the project will be used or displayed elsewhere. While the website ensures that their services are of top quality, they also ensure the safety and confidentiality of their projects and clients.
Our final thoughts
As a conclusion to this article, Worldwide101 is not all about quality but also about trust among its clients. It is always easy to provide such services however not many would keep their clients' information always secure and not many providers would closely monitor every project as it progresses.