Price
Score: Slightly Expensive
70%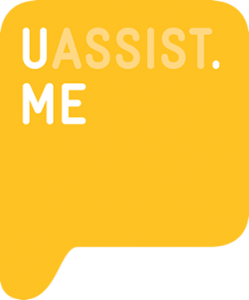 Managing a business today is more complicated and challenging as ever. In line to that, there is actually an ever-growing number of works that has to be done in order to maintain a business. Unfortunately, not all these work can be handled by a single person alone. 
One popular solution to this is by hiring a VA or virtual assistant. A virtual assistant helps a business owner or an entrepreneur deal with those ton loads of tasks related with the use of a computer. 
While getting a VA is definitely a great choice to shorten the amount of work and to hasten work pace, it becomes a challenge when one is unaware of where to hire the ideal VA for their business.
In this article, we will share with you one of the most trusted VA site on the internet today – which is Uassist.me. We will share with you all the specifics about this website and why it is an excellent choice when looking for a VA.
About Uassist.me
Uassist.me is among the pioneer websites when it comes to supplying the world with expert VA's. This company started in 2009 with its main offices located in El Salvador and in Miami. 
While the majority of their clients come from English-speaking countries especially in the US, they also open their doors to other countries who want to take advantage of their services. It was founded by Rodolfo Schildknecht and Alfredo Atanacio who are both expert entrepreneurs and were also awarded as two of the US' coolest young entrepreneurs. 
Their idea of providing Virtual assistance to entrepreneurs and business owners started from their own experience wherein they have tried obtaining the services of assistants online. 
They had a great experience in this venture and thought that they could share it to the world while making a good profit at the same time.

While the majority of the projects inquired from the website make use of the English language, the website also entertains all other languages and other countries that want to work with them. 
This means, they can provide clients exactly with the kind of assistant that they need regardless of the language that the client wants to have. This is for the reason that each assistant is carefully screened for their proficiency, skills, language, experience and dedication to work. Each of the assistant's profile will feature these core skills where the clients can simply check prior to hiring.
Among the most in-demand projects in this website include assistance in various fields and administrative duties which include scheduling, appointment setting, calendar as well as contact management, email management, telemarketing, content creation or marketing, social media account management, accounting, bookkeeping, website management, transcription, customer support services, and many others. 
Basically, there are no limits to the tasks that can be done by the assistants just as long as it can be done using a computer.
What to expect
As soon as you get your account registered on this website, you can immediately get started in making the hire for your ideal VA. You can choose from a range of packages or plans depending on your budget, the quantity of work you want your VA to do, and the work hours that you want for your VA.
Among the packages include the 20 hour package which costs only $344 for a month. Compared to other companies that provide VA services, this amount is already quite inexpensive since others charge by the hour which is also accompanied by hidden fees and charges.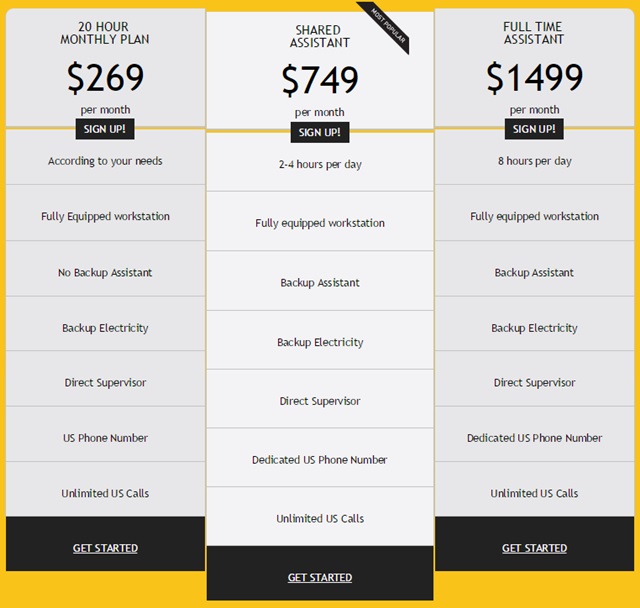 If you're looking to have your VA work for longer hours in order to get more things done then you can also opt for the bigger plans such as the $594 per month package which allows the assistant to work for 40 hours, $864 per month for 80 hours, and $1724 if you want your assistant to work with you for full time.
Whenever considering the package or plan to take, it is important to bear in mind the quantity or amount of work that is involved along with the speed and quality. If you're looking to work on a huge project with so much to be done then getting a bigger package would be ideal. 
Not only can it save you the hassle of re-hiring an assistant whenever a project is finished, it can also help you save more since the bigger package you choose, the bigger discounts you obtain in return. One thing to note however is that every month has a different offer and one plan may have discounts on certain months or dates.
Prior to making the hire, the client can also conduct additional interviews or tests in order to gauge the qualifications of the assistant. And if the client is unsatisfied with the results or outcome, he or she can always request for a revision or change.
What makes Uassist.me better than others

One excellent reason why Uassist.me is better than others is because of its recognition from global entrepreneurs and professionals. While its founders are awarded as the most promising young entrepreneurs in the year 2012, the website is also nominated in the people choice award as among the best companies in the US that are founded by young entrepreneurs aged 30 and below.
This website also received a commendation from former president Barrack Obama himself and congratulated the founders for creating and opening jobs for US citizens and for other people across the globe.
Of course, the quality of each service is also a portion of its selling point. The website understands that each client simply wants zero errors in their projects and that they want their work done fast and accurate.
Lastly, a thing that is offered from this website which is not offered by others is its free consultation. Prior to making a hire, the client can first inquire or open a consultation ticket to the customer service to ask them about the best actions to take regarding obtaining the right assistant for their specific needs. 
Having to do so will also help the client find the ideal package and plan that best matches their budget, amount of work, the specific deadline, the desired proficiency in using a software or program, and other qualifications which the client may require out of their ideal virtual assistant.