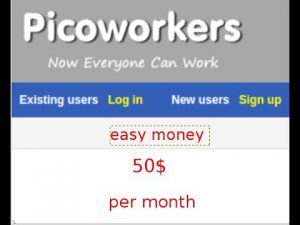 Whatever the size of your business, you will always need to work on the basic and small tasks to run the company. Unfortunately, not everyone has the time and effort to be doing the basic and repetitive tasks such as data entry, research, data gathering, analysis, and all the rather small and easy tasks but takes too much time to finish. 
The good thing, however, is that there is a way to get rid of the basic tasks out of your hand and this is through hiring a VA or Virtual Assistant. In this regard, among the best providers for such services is Picoworkers.com. 
Here, we will check out why this website is a great investment and what sets it apart from its competitions.
About Picoworkers.com
Picoworkers, as the name suggests is all about the small jobs. It takes away the daunting repetitive basic tasks that require the use of a computer. This website is backed up by well-experienced and skilled assistants to help business owners and entrepreneurs in their administrative tasks. 
Some of the common administrative task orders from this site include social media account management, data entry, research, email handling, comment posting, watching videos, giving likes to pages and posts, and many others.
Likewise, while it provides convenience to business owners and entrepreneurs who are looking to hire VA's, it is also a platform where assistants can apply for work. 
Online freelancers who want to make money can simply create their accounts at the website for free. Workers or assistants can choose to work by the hour or for a fixed rate and can even choose to handle small jobs or jobs that are long-term. 
Of course, prior to getting hired as an assistant in this website, the applicant should have the credentials and should submit requirements that can serve as proof to the applicant's identity and proficiency in doing certain tasks.
Basically, Picoworkers is a marketplace where both the assistant and client meet for work. Clients are able to make multiple hires at the same time. And the best part about hiring on this website is the low fees involved for every hire. Per task, clients are only charged to a few dollars and even a few cents for easy-to-do tasks.
How Picoworks works
Whether you're a client or a worker, getting started at Picoworks is quick and easy. First, you will need to set up your account on the website. You will need to fill out a few details for your profile which include your name, nickname, security question, and you will need to fill out the 'about me' content box as well. In the 'about me' box, you can mention in you're a client who is managing a business and what kind of niche you are working on. 
If you're a freelancer of the worker, you can simply add the details about yourself such as your skills, the software you are knowledgeable of using, some links to your work, and others. the best part about being a member on this website is that you are granted with a $1 sign up bonus which you can withdraw anytime as you finish a job in the site.
Making transactions with the website is also easy because it entertains a number of payment platforms that are available today. Among the traditional methods of paying and withdrawing money through the website is through card payments however among the latest way to transact money in almost any website is through PayPal and through Bitcoins. 
Bitcoins is among most in-demand online cryptocurrency today and almost anyone who is working online has a cryptocurrency wallet. By integrating cryptocurrency payments through the website, both clients and workers who have crypto wallets can conveniently make transactions.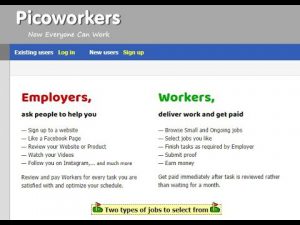 Upon choosing the ideal assistant for a project, the client can get to perform interviews as well as tests to further gauge the credentials and reliability of their candidates. All such interviews and tests can be done only if it is monitored by the website. 
This ensures confidentiality of the agreement and also to ensure that no third party is involved in the process. By having the website spearhead or take charge of any form of interview or tests, both clients and assistants are able to minimize the chances of being scammed.

Our Final Thoughts
So what makes Picoworks better than its competitions? It is true that this website is still young and still has a lot to learn in the field of Virtual assistant services however it is one of the fastest growing VA sites that provide a reliable and efficient solution to small jobs online. 
Also, it does not have many requirements that usually inconvenience both the client and the worker. Both users can get to work right away within the same day right after account confirmation.
And the basic selling point of this website is its impressively affordable price for its services. Unlike its competitions which imposes many fees to the already ridiculous service fees, this website actually charges a very low price for each project. The costs can go lower than a dollar for those very easy to do tasks that are repetitive. 
At the same time, the worker also gains an advantage when working with the website as they earn a considerable percentage of the payment after every project. And workers can work anytime they want provided that the schedule is in agreement with the client or employer.
Also, there are no added fees to worry about when working on this website. You don't have to pay for your stay which other websites do and you don't have to pay fees for maintenance, account upgrades, and so on. 
Working in this website as a client will be as easy as picking up your ideal assistants, getting them to work, checking their work as soon as they finish, and making the payments through any of the earlier mentioned payment options.
Lastly, since this website is still young, there isn't much competition on the website itself. This means clients are able to hire the best freelancers available and workers are able to get more jobs than other websites with many members.