Many companies now are finding virtual assistants to assist them on projects and even daily tasks. Hiring full time staffs can be a burden to companies in managing their benefits, monthly paychecks, etc. As such, some small companies takes this opportunity to find virtual assitants to manage thie projects.
A company like MicroSourcing is a leader in this market and they provide recruitment and quality staff with vast knowledge in related discipline. For this review, we will be discussing on MIcroSourcing, a well-known MNC tha provides companies with staff and workspaces to start up their operational needs.  
MicroSourcing is an offshore and outsourcing solutions provider based in the Philippines. They help companies start up operations in the Philippines by supplying modern workspaces and recruiting staff.
MicroSourcing enables companies to have its own operations in the Philippines through a unique solution which provides a good foundation between outsourcing and starting your own company in the Philippines. 
The company started operations in 2006 and currently provide workspace for more than 4000 staff. To-date, MicroSourcing have worked with many clients ranging from small start-ups to large multinational corporations.
MicroSourcing will provide everything for their clientales such as hiring and employing a Filipino team members, and give their clientales all the assets and support services they need to perform at their very best.
It is a day-to-day operations for MicroSourcing and their clientale. Clients can take full control using their own staff or locally hired managers, or they can take advantage of MicroSourcing's skilled operations managers. 
MicroSourcing claims to have dedicated full-time staff to find highly skilled workers in the Philippines capable of handling client's workload. Client will have a piece of mind knowing that the staff are employed by MicroSourcing which can be an advantage knowing that they can handle all the paperwork which can be difficuilt if the clients are not from Philippines.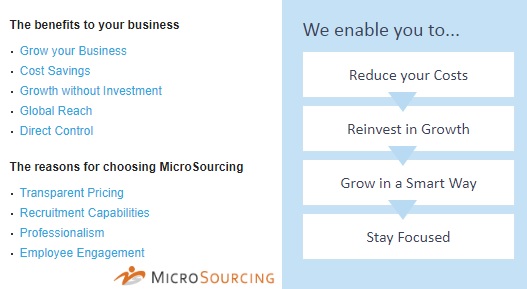 There are many specialist services that MicroSourcing are offering from healthcare to copywriting to call centre services to online marketing to info-technology. So, if you are really serious about getting your hands off on recruitment and focus on your business operations then MicroSourcing will be a great partner to engage with. 
The hard part is recruitment and when you task MicroSourcing to find your staff in the Philippines, they will source for the required level of specialist staff that you require and work with you on the details to review.
You can choose the level of control and involvement you in selection of office space if you require Microsourcing to source for your compnay. So, you can leave it up to MicroSourcing and be more hands-on with the day-to-day business operations.
MicroSourcing do not provide fees or pricing plans in their website and usually, clientales will get a costing or quotation prior to engagement with MicroSourcing. Like any other recruitment agencies, MicroSourcing clientales will need to pay service fees for the service rendered. 
There are also other packages that are available and these are negotiated as part of the engagement process with MicroSourcing.   
When you look through MicroSourcing, you might see it as a company that provides services for medium to large companies whereby time and money is important for strong setup in the Philippines.  
Well, if you are thinking that you need to scale up your business and outsource them to a reputable company, then it is a good option. Price wise, for an internet marketer or a small firm, it is rather steep and there are better options out there. 
You may find a few websites offering full-time Filipino staff as follows.
Both are virtual assistant platform and you can hire a full time virtual assistant around $350 to $450 depending the skill and experience you are looking for.